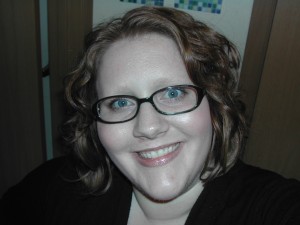 Name: Katie MacDonald
Where do you live? Daly City, CA
Area of study: MFA Fashion Merchandising
What is your day job? Interning for a plus size start up.
What qualities do you most value in others?
Someone's sense of humor is the most important, then honesty, and how easy going they are.
Name three of your favorite designers, journalists, bloggers, stores, etc:
Designers – Elie Saab and Balenciaga (love the handbags). My favorite blogger is The Curvy Model she has a really fun point of view in the style she wears.
List a guilty pleasure:
So many guilty pleasures to list, but I have recently fallen for The Big Bang Theory. I could watch that show all day long!
What is your present state of mind?
Overwhelmed, finals are starting next week which I can't believe they're already here.
Follow the jump to read more!
What is your dream job?
I think being a personal stylist or working as a consultant/product developer/ buyer for an accessories company.
What is the most important thing that people should know about you?
That I moved to the bay area before Fall semester started, I grew up in the Seattle area.
When was the first time you recognized your interest in fashion?
I'm not sure exactly, I know I realized that working in fashion was a viable career from the show Friends. Rachel was working as a personal shopper for Bloomingdale's and I thought that's what I want to do.
Where have you found inspiration lately?
I like to see what is in the stores right now and mostly I have been drawn to all the sequins out right now. I'm also taking a styling class right now and I am getting really inspired from that too.
What is your most valued possession?
My Grandmother's earrings and my laptop (I don't know what I would do if it broke).
What music do you like to listen to?
I like to listen to anything but mostly pop music. Currently loving Adele.
If you had an opportunity to travel back in time, who would you like to meet, and why?
Audrey Hepburn, she is so beautiful and she had an opportunity to make so many great movies and really influence fashion. I would want to see what her closet was like.
For more On Online, click here.