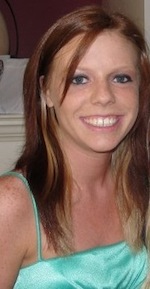 Where do you live? Little Rock, Arkansas
What are you studying? Fashion Design
What is your day job? Assistant Manager at Paul's shoes
What qualities do you most value in others? Ambition
Name three of your favorite designers, journalists, bloggers, stores, etc: Christian Dior, Max Azria, Whitney Eve Port
Do you have a guilty pleasure? Watching ENews and any fashion design show on TV!
What is your present state of mind? Focused on school and moving to a new place soon.
What is your dream job? My dream job would be to become a well-known fashion designer and to own my own boutique!
What is the most important thing that people should know about you? I have very high expectations for myself and will strive to fulfill them.
When was the first time you recognized your interest in fashion? I have been in to fashion since I was a little girl, but I did not realize I wanted to do it as a career until the end of my first year of college.
Where have you found inspiration lately? My family and friends.
What is your most valued possession? Owl necklace that was my fathers.
What music do you like to listen to? Pop and anything Katy Perry
If you had an opportunity to travel back in time, who would you like to meet, and why? If I could travel back in time I would like to meet my father. He was killed when I was five months old and I would give anything in this world to see him smile at me, tell me how proud of me he is, to hear his voice, and have my own stories to tell about him instead of listen to others stories.
For more of On Online, click here.