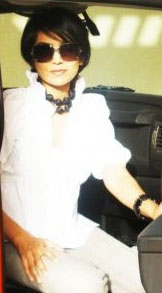 Name: Farida Kahn
Area of study: MFA ( Fashion Design)
What qualities do you most value in others?
Thinking outside the box
Name three of your favorite designers:
Ann Demeulemeester, Raf Simons, Kris Van Assche.
List a guilty pleasure:
Pointless people watching
What is your dream job?
Designing for any of my favorite labels.
What is the most important thing that people should know about you?
I take myself as unserious as much as I take my work seriously.
When was the first time you recognized your interest in fashion?
When I was five.
Where have you found inspiration lately?
Myriads of ideas inspire me. Acute interest in design fetishes generally fills pages in my sketch files.
If you had an opportunity to travel back in time, who would you like to meet, and why?
Salvador Dali. I would like to seduce him.
For more of On Online, click here.