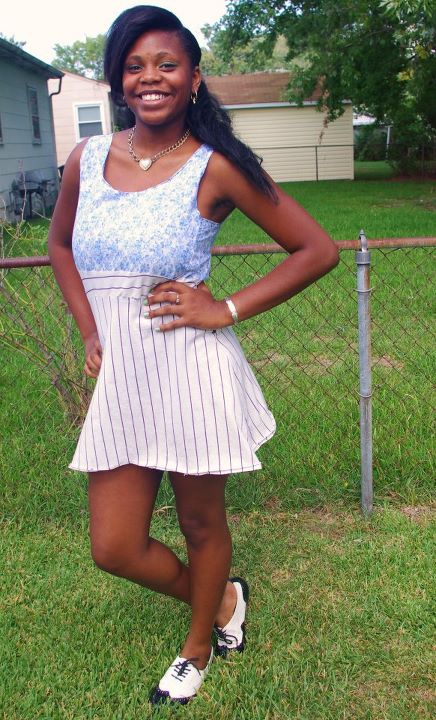 Name: Erika Ann Marie Randolph
Where do you live? Hampton, Virginia.
Area of study: BFA Fashion Design
Day job / occupation: Just recently employed Forever 21 sales Associate
What qualities do you most value in others?
Honesty, nice, bubbly and a good sense of humor. I love laughing and smiling.
Who are three of your favorite designers?
My favorite designers are Balenciaga, Michael Kors, Emilio Pucci and tons more! I also have a blog of my own and it even has the items I have designed and created up there for sale, too!
List a guilty pleasure:
Eating pizza, cookies, hot wings and watching Lifetime all day. Or grabbing all of my old vogue magazines and sketching from them.
What is your present state of mind?
I'm in a good state of mind right now. I know where I want to go with my career but I'm still learning how to get there
What is your dream job?
RTW fashion designer for womens wear.
What is the most important thing that people should know about you?
I'm a really happy person. I always smile and laugh. I love dancing. I've studied many styles of dancing -African, Middle Eastern, hip-hop, jazz, tap, ballet and lyrical. Sewing is most definitely something that I love to do. My dream would be to become a RTW designer, dancer and to meet Stevie Wonder, my favorite person ever! Wouldn't that be cool?
Follow the jump to read more!
When was the first time you recognized your interest in fashion?
I always loved clothes when I was younger, especially the ones I couldn't afford , and used to always play dress-up in my grandma's closet. I would hide in her sliding closet and play in her dresses and come out with her heels and dresses on!
Where have you found inspiration lately?
Lately , inspiration has just been from the things in my mind or everyday things…not extraordinary.
What is your most valued possession?
There is a necklace that I wear every single day! It's a necklace that I got from my great aunt when she passed and it reminds me of my grandmother. Since my grandmother passed away a little while ago, it reminds me of her and something she would wear so it wear it every single day! Its a gold chain necklace with a big heart pearl in the middle with little rhinestones around it.
What music do you like to listen to?
I love all types of music. Carrie Underwood, Bomshell, Lil Wayne, Lady Gaga, Beyonce and Rihanna. Give me oldies anyday though: Otis Redding, Donnie Hathaway, Aretha, Madonna, etc. I decided to save the best for last my all time favorite singer in the whole world is STEVIE WONDER. I ABSOLUTELY LOVE STEVIE WONDER to me he is the greatest. Ask anyone that knows me and they'll tell you the same about me.
For more On Online, click here.
If you had an opportunity to travel back in time, who would you like to meet, and why? I would love to meet Coco Chanel. She just seemed so bold and classy at the same time and what she did for fashion was amazing. Also some of the greats: Otis Redding, Etta James and more. I just love older music and back then the music made more sense!