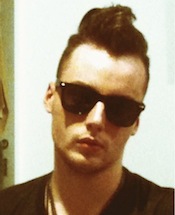 Where do you live? New York City
Area of study: BFA Fashion Merchandising
Day job/occupation: Visual Merchandiser, Abercrombie & Fitch
What qualities do you most value in others? I place a high value on efficiency, honesty, and integrity.
Name three of your favorite designers, journalists, bloggers, stores, etc: One of my favorite designers would be Coco Chanel. She really understood the importance that fashion plays in the world and the idea of branding. She really put the idea of the "classic" women's style to the forefront. From a business standpoint I admire Elizabeth Warren. I know she is a polarizing figure right now but her mix of business smarts and integrity are truly inspirational to every future business leader.
List a guilty pleasure: I am a Netflix junkie. I just finished watching all 9 seasons of "Roseanne" — it took 3 months.
What is your present state of mind? Right now I'm a bit exhausted. I'm going into the 6th year of my bachelors degree and while sometimes I wish I had just hurried it up and gotten it done- I believe there is something to be said for working at your own pace.
What is your dream job? I would love to be a merchandiser for Burberry. I ultimately want to start my own brand!
What is the most important thing that people should know about you? My value as a person. There are people in this world who you will love and who you will hate and this is okay. But we all must realize the value of existence — that each person is here and each at a very different place in life. In the end, we all just want to be friends.
When was the first time you recognized your interest in fashion? I originally went to school as a history major. I wanted to teach. I had never really thought about a career in fashion though I had always been described by my friends as fashion forward. In the summer of 2008 I moved to Burlington, VT and got a job at Gap. It was a store I loved and I needed a job. Then they promoted me into visual merchandising and I found my passion. I love merchandising because it allows me to utilize both the business side and the artistic side of my brain.
Where have you found inspiration lately? I don't like to mope, but lately I've been feeling rather lonely in New York. It's a city so big that at times it can feel very isolating because you don't know anyone and it's difficult to meet people because connections only last so long here. I have found inspiration in this loneliness though. The solitude, the time to think, to examine my life and what qualities I seek in others as I search for someone to share my time with. I suppose you could say I am going through my "Blue" period.
What is your most valued possession? A copy of the children's book "The Town Mouse & The Country Mouse". It means quite a bit to me. When I was a child and I was sick, my mother would read it to me. For me that book is a physical manifestation of the bond between my mother and me. I would save it from a burning building.
What music do you like to listen to? Oh my! So much music.
I guess I'm a fan of more alternative music like Placebo, Oasis, (and) Radio Head — but I also thoroughly enjoy club music. I would say that what I value most about my music collection is that I have a song to fit every mood and moment in my life.
If you had an opportunity to travel back in time, who would you like to meet, and why? I would like to go back to the mid-sixties and meet Edie Sedgwick. I'd want to become a good friend of hers. I think she was misunderstood a lot and I don't think she had strong enough friends to care for her through her addiction. I don't think I would save her though. I think she joins a long list of people who died in there prime: Marilyn Monroe, James Dean, John Kennedy. For better or worse, I suppose its better that we remember these people at the height of their lives.
For more of On Online, click here.