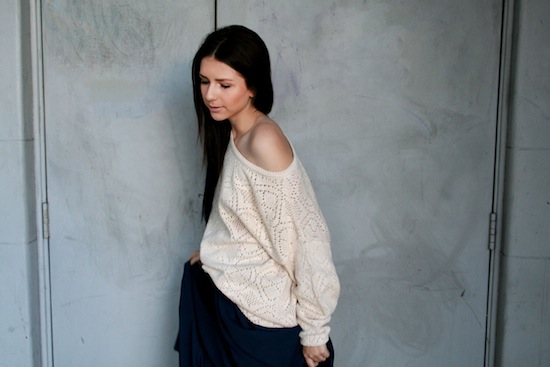 Where do you live? Sacramento, CA
Area of study: AA (maybe BFA) Fashion Journalism
Day job/occupation: Full time student!
List three of your heroes in History: I don't have specific heroes in history, but I think anyone
that has protected our country and made it what it is today, is a hero.
List three of your heroes today: I think I have one big hero and that's Bill Cunningham. I find him incredibly inspiring.
Name three of your favorite designers, journalists, bloggers, stores, etc: I have so many
favorites!  Bloggers: Rumi Neely of Fashiontoast, and Tommy Ton of JakandJil.  Designers: Alexander Wang, Jason Wu, and Rick Owens.
List a guilty pleasure: Shopping!
Tell us about something funny or silly that happened to you this week: I was wearing these 2 1/2 inch flatform sandals and I tripped in the parking lot of Whole Foods and scraped my knees…sooo embarrassing.
What is your dream job? I think about this question a lot and it changes quite often.  Right now I'd say having a successful personal blog, and writing/blogging for websites such as Refinery 29 or Style.com.  I love writing and blogging about fashion so that's basically my dream!
What is the most embarrassing item in your closet? Probably this muscle tee I cut myself.
What is your must have item? I'd have to say chapstick, it really bugs me to have dry lips — haha.
Where have you found inspiration lately? Fashiongonerogue, I love browsing through all the editorials.
What is your most valued possession? My stuffed animal bunny Mr. Snuggles (extreme sentimental value haha).
What is playing on your iPod? Lately it's been Ellie Goulding, Toro y Moi and Tyler the Creator
List a person (dead or alive) whom you would like to have coffee with: Bill Cunningham!
For more of On Online, click here.