We are more than happy to add "Off the Rack" to Fashion School Daily, the new weekly blog post by Danielle Wallis (you may remember her Fashion Week banter with Harry Go). She will be giving her two cents on display windows, fashion and the retail world — with her first post exploring the Halloween windows around San Francisco (hence the title of the post).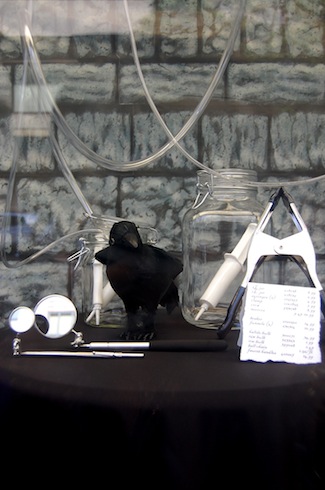 This season, Cole Fox Hardware (yes, a hardware store) gets my vote for the most creative use of products in a Halloween inspired visual display. Who knew that clamps, funnels, and black vinyl gloves could look so creepy?!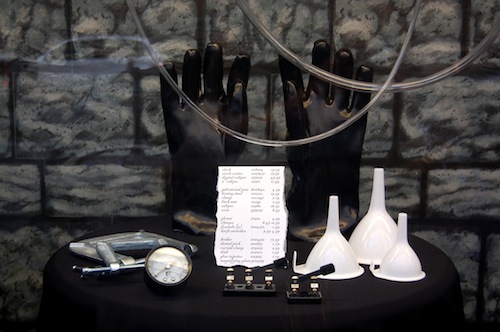 Cole Fox's creative product placement truly enhances the spookiness in their windows. For instance, take a look at those black gloves standing upright. The longer I look at them, the more I think they are going to come alive and come get me!
Follow the jump to read more.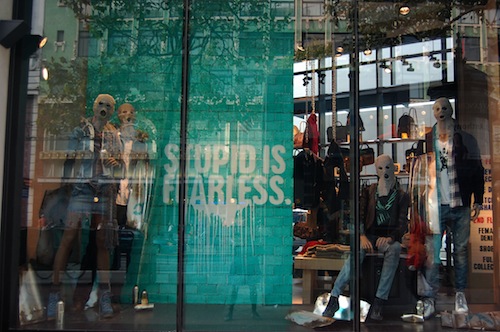 Diesel's hair-raising window displays were updated with symbolic colors and materials that remind us of fearful Halloween characters. Mannequins are accessorized with cut out knit beanies and splashes of red accessories are spotted throughout their ensembles.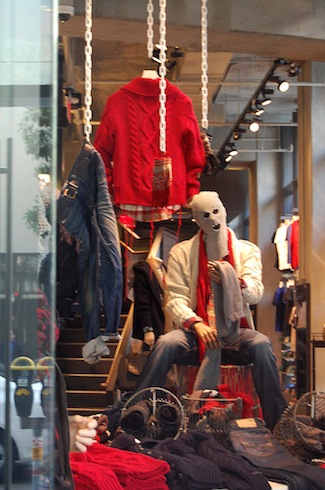 Elements of metal, hanging chains, and spray paint cans remind me of the unruly and villainous side of this fall holiday. I love how the brand is still tying in their "Be Stupid" campaign. They have also made me fear a mannequin for the first time in my life.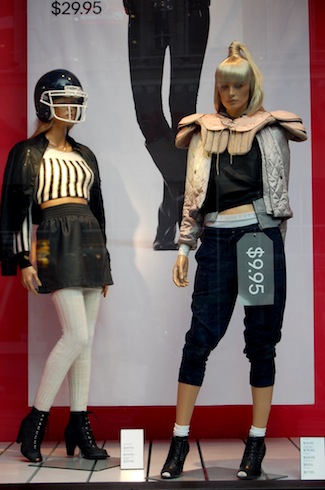 H&M seemed to skip over Halloween and focus on a more academic fall event: homecoming. Football uniform underpinnings were styled onto cozy, layered fall looks.

But wait – what do we have here? As I walked away from the Powell Street store, I noticed a hidden Halloween look on one of the mannequins: a vigorously wrapped pony tail was sitting atop of a mannequin's head a la  I Dream of Genie and/or Mortal Kombat.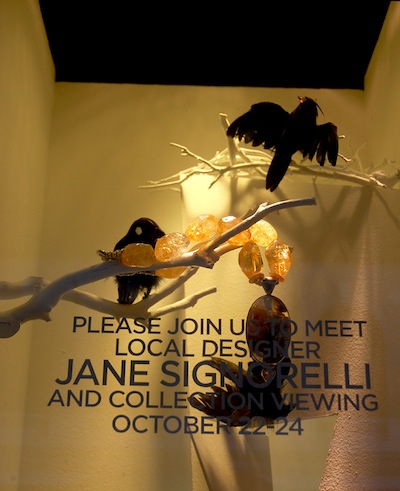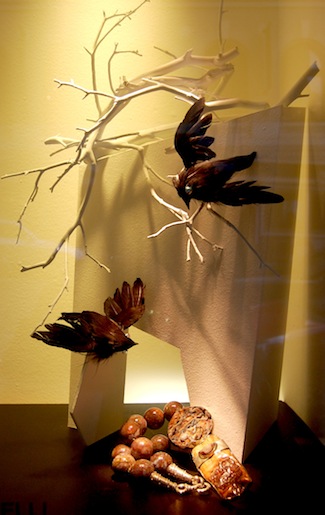 Sak Fifth Avenue's newest window boxes showcase local designer Jane Signorelli's earth-tone jewelry as the subject of prey by small black birds. My question here is, "Where are the crows?" Could they not fit in the small displays? Or, are small black birds with bedazzled eyes more glamorous and fabulous?
Written by: Danielle Wallis
Click here to read more of "Off the Rack"