During Mercedes-Benz Fashion Week, Annie Wehby stopped by Norman Ambrose's Spring/Summer 2011 presentation. She had a chance to talk to the alumnus about his new collection.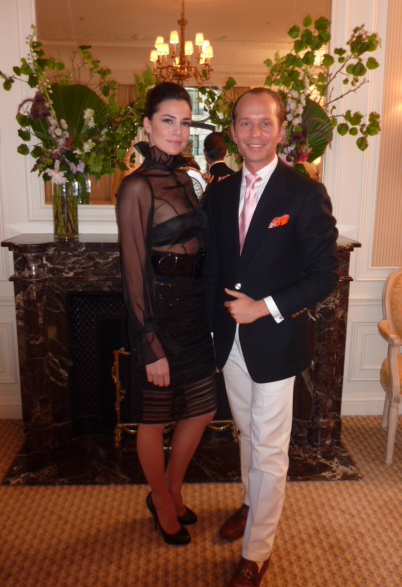 Looking at your previous collections, your European aesthetic is apparent. San Francisco is often touted as one of the more European cities, did your time at the Academy of Art University have any influence on this more elegant look your clothes are famous for?

Well I was raised in San Francisco and there is a quote that I love about the city that says, "San Francisco was the last city in America that stopped wearing gloves." I love the idea behind this, that love for getting dressed up and presenting yourself has always resonated with me.
What are your main inspirations or influences in your work to create this "put together" look?
Well my grandmother and her wardrobe have always been quintessential to my aesthetic. She was a glamorous woman and from a young age I was enthralled by her wardrobe. Also my parents are both European, so that influenced how I viewed dressing and what was appropriate.
Who do you consider you customer to be?
My ideal customer is an independent-minded, confident woman. She is an individual. But not to generalize, she has to also trust my vision because I understand a woman's body. I understand a certain level of taste and what looks good.
Who do you consider your ideal celebrity client, past or present?
Grace Kelly was always someone who resonated with me.
What do you think it is about your clothes that so successfully enables you to deliver couture quality in a ready- to- wear capacity?
Well my clothes are not ready-to-wear. They are couture. Everything here is done by hand. Every seam is hand stitched and every bead is hand sewn. That's why I can customize each piece for individual clients. I can customize color and silhouette to fit the individual needs of the client. It is the quality and dedication to detail that allows me to compete. I am involved in part of the design and production.
Clientele start to come in and Mr. Ambrose excused himself to welcome them. As the models present the looks, he assures possible clients of his ability to customize each piece to their liking and gets up to demonstrate the intricacies of the design details and subtle nuances throughout the 28 piece collection. As Liza Minelli plays softly in the background, he is explains the "play on transparency with a sense of alluring sensuality" noting a French cuff or sailor knot detail.
One client aptly sums up the collection and indeed Norman Ambrose himself as she proclaims: "Audrey Hepburn, eat your heart out!"
Written by: Annie Wehby
NormanAmbrose.com [Official Site]