Resident blogger Harry Go and fashion merchandising student, Danielle Wallis give a he said/she said take on some of the collections at Mercedes-Benz Fashion Week.
Rodarte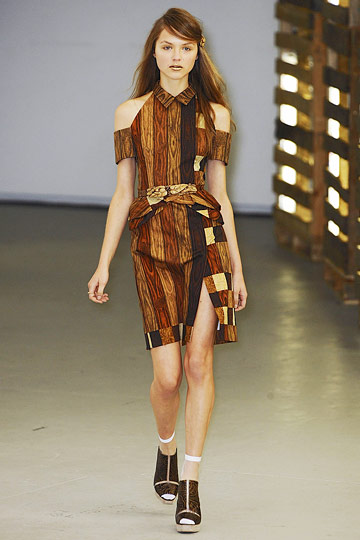 Harry: Kate and Laura Mulleavy are California girls (in case you didn't know). Northern California inspired their Spring 2011 collection. The collection presented different shades of brown wrapped together in Rodarte silhouettes. The presentation was embodied the California girl: the hair, the gold but not many models could pull off this makeup. Rasa Zukauskaite and Madisyn Ritland looked very comical. That goes to show: not everyone can be one of Katy Perry's "California Gurls"!
Danielle: Each season, I highly anticipate viewing Rodarte's collection. Not only am I a fan of their heels, knitwear, and textile mixing, but I too grew up in the coastal and forested Northern California — and therefore feel a connection toward the designers. I am loving their stiff skirts, woodland textiles, oceanic blue florals, and sheer white socks. I was excited to see their signature shoulder and stomach cut outs included in the collection, yet I'm missing their overly busy, textured layers.
Follow the jump for more.
Proenza Schouler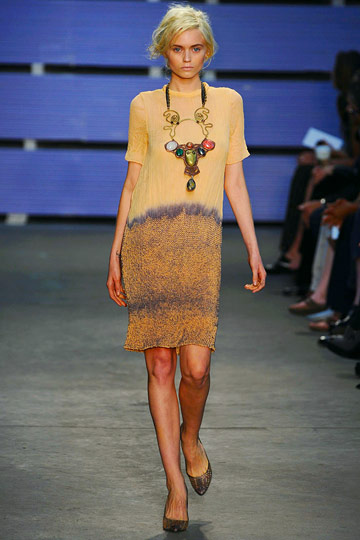 Harry: To me, the Proenza boys are the new Marc Jacobs. For me, they cannot do anything wrong. In the past, they designed for college and surfer girls, but Lazaro Hernandez and Jack McCullough decided to design for polished ladies this season. The collection was a little bit Chanel, a little bit Balenciaga, a little bit Marc Jacobs — but it was very Proenza Schouler. My favorite was the light fabric dress on the highly peroxided Abbey Lee Kershaw. There is something very Egyptian about the necklaces.
Danielle: All hail the sheer day dress for Spring 2011! The show's progression went from neutral and conservative to vividly colored and exposing. Proenza Schouler held my interest with dresses that possessed both feminine and geometric qualities. Let's just say that I have hopped onto the sheer chiffon/mesh train, and I am not getting off it anytime soon.
Harry: Jungah Lee's collection opened the show and it set a high standard for Spring 2011 collection. Jungah shows to the American public the unique style of San Francisco fashion: wearable art. It sets San Francisco apart from New York. The collection caught my attention mainly because its use of unconventional materials. Cara Chiappetta designed with women in mind. She knows what women want and the collection really compliment a woman's body. I would definitely wear the fourth look of the men's collaboration collection between Louie Llewellyn and Xiang Zhang. I wish they could dress me everyday! The little girl models were beyond fierce. I wonder which kindergarten do they go to? Do they teach runway presence in their kindergarten?
Danielle: Loving designer Maria Korovilas intensive Tambour Beading work in her graduate collection. I'm pretty sure that I'm willing to hand over a small part of my soul for the beaded onesie/mini dress that she created. Where would I wear it? Anywhere, of course! I'm definitely swimming in her sea of Jenny Lewis, layering, and metal encrustation.
Vera Wang
Harry: Vera Wang did something a little bit different from her usual formula: she added touches of hues. The collection presented both sides of masculine and feminine. The hair was a reminiscent of the Prada Fall 2010 conehead but messier and fluffier. Some dresses showed Japanese influence. That being said, it's difficult for me to see the cohesiveness of Vera Wang Spring 2011.
Danielle: Vera's spring collection was a mash-up of a variety of cocktail dresses, awkward length Capri shorts, and single shoulder straps. At times, I felt that the only thing unifying this collection was the bootie and matching sock. The garment I am most curious about is #38, worn by the beautiful Frida Gustavsson. To me, the fabrication looks a bit like pulled taffy or cellophane. I'm intrigued.
Marc Jacobs
Harry: Marc Jacobs sent down lots of frizzy hair. It reminds me of the old pictures of my mom and her friends. The big hair, the earth tone and disco vibe tell us it's seventies! It was a huge departure from his neutrals Fall 2010 collection. The hats were very Jodie Foster in Taxi Driver. There was something about the attitude of the collection that was very Bianca Jagger Studio 54. The seventies vibe was even more prominent with an homage to Missoni famous stripes
Danielle: Oh, Marc. You know I've always loved you but, why must you torture me with black, glitzy, cut out jumpers? As if I didn't already love the 1970s enough, Marc decides to tease me with giving it a modern, wearable twist, featuring a color story of plum to orange. The collection is romantic, quirky, and would be great to wear on a Spring Break vacation.