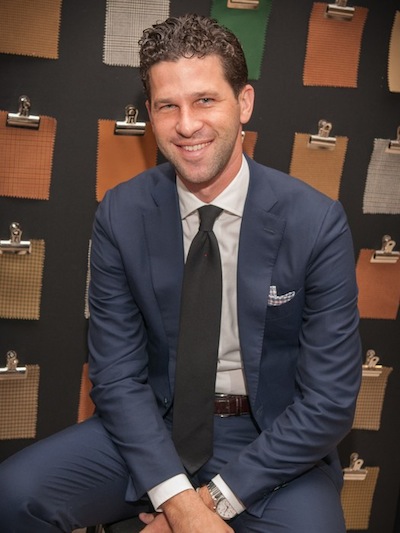 Photo courtesy of Neiman Marcus Walnut Creek.
Today at Neiman Marcus Walnut Creek it's a man's world as the store celebrates its Spring Men's Event. Pumped up colors, prints, and patterns, along with sporty outerwear, a soft loafer, and a summer suit are all hot-ticket items this season, and can be seen at the event hosted by Men's Fashion Director, Matthew Singer. Singer is constantly on the road attending fashion weeks, scouring showrooms, and stopping by Neiman Marcus stores to style customers. We caught up with the sartorially smart director to talk spring fashion, man-to-man.
January marked your one year anniversary as the Men's Fashion Director. What has the last year been like?
Exciting! I have been to many of the Neiman Marcus stores and have really been able to understand who the Neiman Marcus man is. He appreciates style, understands luxury, and embraces fashion.
What are the trends you're most excited about in men's wear for spring?  
I love that men are experimenting with prints and color, more and more. This season is about wearing a pop of color or print as the statement piece. I am also really into the summer suit. A light weight silk and linen blend with texture is a great option for when the engagement calls for something chic.
You travel all over the world for your work. What items are your suitcase staples?
I always love this question.  When I travel I definitely over pack, but what is always with me is a navy sport jacket (maybe two or three). It is the essential piece for me.  Next would have to be my shoe shine kit. It's not that my shoes always have to be shiny, but just in case. Lastly would be my 3×1 jeans.  I normally wear them on the plane (so they never make it in my suitcase) but they are always with me.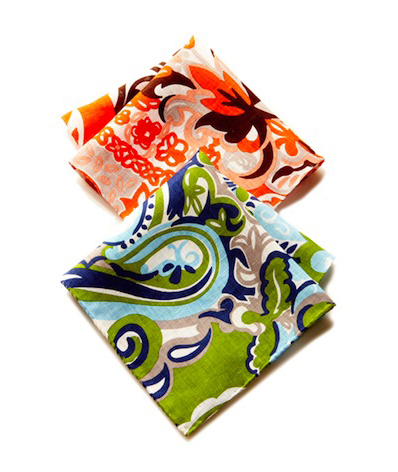 Neiman Marcus private-label pocket squares. Photo courtesy of Neiman Marcus.
What do you think are some of the biggest misconceptions men have in their approach to personal style? 
First things first, men have to feel confident in what they are wearing.  If you don't feel confident, your style doesn't matter.  I would say the biggest misconception is that not every trend is right for everyone. Find your comfort level within the trends and go from there.  Prints this season are a great example of this.  If wearing a printed shirt or short is not ideal for you, start with a fun printed pocket square.  Let that be your interpretation of the trend.
Who has influenced your personal style most?
My Father. As a kid I would spend hours in his closet exploring.  My parents were also always into interiors and I would go with them all over antiquing. At the time I did not appreciate it, but am now very grateful for the experience.
What advice would you give to our design students just starting their careers in fashion?
Be confident in your abilities and it will show in your finished product.
Shop Matthew Singer's stylish tips for spring during the Men's Event at Neiman Marcus Walnut Creek, Broadway Plaza Shopping Center, 1000 South Main Street, or online from March 21st – 24th.