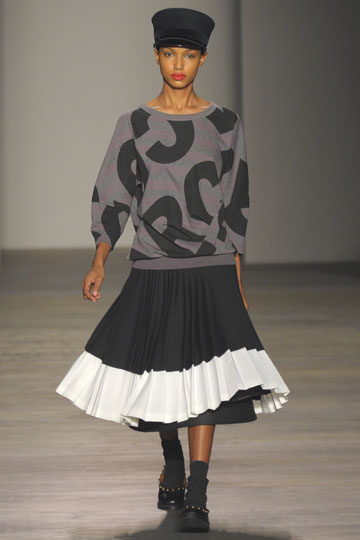 The Somber Cool Kids
Marc Jacobs is one of the most influential and admired designers of today, point blank. Regardless of whether you find his work mildly creative or attractive, he has successively dominated the fashion world -season, after season.
In his Marc by Marc Jacobs Fall/Winter 2012 Collection, Jacobs manages to takes us on a wayward ride back to school, a school full of rebellion and peculiarity. I kind of like to call this collection, "Back to Basics," added with a slight bit of edge that was somewhat reminiscent of Catholic school kids, gone grunge.
Follow the jump to read more!
The silhouettes consisted of sweaters with full knee-length skirts; some pleated, others with swinging silhouette. We also saw bouclé jackets, patterned dresses, and many two-tone pieces – stripes, polka dots, check/plaid, with interesting fabric choices- mesh, felt, velvet and lamé. As if the collection wasn't already reminiscent of the collegiate years, the blacked framed glasses totally gave way to the thought of sexy librarians.
Jacobs undeniably topped off the collection with little equestrian hats that seemed fit for a typical Nottingham/Upper East side youngster.
The loose fitted ensembles had an unmistakably somber color story – grays, dark blues, neutrals, black – touched with splashes of red, electric blue, burgundy, and a gingery orange.
All models marched down the runway in clunky flat boots, similar to Dr. Martens, and most models carried satchels, to perfect the edgy look. The men's wear was evocative of a debonair European young man, with chic topcoats, tailored pants, vests, and checkered shirts underneath. He also added a hint of outerwear, with patterned jackets, nylon jackets, and who can forget that metallic gold added to the last portion of the collection.
Leave it to Mr. Jacobs to enlighten us, and teach us in the same breath, with his Somber Cool Kids Collection!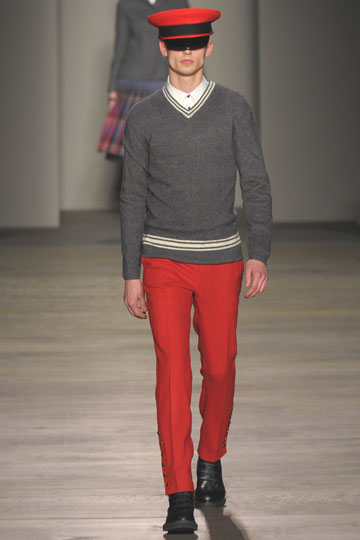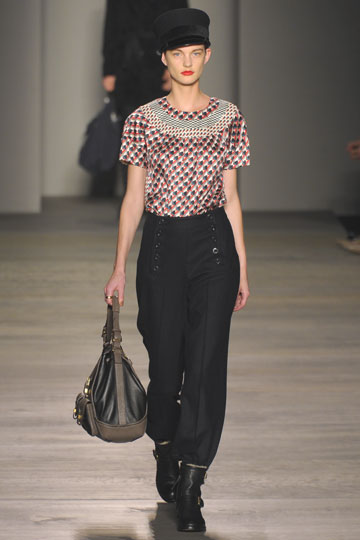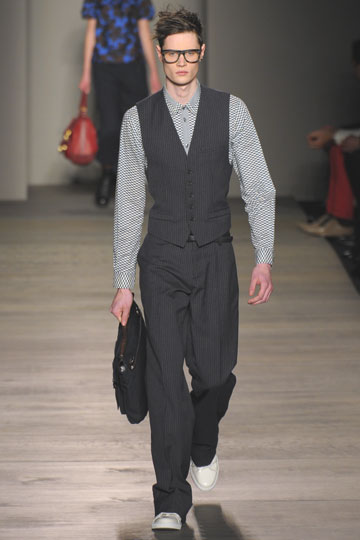 All Photos Courtesy of ImaxTree.
Written By: Henny Jacobs