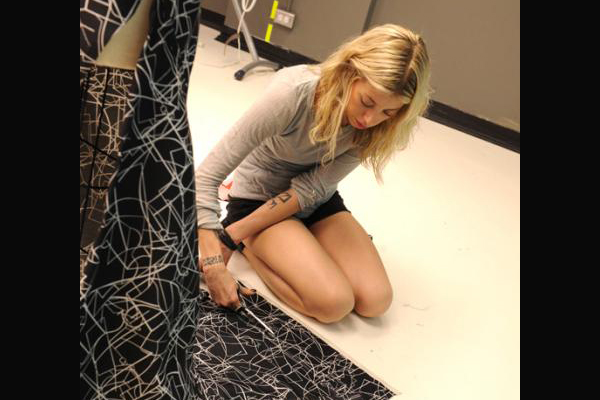 This season, the School of Fashion had not one, but two alumnae competing on Project Runway. Unfortunately, Elena Slivnyak was eliminated last week after the challenge that entailed designing baby clothes for Heidi Klum's new Toys 'R' Us line, but last night, Melissa Fleis passed through another round! This week, designers were tasked with designing an avant garde look inspired by L'Oreal Paris's new limited-edition line, Electric Fantasie. There were four different collections in the line, and designers pulled from a hat, with Melissa choosing the Artsy Muse palette.
Follow the jump to read more!
After a somewhat tumultuous two-days (there's just never enough time!), Melissa turned out a look inspired by Edie Sedgwick and Andy Warhol. She garnered rave reviews from Michael Kors, who absolutely loved the colors, shape, and leather work. Nina Garcia loved the vest and dramatic collar as well as the slit of the skirt, and guest judge Zoe Saldana closed the critique saying, "It's art, it's really beautiful." The avant garde look got her through to the next round – designing and producing a collection to be shown at Mercedes-Benz Fashion Week.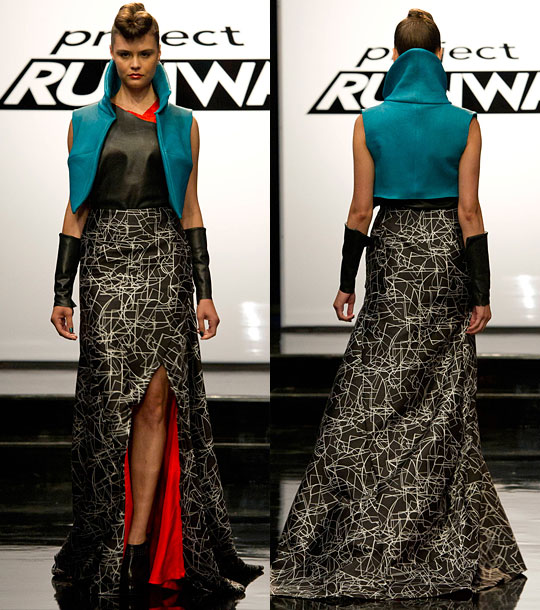 Well definitely be watching next week to which designers will make it to the tents, be sure to tune in next Thursday!