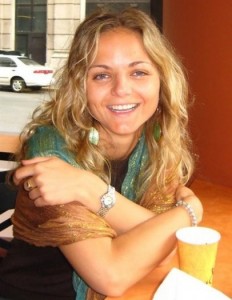 Meet Ana, the Student Rep for the Graduate Fashion Merchandising Program
What is a student rep?
First of all I want to tell the students get ready for an exciting journey. The Academy is one of the best schools in the country for the Arts so they can feel confident in the educational choice they have made. As a student rep my role is to be the ambassador in sharing from a students perspective their ideas, interests and concerns to the executive administration of the school in confidence.
What kinds of things can you help with?
I want students to know I can be their voice. No matter what the situation, it will be always confidential and I will do my best to represent their concerns to the administration. I want students to know that I have their back and they can openly come to me and talk about any school issues! Here are a few ways I can help:
Equipment issues or lack there of
Classroom size – too small / too large
Effectiveness of the teacher – relevancy of material, deep enough dialog, pace of delivery – etc.
Provide my views on curriculum offerings
Discuss issues on school policy and how it may effect them
Inform them of any important school activities they should attend
Basically I'm here to help solve their problems and give advice wherever I can
I will have regular cadence with the administration to discuss problems or share new ideas that are brought to my attention.
How long have you been a student representative?
This will be my third semester, I started as a student rep last fall in 2010 and I enjoy every minute of it!
Follow the jump to read about some of Ana's favorite spots around campus and her advice to new students!
What are some of your favorite spots around campus?
For students who are new to the city I would encourage them to get out and explore it as San Francisco has a lot to offer. For those students who are familiar with the city and looking closer to campus to grab coffee or a bite to eat here are a few of my favorite places:
Ike's place is one of the best sandwich shops in the city. Located on 16th in the Mission/Castro area
Osha Thai on 2nd street close to the 180 New Montgomery campus
Caffe Museo located in SFMOMA
Common Wealth in the Mission District
Mission Street Foods is a restaurant but also a charitable organization which supports the SF Food bank
Chatz Coffee on 2nd street close to 180 New Montgomery campus
Café Madeleine on New Montgomery
Limon Peruvian Rotisserie in the Mission
If you get some free time you should visit SFMOMA, Contemporary Jewish Museum and Museum of the African Diaspora they are all located by the 180 New Montgomery building. Also, the SF ballet is an amazing ballet company that I highly recommend attending if any of you have interest in dance and the performing arts or simply like to enjoy a beautiful show.
What are you favorite industry websites?
There are many websites and blogs with good information just be sure to follow what's best for you. Also, be sure to follow your favorite designers' on Facebook, Twitter, Foursquare etc. for the latest in what they are creating and doing as well as trends and retail business in general.
Site's that I find to be cool and informative:
www.wwd.com
www.wgsn.com
www.businessoffashion.com
www.fashionschooldaily.com
www.refinery29.com
www.dailycandy.com
www.runway.blogs.nytimes.com
www.gilt.com
www.ideeli.com
www.etsy.com
What advice do you have for incoming students?
For new students it can be overwhelming so I would tell them to not to worry or stress too much as situations always works out in the end. Here are some helpful tips to stay on track:
Keep your passion and desire alive
Learn as much as you can
Test and apply what you have learned
Challenge yourself
Be as creative as your mind allows you, remember to think differently
Ask questions! As many as you can think of, their are no stupid questions
Be bold
Finally have fun!
If you have any questions and concerns you can always contact me using either of these two email addresses:
mfa.fsh.rep@art.edu
fmstudentrep@gmail.com
Keep checking Fashion School Daily all week long to meet the rest of your Student Representatives!