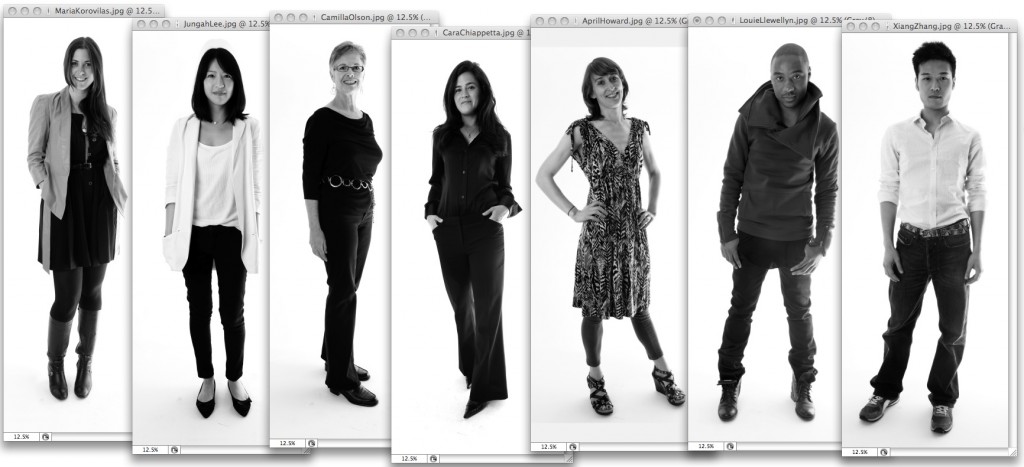 Since 2005, the School of Fashion at Academy of Art University in San Francisco has premiered the collections of recent graduates during New York Fashion Week. This season's show will be presented on Friday, September 10th at 8:00 PM in The Theater at Lincoln Center. "We view this show as the University's commitment to help launch the careers of these young designers," said Dr. Elisa Stephens, president of Academy of Art University. "To be a part of Mercedes-Benz Fashion Week is an incredible opportunity." This season's designers are…
Follow the jump for the complete list of designers!
Maria Korovilas, M.F.A. Fashion Design
Birthplace: Baltimore, Maryland
Materials: silk chiffon, wool, cotton, lace
After completing classes in Tambour Beading in the School of Fashion, Maria incorporated metal encrusted pieces and details into her collection. The hand beading took over 600 hours to complete. The starting point of her inspiration was the Jenny Lewis song "You Are What You Love" from which she pulled visual and conceptual references for her moody collection of lace, embroidery and layered pieces.
Louie Llewellyn, M.F.A. Men's Wear Design, and Xiang Zhang, M.F.A. Knitwear Design
Louie's birthplace: Boston, Massachusetts
Xiang's birthplace: Shanghai, China
Materials: silk faille, linen, cotton twill, cotton piqué, cotton and rayon knit
Louie used the theme of a 'disagreement' between a hard and soft men's wear silhouette. He designed the woven pieces with sharp edges and bold lines, then added softer fabrics for contrast. He used one of his favorite paintings, Incision by Jay Defeo, for the color inspiration and selected fabrics to evoke a feeling of strength and desire. His favorite fabric for this collection is a cotton-silk blend piqué in lavender and black.
Xiang designed the knitwear pieces for the collection. Over 30 swatches were created before the final color combinations were selected. A time-consuming plating technique, knitting with two strands of yarn held by hand and twisted to obtain the desired effect and color combination, was used. Each knit piece took approximately 50 hours to finish.
Cara Chiappetta, M.F.A. Fashion Design
Birthplace: Mundelein, Illinois
Materials: rubber, silk, mesh, wool, nylon
In addition to being a Fashion Group Foundation Scholarship recipient and participant in a LVMH Creative Briefing Design Challenge, Cara interned for N.I.C.E. Collective and Michael Kors. She found inspiration in femininity and examining how a woman is perceived. Bridget Fonda's character Nina in the film "The Point of No Return" became Cara's muse. Her fabric choices influenced the garment details, manipulations and bonding techniques. Helmut Newton's photography helped her capture the mood.
Camilla Olson, M.F.A. Fashion Design
Birthplace: Fairbanks, Alaska
Materials: silk faille, silk chiffon, silk habotai, silk organza
With a B.S. in Microbiology and a M.B.A. in Marketing, Camilla patented several products and founded five companies before pursuing her M.F.A. at the Academy. She participated in the LVMH Creative Briefing Design Challenge this summer. Inspired by the movie "Blade Runner" and samurai arts, Camilla's collection represents women as rebels breaking the restrictions of their historically constrained roles. The soft silk under-dresses represent a woman's inner nature and the outer 'cage' is her strength and armor.
April Howard, M.F.A. Fashion Design
Birthplace: Hartford, Connecticut
Materials: stretch leather, silk twill
Before pursuing her M.F.A. at the Academy, April received a B.A. in Anthropology, A.A.S. in Textile/Surface Design, and worked professionally designing home, tabletop, giftware and linens for Tommy Hilfiger and Ralph Lauren. For this collection, she was inspired by the work of found objects sculptor Kathy Kelley, the decaying concrete and plastic of an urban wasteland, and Cormac McCarthy's novel "The Road." Her organic shapes and construction details are representative of discarded items. Leggings are made to look like molded foam. Slim pants like slashed tires.
Jungah Lee, M.F.A. Fashion Design
Birthplace: Seoul, South Korea
Materials: latex, silk
Jungah used the faded colors of antique books as inspiration for the hand dyeing of her fabrics. She mixed water with the dyes and used brushes to obtain a water stained look. She layered, pleated and manipulated the fabric to mimic warped and torn pages of old books. Traditional Korean dresses influenced the soft silhouette and lines of her collection.
Stay tuned for more news on our designers as they get ready for the show in September!