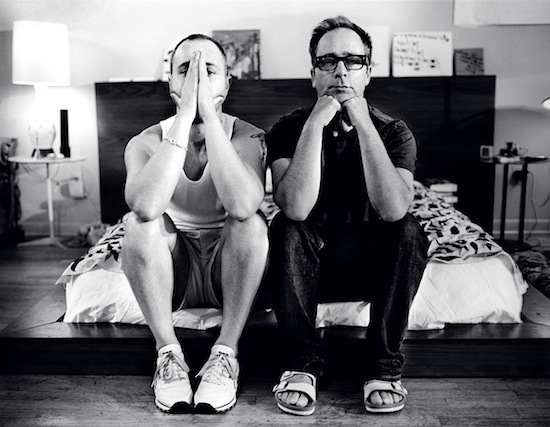 Founded in 2001 by Steven Cox and Daniel Silver, Duckie Brown is a New York City based menswear designer collection. With a fan following that includes the New York Times, GQ, Barneys New York and the industry's premier stylists, Duckie Brown has been widely praised for its innovation and wit. As one of the few NYC-based menswear labels winning international attention, Duckie Brown is stocked in stores across the world from New York to London to Tokyo.
In 2006, Duckie Brown received their first accolade with a nomination for the CFDA Perry Ellis New Menswear Award. This was followed in 2007 with a nomination for the CFDA Menswear Designer of the Year, along side Ralph Lauren and Calvin Klein. Also in 2007, Duckie Brown was one of the designers featured at in London at the Victoria & Albert Museum show, New York Fashion Now, a retrospective of up and coming American designers. After the show closed, Duckie Brown was honored by the Victoria & Albert Museum by having one of their outfits become part of the V& A's permanent collection.
In 2008, Duckie Brown partnered with Florsheim Shoes creating Florsheim by Duckie Brown, a collection of classic fashionable shoes. Currently the shoes are selling around the world including Barneys NY, Neiman Marcus, Brooks Brothers, Saks, Nordstrom, Selfridges, Liberty's of London and many other stores across America, Europe and Japan.
And finally after many years and at the request of many women, Duckie Brown will launch Mrs. Brown, a collection of women's knits for Fall 2011.
They Steven and Daniel were nice enough to take some time and answer a couple of questions for Fashion School Daily:
How far in advance do you start working on a collection? Have you begun working on Spring 2012?
Our story is continuous – the last look of one collection becomes the starting point for the next collection. While we are working on one collection we have already begun to think and feel around the next one. There is a continuous flow. The ideas for the Spring 2012 collection started percolating sometime around last November. We have begun making samples for Spring 2012.
Were the CFDA nominations moments when you thought to yourselves that you had "made it" or do these honors increase the pressure of creating the next collection?
We have a very close friend who is always talking about "making it", so we've had many discussions about this subject. What exactly "making it" means is really something that is a day-to-day concept in our opinion. Have you done well today? Have you done your best? Did you push yourself? Being recognized by the fashion community for the work we do is lovely and feels good – but really it's just a moment in time. What feels really great is doing the work, seeing the samples come back, and seeing our garments on people. The pressure we feel is self-induced. It is not something that comes from the outside world. We want to do better; make a better collection — more interesting collection —  pushing the ideas of menswear.
Follow the jump to read more.
The Florsheim by Duckie Brown has received great accolades, how different is designing shoes from clothing?
If you're a designer you can design anything. We approach the shoes the same way we approach the clothing. We come up with a story – and think about how we can move the idea of what kind of shoes we want to see along.
Where do you look most for inspiration?
We never look for inspiration. Inspiration is something that comes from deep inside and is unexplainable. The inspiration for each collection comes from the lives we lead, what we see everyday, and what we find most interesting — what tickles our fancy. Charlie Chaplin, New Order, Chanel and the streets of the NYC and London are the constants in every collection.
Are there any artists, books or films that you find interesting now?
I Am Love, Adele's "Lovesong", Bexley Heath Boys, Marion Cotillard and track suits — these are just some of things going around in our heads at the moment.
Are you looking forward to your visit to San Francisco?
We love working with students. At least 15 times a year we have groups of fashion students from all over the world visit our studio. This is one of the ways we give back to the world community. We take everyone around the studio, explain how we work — how the business of fashion works and talk truthfully about our experiences. Hopefully we inspire them to become better designers. So yes,  we are very excited about coming to S.F. and talking with the students — (to) see what you are all doing and hopefully we can learn from one another.
When interviewing applicants for internships, what do you look for the most in the person?
When talking to students about interning with us, we want to see their sketchbooks not some project they did for school. We want to understand how they think creatively– and most importantly, how much do they want to be a designer. There are lots of students who are very talented, but really only those who really want it — and keep wanting it — will succeed. And of course, we have to feel a kinship to them.
What is next for Duckie Brown?
What's next for Duckie Brown? Well that's a very good question. Our philosophy is throw as much as you can against the wall and see what sticks. The business of fashion is very challenging. For the last 10 years we've worked at doing Duckie Brown. It's been the best, the greatest, the most wonderful, horrifying, amazing, scary, incredible, disappointing and life affirming experience of our lives. What's next? Stay tuned — and when we know, we'll let you know.
For more information on our graduation fashion show and events, click here.