Every semester, a few ambitious students secure coveted internship positions within different departments at the School of Fashion. Fashion School Daily is excited to profile the talented group working alongside Academy staff this spring. Meet public relations intern Robert Bala. This Academy sophomore from Rhode Island has Hugo Boss and an award-winning magazine already on his resume and uses "a leaf in the wind" to describe himself.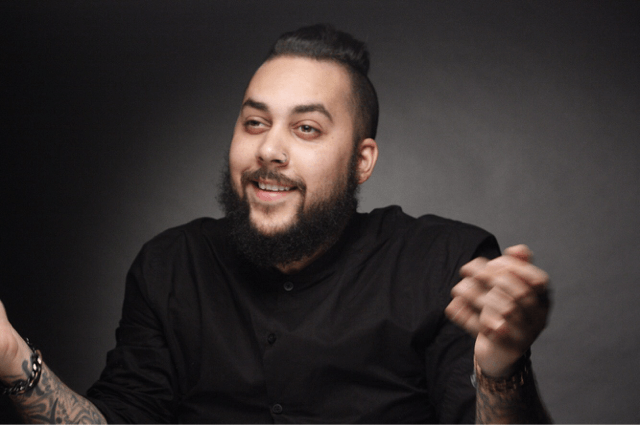 FSD: What brought you to the Academy?
RB: I've had small styling successes here and there. People see and appreciate the little things that I've done, but the main thing that's always holding me back is no degree. Being at the Academy is helping me blossom my passion into a true career. I once bought an amazing leather jacket at a consignment store in Florida. It became my favorite and I later discovered it was made by a San Francisco brand. It's almost fate that I would be styling in the Bay one day.
FSD: How did you get into fashion styling?
RB: Back at Florida State University in Tallahassee I ran a magazine. Diverse World Fashion. I was in charge of everything [laughs], but the styling aspect was always my favorite. I loved seeing how much life you could bring to a situation with a right look. I still love creating stories for people through clothing. When I interned at Hugo Boss in New York, I was wearing suits to work every day and meeting people like Adrian Brody, Jared Leto, Lance Bass, Kit Harington… Could not ask for anything better than that! I was 19, a young kid; it changed who I was and who I've become.
FSD: Do you have a favorite designer or a trend?
RB: Dao-Yi Chow and Maxwell Osborne of Public School NYC. They're just two guys from Brooklyn with simple, beautiful designs. Everything about what they do is specifically how I style. No bold, bright colors. It's very minimal, yet it says so much. My style icons are Jimmy Hendrix, Nick Wooster, Johnny Depp and Lenny Kravitz. I think denim on denim is really cool. Personally, I can't really pinpoint my trend because there's just so much going on at any one time and I can only do me. I do love bandanas, though!
FSD: What brought you to this internship?
RB: Public relations was always interesting to me. I love the creative part of fashion, and want to learn more of the business side of the industry while here at the Academy. I love getting to meet people, to socialize, to see the ins and outs of an actual team effort. I know my styling, but I needed to see how companies formulate events, budgets, campaigns. This is the direction I want to continue in.
FSD: Allegedly, you have a Martha Stewart run-in story…
RB: I saw her in an elevator three times because her office is right above Hugo Boss. And um… I bumped into her with a clothing rack which I should not have had it in that elevator in the first place. She gave me a look I will remember for the rest of my life. You best do right by Martha Stewart is all I'm saying. [laughs]
FSD: What's your advice for those aspiring to enter the fashion industry?
RB: Don't be afraid to do something. Don't be closed-minded, take all opportunities because you never know what that can do for you in the future. Do things. Don't stay idle. Go for it.
Interview by Jenny Truong (BFA Advertising)