Cynthia Tran, B.F.A. Fashion Design, and Kassie Moody, B.F.A. Textile Design, have collaborated on a women's wear collection for the upcoming Graduation Fashion Show.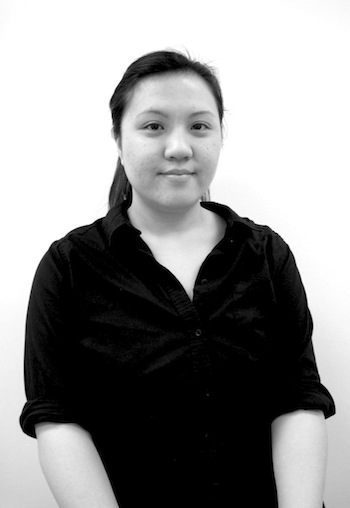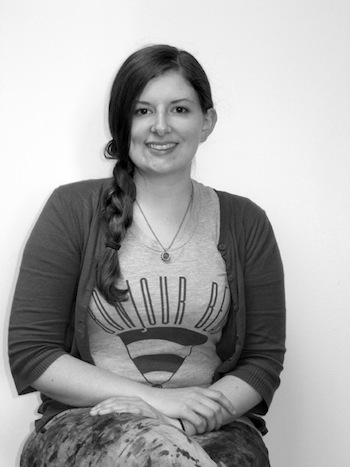 Tell us about your inspiration?
Cynthia: I was inspired by Ludwig Bemelmans' storybook Madeline and paper origami nuns. I also looked at the clean silhouettes in the 1960s from designers like Balenciaga and Courreges. I wanted to create a collection that was whimsical and classic at the same time.
Kassie: The collection was largely inspired by the storybook Madeline. I took both the setting of Paris and the loose, painterly style of Ludwig Bemelmans and did my best to translate them into intriguing and textural prints.
Follow the jump to read more.

How are you feeling with the show so close?

Cynthia: I am excited to see the end result and to move on.
Kassie: An equal combination of totally stoked and pretty anxious.
Are you sleeping much?

Cynthia: I slept about an hour a day before hand-in but made up for it on Easter weekend.
Kassie: When I was in the lab over spring break printing for collection I slept very little but since finishing printing I am back on a more normal sleep schedule.
How do you stay focused?

Cynthia: There is nothing else more important right now than getting it done.
Kassie: Soy Chai Tea Lattes, TV shows and pure will of spirit.
What has been your favorite part of working on senior collection?

Cynthia: My favorite part was the process, coming up with the ideas and working it out.
Kassie: The speed, chaos and excitement of printing in the Textile Lab on a professional level.
If you could do this year over, what would you change to prepare yourself more?

Cynthia: I would have focused more on my portfolio over winter break.
Kassie: I would have a better knowledge of how to convert my prints to large-scale designs so I think that would have made the experience more efficient.
What are your plans after graduation?

Cynthia: Look for internships or a job anywhere and everywhere. Maybe get a part-time job at a bridal salon.
Kassie: Hopefully I will have started an amazing job or internship!
For more information on our graduation fashion show and events, click here.