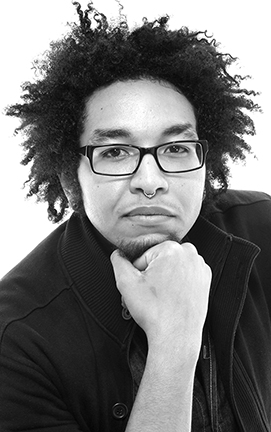 Joseph Khawane, M.F.A. Textile Design, was born in Fairfax, VA, and grew up in Baltimore, MD. After earning his B.F.A. in Fashion Design, he worked on theatre sets and costume design, as well as millinery production. His design internship with Aysha Saeed in New York City inspired him to pursue his M.F.A. degree at Academy of Art University. For Fall 2014, he collaborated with Mingyu Du, M.F.A. Fashion Design, on a womenswear collection and developed textiles with a focus on texture. His textiles were created with military elements, often using fabrics in unconventional ways, manipulating them to give them new life. Additional inspiration was drawn from Ghanaian sculptor El Anatsui, and Syrian contemporary artist Diana Al-Hadid.
Textile Swatches from his Fall 2014 Collection
What is the best advice you have ever received?
My mother who said, "What ever you do in life be happy", gave the best advice. That small piece of knowledge allowed me to fully develop and find my way into what I love, which is Textile Design. In life do what makes you thrive you aren't living for anyone but yourself.
What is your favorite memory of being in the School of Fashion?
The moment I found my own aesthetic, it feels really awesome to feel comfortable in your design skin. Also the people who I have met in the program have been driven and inspiring.
Which [items in your closet] do you most use?
I would say my black Dr.Marten boots. I wear them everyday.
What is your style motto?
Keep it simple.
Which talent would you most like to have?
I am truly fond of the idea of being multilingual. Being able to speak more than two or three languages is a talent.
What advice would you give students who want to do collection?
My best advice would be stay focused and keep the pace all the way from process through to the end result. Keep up the momentum.
Written by Ashley Castanos