There are a bunch of events happening in February so make sure you jot all of them down in your planner!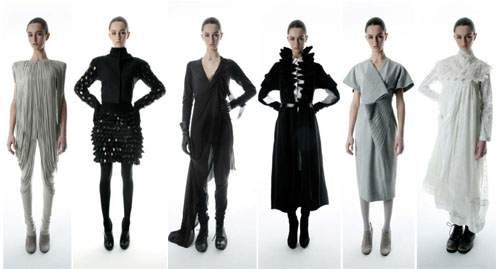 Spring Semester begins
Monday, February 1, 2010

Beyond the Front Row (fashion club) General Meeting
Thursday, February 4, 2010 ~ 7:00PM Room 804 @ 180 New Montgomery
Where Style Meets Substance. Meet the 2010-2011 Board. Greet other members. Learn about the club, the events, and opportunities to volunteer. Membership ($10 annually) is open to all University students.
Hearts for Haiti / Fashion for Haiti
Friday, February 12, 2010
79 Retail Store and Window
Support the Council of Fashion Designers of America's (CFDA) campaign "Fashion for Haiti", a nation-wide effort to raise funds for victims of the earthquake. The Academy of Art University's 79 Retail Store will join top retailers and fashion designers to offer the special $25 "Fashion for Haiti" t-shirts. Proceeds raised from the t-shirt sales will benefit the Clinton Bush Haiti Fund, "…which is raising funds for immediate, high-impact relief and long-term recovery efforts to help those who are most in need of assistance". www.cfda.com/fashion-for-haiti
Just in time for a Valentine's message, "To Haiti with Love".
Graduate designers' Fall 2010 collections debut at Mercedes-Benz New York Fashion Week
Saturday, February 13, 2010 ~ 3:00PM EST / 12:00PM PST
Watch the Academy of Art University fashion show streaming live from New York! www.academyart.edu
For a preview of the designers' collections, click here!
one eighty magazine
Saturday, February 13, 2010 ~ 3:00PM
Mercedes-Benz New York Fashion Week
The third issue of one eighty magazine will premiere at the New York show.

Quoc Lieu Pop-up Shop
Thursday, February 18, 2010
79 Retail Store @ 79 New Montgomery
Quoc Lieu, 2000 BFA Fashion and Knitwear Design alumnus, designs a collection of jewelry and selects special pieces for the Academy of Art University Pop-up, $80 – $320. In the February 2008, some of Quoc's designs were included in the runway collections at the Mercedes-Benz New York Fashion Week show. For a glance at some of Quoc's signature "sci-fi and avant garde" pieces, click here.

Beyond the Front Row hosts the "Shoe In"
Thursday, February 18, 2010 ~ 7:00PM – 9:00PM Location: TBA (classroom at 180 New Montgomery)
Moderated by Hersha Steinbock, with guests including local shoe and accessories designers, Beyond the Front Row will host a discussion / Q&A / brainstorm session to consider ways in which to repurpose, donate, and/or recycle over 100 unmatched shoes. The shoes were donated to the School of Fashion for use in the 'shoe tree' that debuted in 79's holiday windows in December. Last month, students began submitting researched suggestions for responsible use of the shoes; these suggestions will launch the discussion. The objective of the moderated open forum is to determine socially responsible ways to use the shoes; committees will be formed during the "Shoe In" to carry out the responsible decisions within the following weeks. Guests involved in the panel will also take a few moments to talk about their careers, businesses and ways they incorporate social responsibility in their work.
Red Cross Wearable Art Competition
Friday, February 19, 2010 – student applications and design sketches are due
The American Red Cross, Silicon Valley Chapter, invites all local artisans, fashion designers and high-tech designers (including students) to participate in the inaugural Red Cross Wearable Arts Competition, highlighting the theme of 'emergency preparedness, prevention and response'. Selected designs will be showcased during the May 8, 2010 Heroes Celebration and judged by a celebrity panel for grand prize and category winners. For design guidelines, click here.

Beyond the Front Row's group outing to the Cartier and America exhibit
Saturday, February 27, 2010 ~ 1:00PM @ the Legion of Honor Museum
Beyond the Front Row members will all meet at the Legion of Honor Museum and enter as a group. Once inside, members are free to disperse among the exhibit and mingle with one other. The fee for students is $6 general admission with student identification and $10 for entry to Cartier and America (total $16) "Cartier and America celebrates the imagination and creativity of Cartier in the 20th century. The jewelry and works of art include pieces from the private collection of Cartier." Visit www.famsf.org for full details.