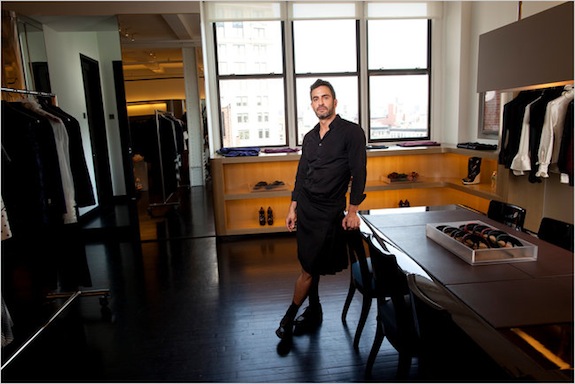 In today's print version of the New York Time (it appeared online yesterday), Ruth La Ferla wrote a very insightful article about Marc Jacobs — fashion's poster child who can either be 1.) a renowned designer, 2.) tabloid fodder, 3.) a mainstay on the racks of department stores worldwide, 4.) a critic's punching bag, or 5.) a God to the "fashionista" masses.
Luckily the article — appropriately titled, "The Survivor" — covers all those bases.
Let's take a look at some quotes from the article:
"His shows have impact," said André Leon Talley, Vogue's editor at large. "They become the major, pivotal, prophetic moment of the season."
OK. We can live with that. His shows are somewhat "important" to the industry — even if they do start three hours late.
Here's what Mr. Jacobs had to say about his identity as a designer:
"You're damned if you do, and you're damned if you don't," he offered serenely. "If you stay with one look, people just say, 'Oh, he does the same thing every season.' If you do something different each time, you're some kind of fashion imposter."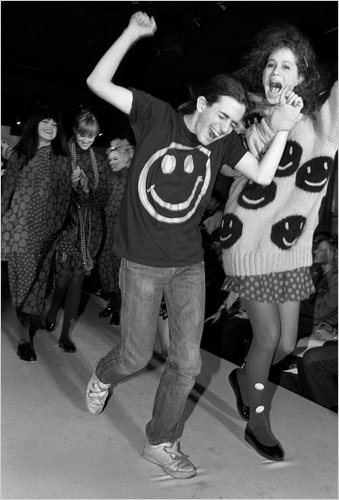 Takishma Faison, a "disaffected" fashion student in the article said the following about the designer: "At one time, his style was very distinctive. It had a recognizable look." Today, she finds his offerings "kind of commercial, kind of watered down. They don't look 'designer,' " she said. She added that if she had the means, she would instead turn to Prada or Lanvin.
In turn, Mr. Jacobs said this about his critics:
"I'm going to be defensive here," he said, shifting slightly in his chair. "People are always going to want newness in fashion, just like they want new pop stars." Yet he conceded a touch wistfully, "Maybe there's something I'm missing. I don't know … "
With all that said, what do you think of Marc Jacobs? Is he a "survivor?" Or are you, like Faison, disaffected by him? Read the article (by clicking here) and chime in. We're dying to hear what you have to say!