Academy of Art University left its mark on the Council of Fashion Designers of America x Amazon produced inaugural New York Fashion Week Men's with three School of Fashion alumni presenting their creative visions for Spring/Summer 2016 season.
Academy of Art Fashion Journalism alumnus Malcolm Thomas reports on each show:
"I'm not sure what will come of this, but I'm so glad to have an opportunity to be able to do this," said designer Kenneth Ning, as he stood in front of his latest theatre d'art. Ning's Spring/Summer 2016 collection for New York Fashion Week Men's debut was"unexpected," "vibrant," "ornate," "bold," "youthful," "liberated" and "androgynous" – some of the key adjectives used by the audience to describe this Academy of Art University alumnus. How would you classify a "yellow turmeric" gilet with matching pants or a "black pepper" jumpsuit styled with a ladyboy scarf tied round the neck? As "menswear of the future." of course.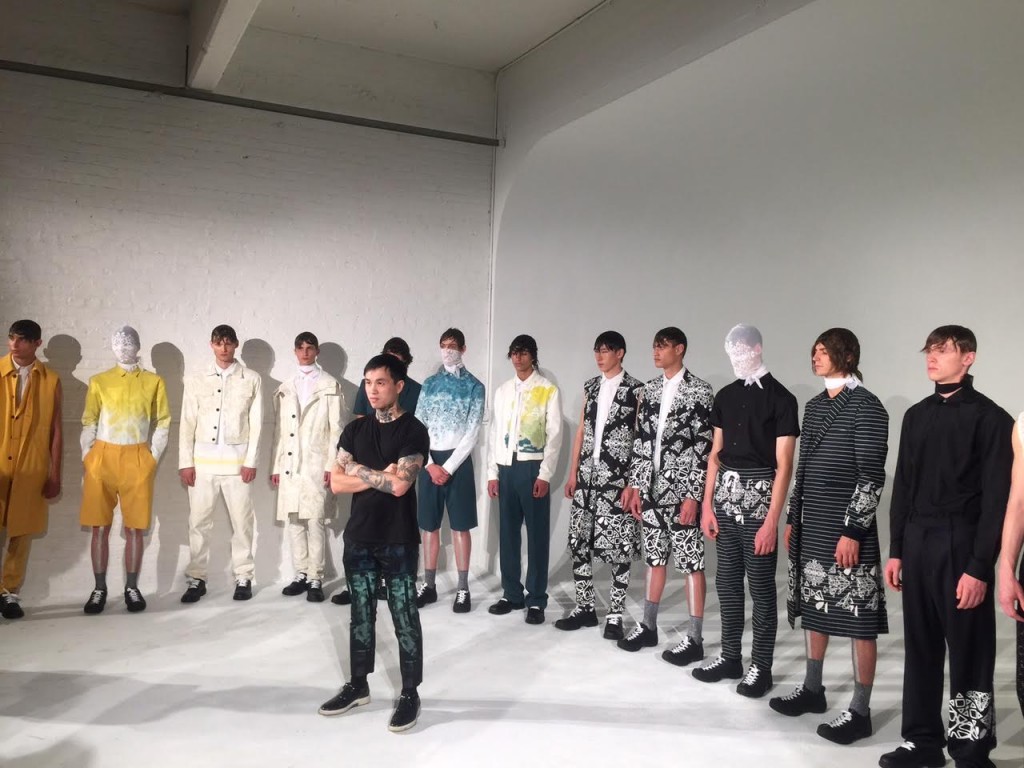 Influenced by a "faraway desert land of Morocco" as the program stated, Ning's fabric selection of floral jacquards and intricate lace would seem standard in any women's ready-to-wear collection. Yet when placed on the athletic bodies of men, the pieces shattered stereotypes and instead became, "young, rebellious and disruptive," said Ning. A particular polka dot, sheer ensemble— inclusive of the mandala mask, emanated these themes with the brazen provocation that only fashion can excite. Ning's good friend Alex Lauritzen was charged with styling the show and he succeeded by combining dessert-inspired hairdos, cult-like body markings, raising the gravitas of the show above others on NEW YORK MEN'S DAY, sponsored by Cadillac.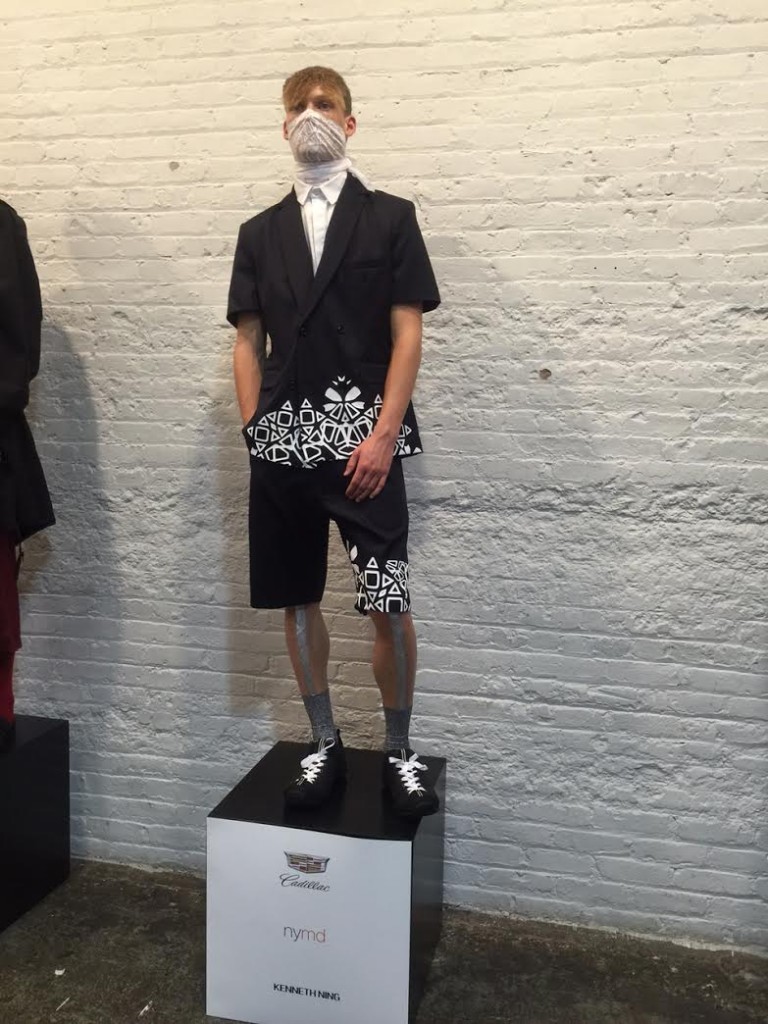 However, gender politics was not Ning's intention. "I'm not creating a gender specific line. There's no particular demographic. If you're into men's fashion you appreciate things like this," said the thickly tatted designer, almost unrecognizable from his first glide down the catwalk nearly ten years prior. Ning could've been humming, Time Is on My Side under the hush of his humble breath because these last eight years appear to have been great for him. From designing for Macy's and American Rag, to his first fore into entrepreneurship with luxury t-shirt line, Premium NYC and finally to the helm of his eponymous label, the former BFA Menswear Design student has sewn himself a success. Cue applause.
Perhaps it was by happenstance that the sporadic avalanches of rainfall were so bad last week that one might need swimwear, a pair of oars and a canoe to wade through bodies of water south of Houston Street. But this made Edinger Apparel's Spring/Summer 2016 swimwear collection that much more enticing. From the way the models were perched— some in board shorts, Olukai sandals and barely anything else— you'd think you were in Venice Beach, California, not the Waterworld Manhattan had turned into. That's because for Edinger Apparel CEO and designer Erik Nelson the rolling waters of the Pacific have never ceased. "I got kind of tired of designing for cold weather. I wanted to dream of tropical, sun drenched beaches," said the California native, and 2002, Academy of Art University, Fashion Design alumnus. Yet, Nelson and Edinger Apparel, creative director and wife, Emily Cummings-Nelson— "we're two sides of the same coin", Nelson explained— are now based in New York City.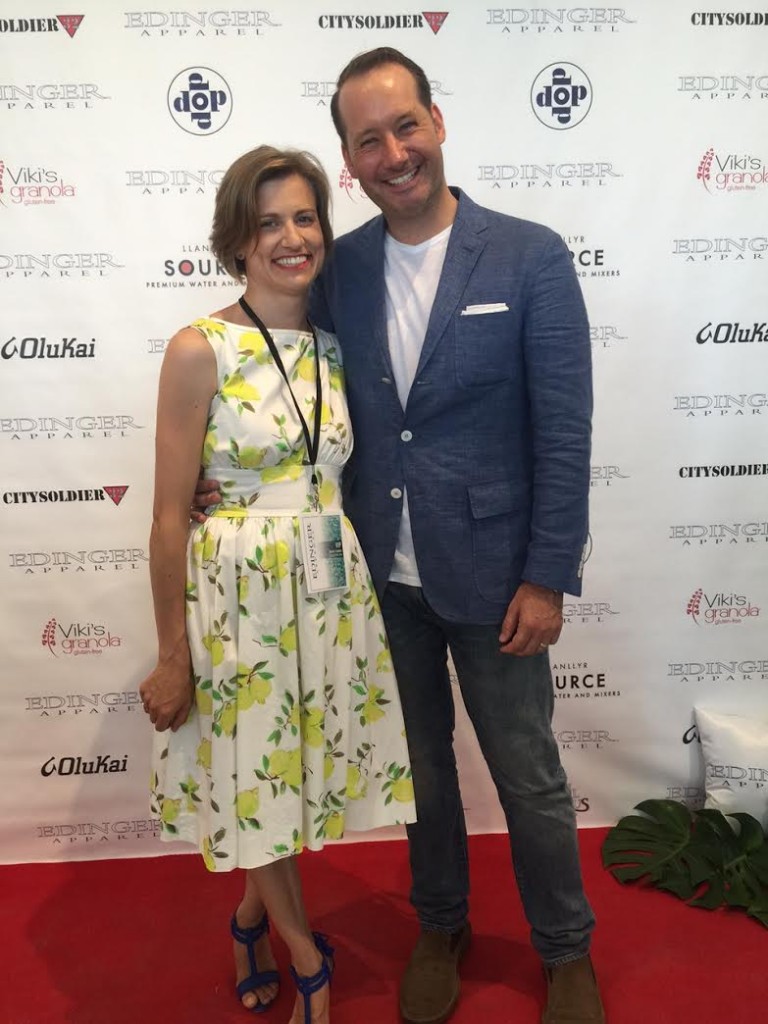 Two years into their design company, Edinger Apparel's "Road Trip" collection was what they described as a "personal journey". It was an amalgamation of inspiration from meandering the Atlantic and Pacific coasts and merging sunshine state of mind hues with "technical swim ready fabrics"— namely, nylon. Swim trunks are available in a variety of prints: "tropical floral", "coastal gray", "green mariner's stripe", "harbor navy", "sunset gold", "scintillation" and a "limited edition artisan print." It's enough to make you pop on your sunnies and daydream of island life. It was also the debut of Edinger's adventure into more standard apparel, with the advent of Pima crew necks, linen hooded jackets and trousers.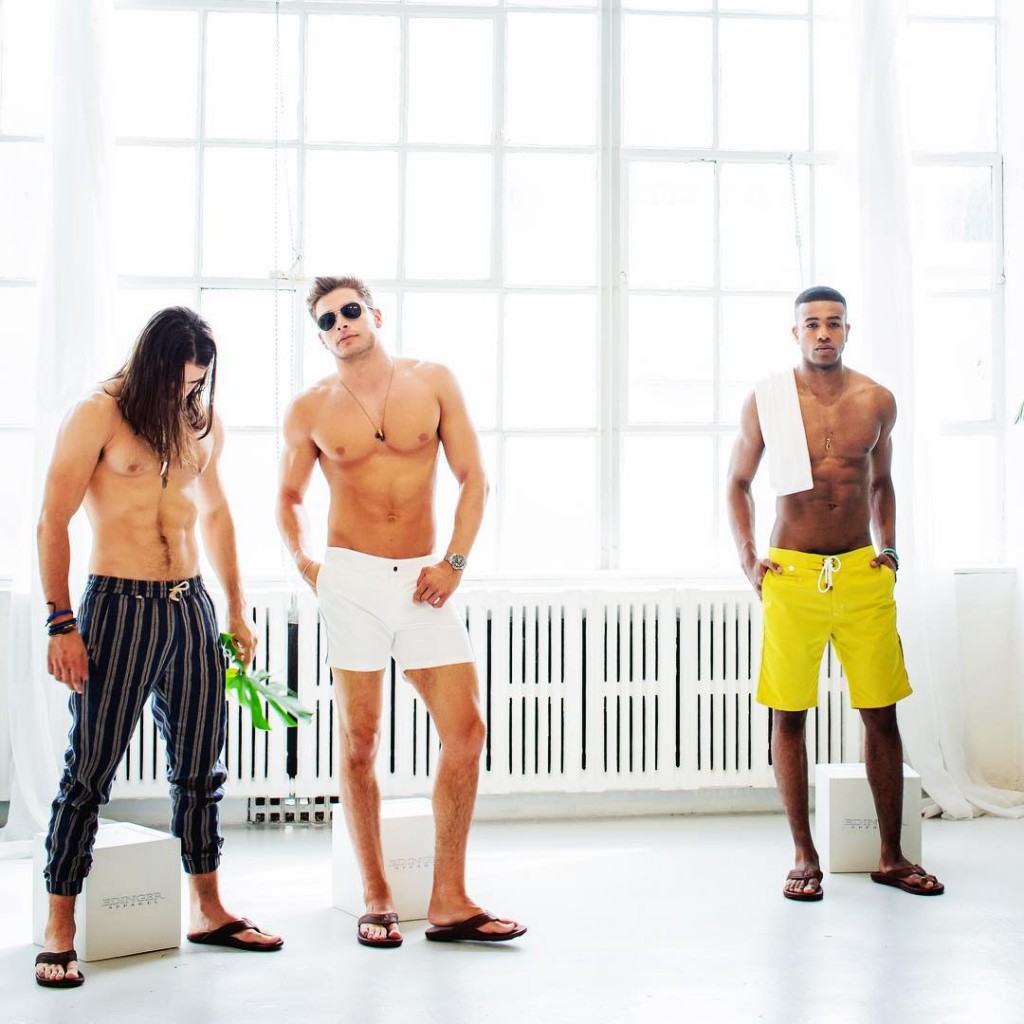 So, what's in the name 'Edinger Apparel'? A West Coast surfer turned muse? A bare chested model, whose wash board abs, sun kissed skin and lemon colored curls are the things Hollywood chick flicks are made of? No. "My high school sits on the corner of Edinger and Bristol. A modern day high-school in Santa Ana, [California]", he smiled. For this fashion story that is still being written, the past is the future.
Life is but a dream. The Dream Downtown hotel— that is where Sergio Davila presented his Spring/Summer 2016 collection produced by the fashion PR mastermind Kelly Cutrone of People's Revolutions. A rooftop runway show where the Manhattan skyline was the backdrop for a Hamptons Jitney ready set. An eighties sounding ballad massaged the ears of the audience, as they watched the American Gigolo rendition of embroidered palm tree sweaters, double breasted blazers, and one particularly intrepid PVC raincoat pass them by. There was a nostalgic swag about the Davila boys that was distinctly adolescent in nature.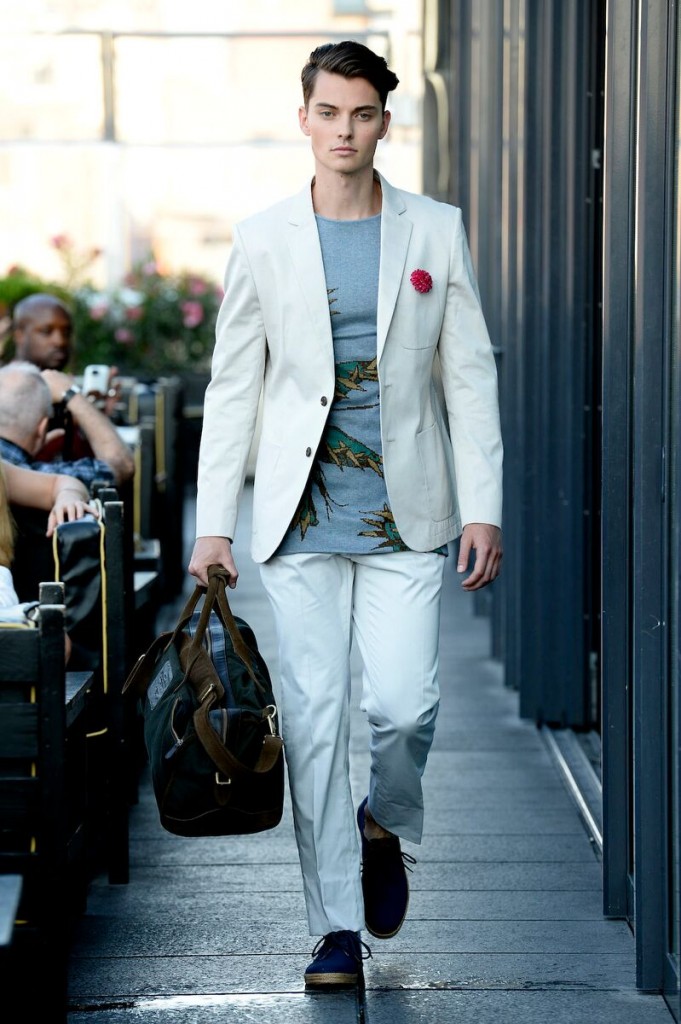 Welcome to the me generation redux, where your Instagram followers determine your worth, Google Search determines your relevance and fashion shows can be live streamed on your smartphones. Which probably explains why Sergio Davila did just that via Periscope. It's the Pleasure Principle. A 2002, Academy of Art University, Fashion Design student, Davila launched his label during the Fall/Winter 2004 season with a New York flagship opening that March. More than a decade strong—over the years, Davila has acquired a dedicated fan base, including but not limited to: Eric West, Jennifer Love Hewitt and Alex McCord.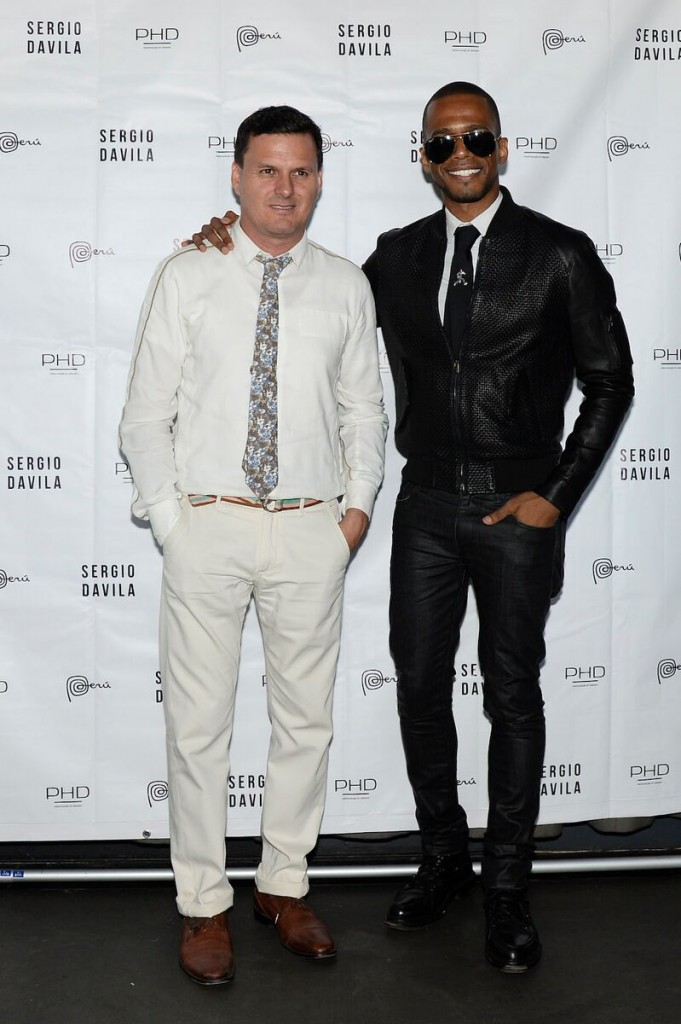 As a barrage of bodies made their final laps around the runway, said fan club erupted in applause. Davila stepped out to take his bow. There was cheering, howling, and then silence. Guests headed for the elevator.
Till next season.
Written by Malcolm Thomas (Originally Posted to Depesha.com)