From counter-culture street fairs to races for a cure, there's bound to be something for you to this upcoming week:
SEE…
Contemporary Japanese Avant-Garde Cinema Screening at SFMOMA, 7 p.m. Sept. 24. Cinematic art collides with traditional filmmaking at San Francisco's Museum of Modern Art. The event features experiments in animation, sound and compositional structure by Takashi Ishida, Makino Takashi and Yo Ota. 151 Third St., 415-357-4000, www.sfmoma.org.
Folsom Street Fair 2009, 11 a.m. to 6 p.m. Sept. 27. Whether you're a hard core exhibitionist or merely leather-curious, Folsom Street Fair is the place to be. Come join in and celebrate the 26th annual FSF; the world's largest leather event! Folsom Street between 7th and 12th. www.folsomstreetfairevents.org.
Other Suns (A Trilogy), 8 p.m., Sept. 24-26. Attention modern dance lovers, Yerba Buena Center for the Arts will be hosting the world premiere of "Other Suns (A Trilogy)", a joint performance of the Margaret Jenkins Dance Company and Guangdong Modern Dance Company. Jenkins, a Bay Area resident, choreographed the show, an exploration of symmetry and asymmetry, balance and imbalance in American and Chinese cultures. $30. YBCA Novellus Theater 701 Mission Street, San Francisco, 415-978-2787, www.ybca.org.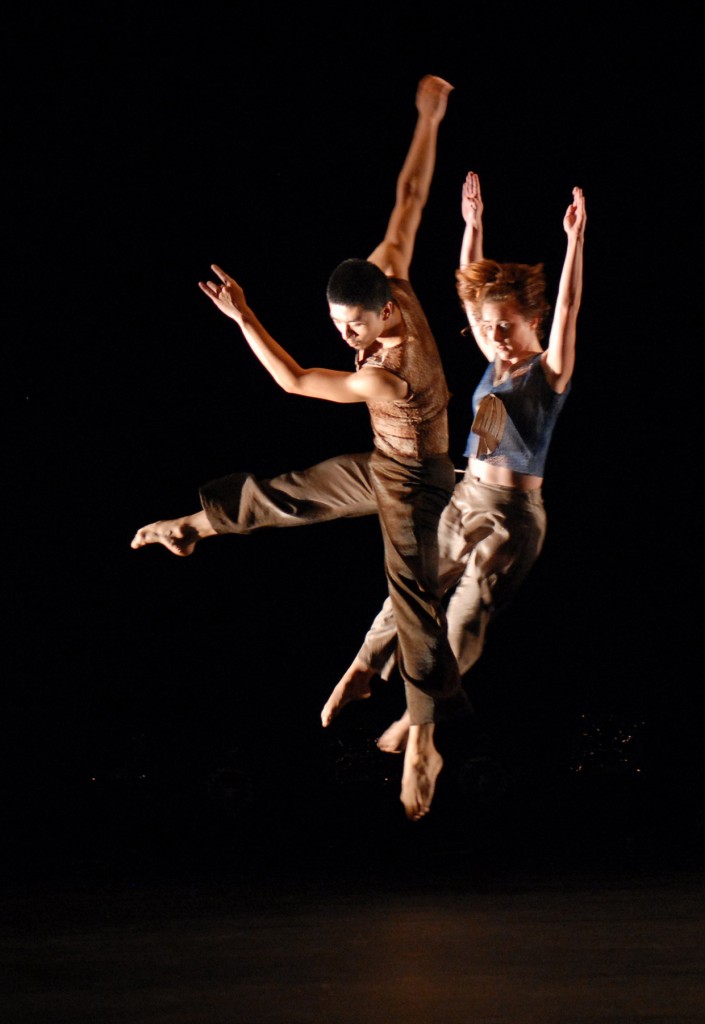 Other Suns (A Trilogy), photo by Lin Xiaoyi
TASTE…

San Francisco Chocolate and Wine Tour, 3:30 p.m., Sept. 25. During the tour you will learn history of chocolate and its production as well as taste wine varieties paired with the chocolate. $72 plus tax and ticketing. Justin Herman Plaza, Exact meeting location details will be provided upon ticket purchase. 415-312-1119, www.gourmetwalks.com.
HEAR…
Jazz at the Razz, continues through Oct. 4. Legendary jazz vocalist Dame Cleo Lane and her husband Sir John Dankworth will be gracing San Francisco with their talent. If you've any interest in jazz at all you're already familiar with these two mega-talents and if you're not there's no time like the present to expand your musical interests. The Razz Room at Hotel Nikko, 222 Mason St. 415-394-1189, www.therazzroom.com.
Art Jam 2009, 6 p.m. – 9 p.m., Wednesday Sept. 30. Jam out with finger painting, body art, cocktails and San Francisco's finest DJs. All money raised at the event will benefit ArtSeed's artist/youth apprenticeship program. $10 – $20 (sliding scale) 111 Minna Gallery, 111 Minna. 415-974-1719, www.artseed.org.
Summerland at Mint Plaza, 11 a.m. to 5 p.m., Sept. 26. Chillin' productions presents an afternoon featuring 70 Bay Area fashion designers, art, and live painting. Live music, DJ sets, munchies, and cocktails will be available and best of all…it's free!! 5th St. between Market & Mission Streets. www.chillinproductions.com
Wallpaper Record Release Party, 9 p.m., Sept. 26. Wallpaper celebrates the frelease of their debut album Doodoo Face. $10-$15. Rickshaw Stop, 155 Fell St. 415-861-2011, www.rickshawstop.com
GIVE…

The Komen San Francisco Race for the Cure, 9 a.m., Sept. 27. San Francisco is hosting the 19th annual Susan G. Komen Race for the Cure benefiting breast cancer. A 5K Walk/Run will start at Justin Herman Plaza at the Ferry Building continuing along the Embarcadero. Sign up to donate on their website and walk/run for a good cause. Justin Herman Plaza across from the Ferry Building. www.komensf.org.
SPEND…
The City's Biggest 3-Day Designer Sale Fundraiser, 10 a.m.- 6 p.m., Sept. 24-26. The perfect sample sale! Over 5,000 new items from designers like Via Spiga, Calvin Klein, DKNY, Joan Vass and Ann Taylor are marked 80% below retail prices. 100% of the proceeds benefit A Miner Miracle. 441 Sutter St. www.aminermiracle.org.
iB Crafty, noon to 6 p.m., Sept. 26. Shop handmade designs from over 25 local craftmasters and artists. Indulge Your style with fashion and accessories or snazz up your nest with the craftiest home furnishings. 2150 Folsom btwn 17th and 18th www.market-sf.com.
Compiled by Ana Cepeda, Mignon Gould, Brian Kennedy, Claudia Paolinelli and Sata Schramm