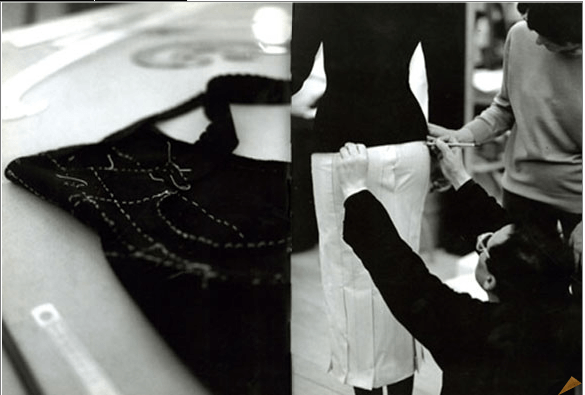 A spread from Alaïa by Francois Baudot and published by Assouline
Every Monday for the rest of the semester Kari Hulac, breaking news editor for the Oakland Tribune, will hold the Grammar and Fashion Vocabulary Workshop.
In yesterday's workshop, we learned:
1. Azzedine Alaïa, designer of body-conscious dresses, bf with Naomi Campbell and former guest of honor, is pronounced "As-ugh-dean Ah-lie-ah."
2. Age is a number–as is size. There's no need to spell it out in writing or in life.
3. Just because something is important to you, it doesn't mean it should be capitalized. For instance, the following words are all lowercased: midterm, fashion, exhibit, the tent and inspiration. Capitalize words like titles and names of people, businesses and holidays.
Special note from Kari: Dumpster is a trademarked company. Who knew? It's like Kleenex and London Fashion Week.
4. Don't assert something is the best without explaining why. That's what your writing instructor means when he or she says show don't tell.
5. If you can say it in fewer words, do so.
Kari is here for you! Join her Mondays, 3:30 p.m. to 6:20 p.m., at 180 New Montgomery, B-81. Did we mention she also proofreads resumes?