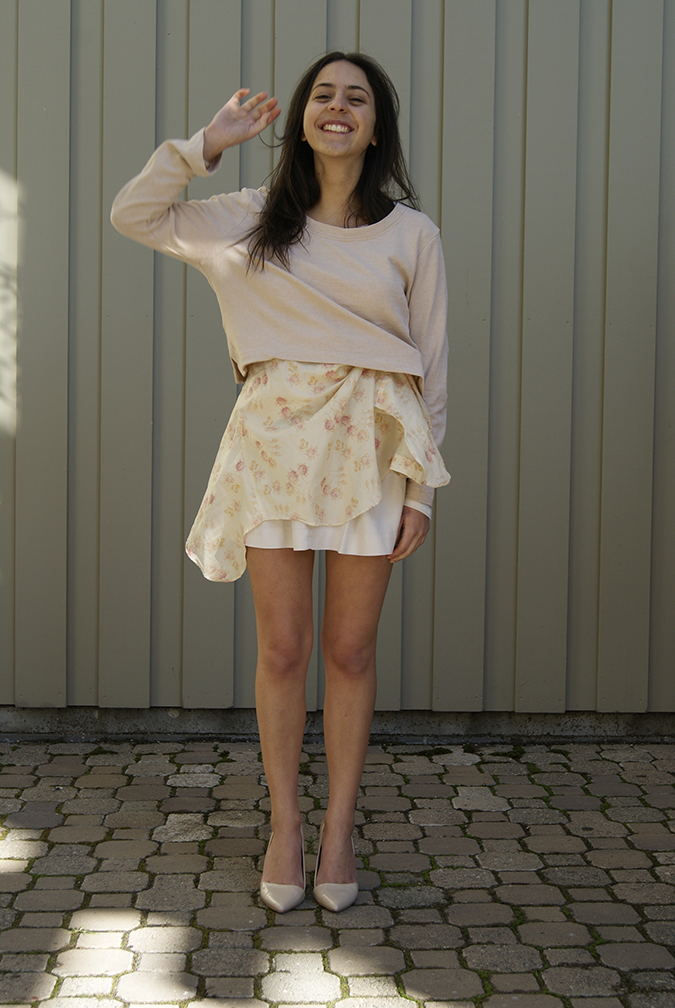 Keanan Duffty, Senior Director of Merchandising, interviews Adriana Angelini, BFA Fashion Merchandising student, about her summer internship at Moda Operandi in New York City. Founded by Áslaug Magnúsdóttir and Lauren Santo Domingo, Moda Operandi is the only place to preorder looks straight from the unedited runway collections of the world's top designers months before they are available anywhere else. Keanan asked Adriana about her inspirations, personal style, and a little bit about her internship experiences so far.
How do you define your personal style?
It is definitely the epitome of feminine and "girly", and I tend to always gravitate towards "flowy" and oversized garments. It is very weird to see me in something "tight" and body-con. I also usually tend to create an "illusion" with my clothes, in the sense that I'll combine two shirts and layer it with a skirt to make it look like one dress. I love playing with silhouette, so everything will always be layered. Oh, and everything is neutral. It is very weird to see me in any type of color. I guess that's why I love layering so much because since all my clothing is basically the same color, how I play with fashion is through silhouette.
What is your inspiration, right now?
I am currently obsessed with South America and its culture. The architecture, the colors, the flora, and even the warmth of the weather and its people are incredibly appealing to me at the moment. Everything feels "collected" in South America, as if there was a story behind everything, and I really wish I could just go and explore it, and see if maybe I finally add color into my wardrobe (laughs).
What are your style picks for fall?
I think it's more valuable to have 10 pieces you love than 30 you will never wear, which is why for fall I'll probably invest in a few pieces that would complement my current wardrobe. I have a really good base of chunky sweaters, so I'll see if there is anything interesting in the fall collection of Zara. However, if had all the money in the world, I would definitely load up on cashmere sweaters from The Row.
What's your biggest fashion indulgence?
Jewelry. And at the moment, what I mean by jewelry is very fine, delicate "chain-with-a-pendant" type jewelry. I think there is something very elegant about it, the way a very fine chain rests on your collarbone with some sort of charm that represents some aspect of your personality. It's almost like wearing a temporary tattoo, where everyday you can "choose" what symbol you want to remind yourself of. And I don't think they have to be expensive either for one to "indulge". I think there is a beauty in gathering different artifacts that all relate to who you are as a person. I think the real indulgence comes in me spending most of my money on these little chains (oops).
What is your signature style accessory?
I really don't have a "signature" style accessory because accessories for me are items that are constantly changing. There are periods (like right now) where I am obsessed with delicate chain necklaces, but there are moments where I don't take off dangle earings, and then there are times when I go crazy for scarves. My choice in handbags depends on what I'm wearing, and my shoes obviously do to, so I don't really have a signature. The only thing I can think of as a constant in my life is my perfume, which is a vanilla scent from Madagascar by a niche brand called "Profumi di Firenzi". It's really funny because I am so immune to it, I don't even smell it anymore, but every time I enter any room, someone always mentions how it suddenly smells like cookies, and I'm like, "yeah that's me!" (laughs).
Which is your favorite shop in San Francisco?
Freda Salvador (co-owned and designer by Megan Papay and Cristina Palomo-Nelson, who is a 2010 MFA Fashion Merchandising Alumna). They have great merchandise, but what I love about it is the interior space. There was a quote the other day that said "your house should feel collected, not decorated" and their store definitely feels collected, and you just want to spend hours discovering the little nooks. It has a lot of personality. I kind of want to say that it's 10% merchandise, and 90% interesting artifacts. It's definitely a lifestyle store. They also have their studio in their store, so as you shop, you can glance at their designs, materials for the next seasons, and their overall inspirations. It's almost as if you're in a tactile Pintrest. You end up leaving with a mental note to return next season because the sketches for next season's products are incredible. Very smart from a business perspective.
Who are your best friends in fashion (your style posse)?
It's interesting because I have different friends that are all interested in different things. Only 3 or 4 of them are interested in fashion, while the rest of my friends aren't even studying fashion, and I love that. I love learning, so I like to surround myself with people outside of my field to learn about things I don't have access to. Having friends outside of fashion allows me to feel like I'm getting a degree in 4 different fields, and I think that's what makes my "posse" special because we all bring different things to the table.
What is your motto?
In fashion: It's not about having "special" clothes for special occasions, it's about making regular days special with the use of clothes.
In life: There's never a right or wrong answer when it comes to life, so be true and honest about what's important TO YOU, and prioritize your life around that. You'll never be happy going after milk when what you really want are the cookies.
Tell me a little bit about your internship experiences so far.
I was working in the editorial department for Moda Operandi, which is the department that is in charge of conceptualizing photo-shoots and developing the "creative" image behind the brand. On a daily basis it's a lot of administrative work, such as taking back sample garments to different brands, or preparing material for photo-shoots. There were also really exciting days when we get to work in the studio and help steam, dress, and organize the garments. Then, there were the really stressful days where everything seems to be going against you. I had to deliver shoes to Taylor Tomasi Hill for the CFDA Awards, and halfway there, I was informed that they had given me the wrong shoe size, so I had to go back, exchange the shoes, in which point it started to rain, I had no umbrella to protect the shoes, no cabs were available, and I had to be there in 5 minutes (laughs). Being exposed to those situations is a great learning experience, and it has taught me a lot on how to behave in the work force. Sure the job is fun and exciting, but a certain level of professionalism has to be kept. There was a story I heard about an intern that was asked to get coffee, and his response was "I go to Parsons, I don't get coffee for anyone". I'm pretty sure that most of the fashion industry knows that story by now, so you have to be careful with how you act in an internship because you really are under a microscope, and everything you do is taken into account, for good and for bad.
As repetitive as it sounds, it is crucial to get as much experience as you can, because it is very different to study fashion than it is to work in it. When you study fashion, you have a lot of creativity to work with. You can come up with products, services, and brands that can "magically" happen overnight, but in the real world, things don't just happen, you have to make things happen, and having that experience is what eventually shapes you to know how to get things done. At school, you learn what the "hand" of something is, but in the workforce you learn how to say "I don't like the hand of this, change it".
I really didn't want this summer to end, obviously because of the learning experience of the internship, but mostly because having exclusive access to Lauren Santo Domingo and Taylor Tomasi Hill's street style on a daily basis was pretty amazing.