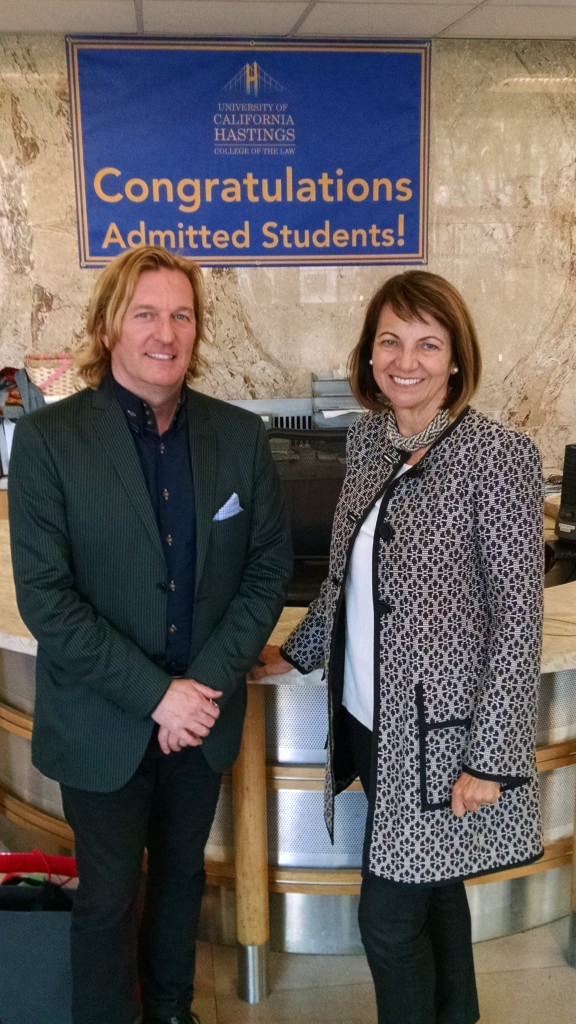 On March 31st Keanan Duffty, Senior Director of Fashion Merchandising at Academy of Art University, led a guest lecture for the IP in design class held at UC Hastings College of Law in San Francisco.  During his talk, Duffty discussed licensed products and collaborations, using distinctive humor and sharing personal experiences to emphasize the importance of brand protection.
British Fashion designer, Central Saint Martin's Graduate, member of the Council of Fashion Designers of America (CFDA) and punk rocker Duffty has had some very recognizable collaborators – David Bowie, Reebok and Aveda for instance. Duffty's apparel has been worn by the masses and sold everywhere in stores from Target to Bloomingdales, Barney's to Bergdorf Goodman. His shoes have encased the feet of Reebok fans and his signature fragrance has scented the necks of Aveda fanatics.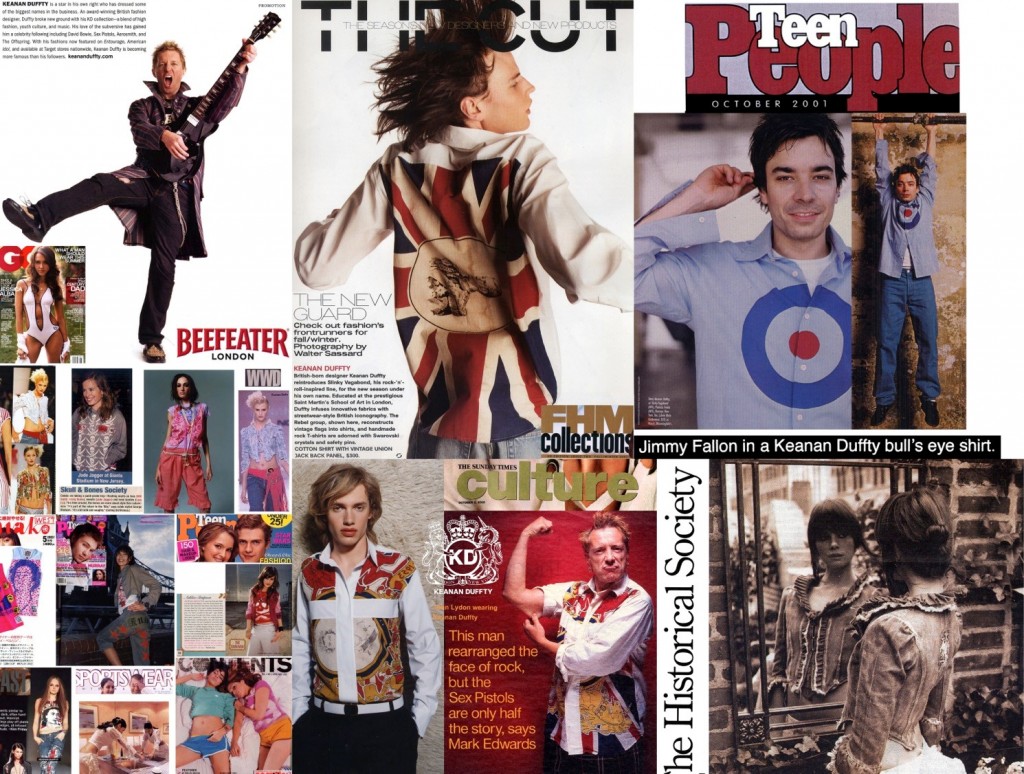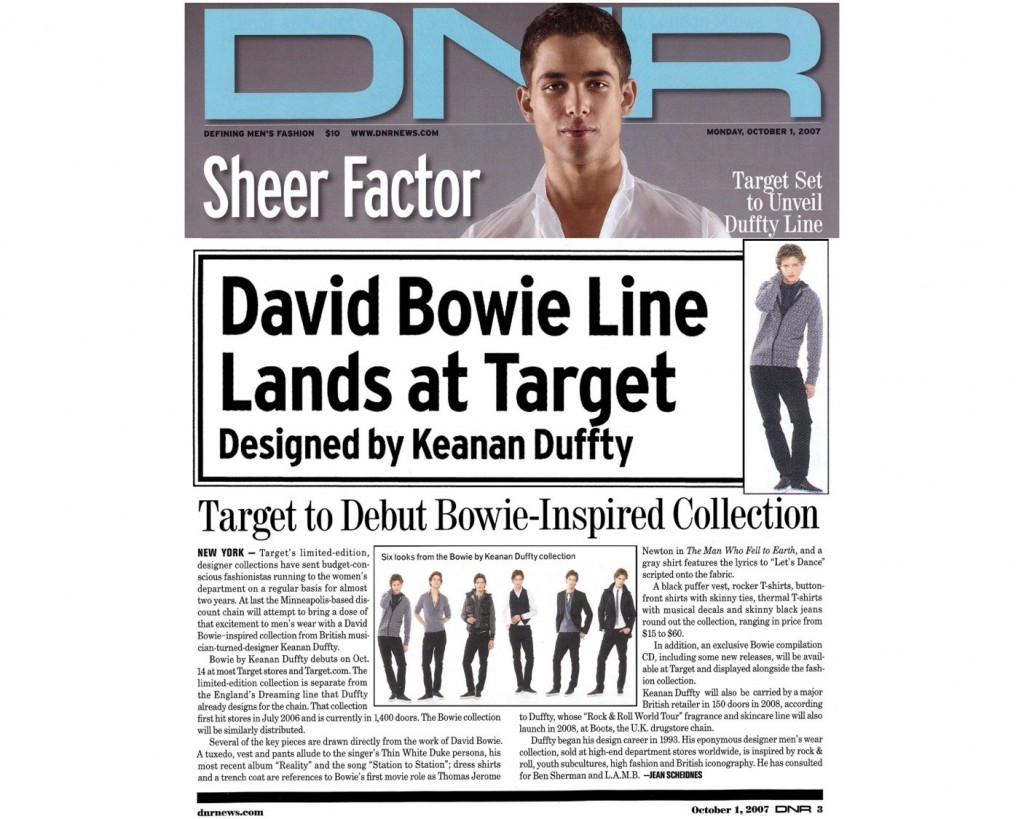 Duffty smiled brightly as he entered the room sharply dressed in his tailored pinstriped suit and sleek navy blue dress shirt. Just by looking at him, you might not guess that growing up Duffty wasn't really into fashion. It wasn't until he saw the cover of a Sex Pistol's album that he began to form his style, and it was then that he realized that street fashion motivates him. His foray into fashion design began with Duffty sewing clothes in his living room. He would take the samples to trade shows, where he began to realize the importance of understanding the business side of fashion as well as the design side.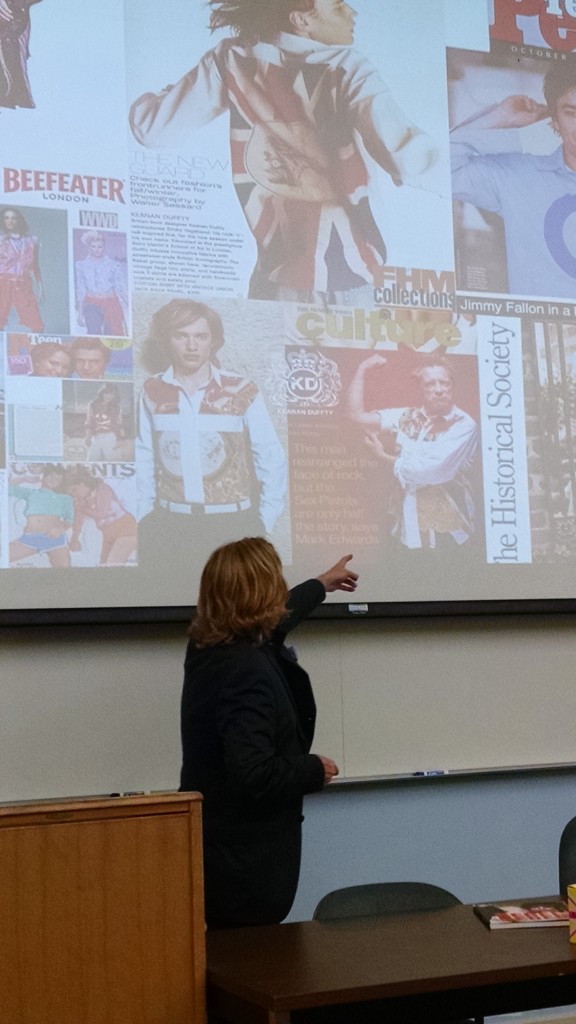 The room full of law students listened intently as Duffty shared stories about his collaborations and the legal needs for setting up a business. He shed light on how licensing strategy for brand and image, as well as intellectual property and design patents, are uncertain and often intangible when it comes to the design industry. To put it into context, Duffty referenced his own experience when he received a cease and desist letter for the name of his clothing brand Slinky Vagabond. Duffty got the name from a rock song on David Bowie's Young Americans album; part of the reason Duffty chose the name was because he figured it was something "no one else in the world would have chosen." Unfortunately that was not the case, a shoe company already held the trademark for the name Vagabond. Although Duffty's brand was in its third season by the time the cease and desit was filed,  in the end he chose to withdraw and change the company name to his own name.
Duffty elaborated on another intellectual property rights design dispute that came about when he created t-shirts with a tongue-in-cheek logo of Mickey Mouse (holding an Uzi in one hand and a grenade in the other) that were being sold at luxe boutiques including Fred Segal. Although he was able to make the shirts for some time, eventually a rep from Disney contacted Duffty and he had to put an end to the t-shirt production.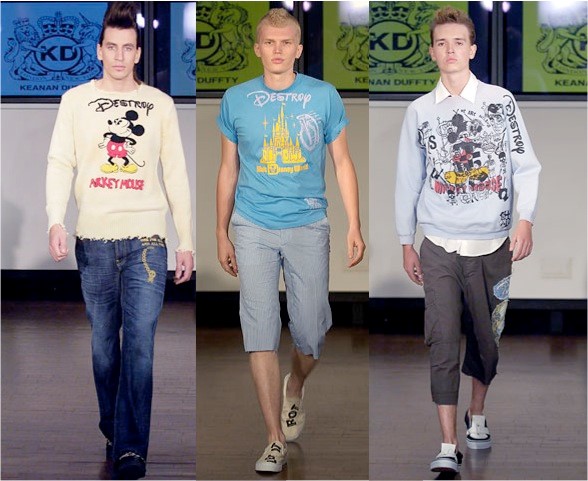 To conclude his talk, Duffty reiterated  that it's unwise to dispute large corporations like Disney, but that it's sometimes worth it to take your chances with smaller companies when defending intellectual property rights. The key is being knowledgeable about your options and the power of the brand up against you.
Below are some major points from the discussion for aspiring designers and brands to consider for setting up their business.
Legal needs for setting up a fashion business:
Certificate of Incorporation
Manufacturing Agreement
Sales Representative Agreement
Terms and Conditions of Sale
Distribution Agreement
Trademark/Service Mark
Factoring Agreement
Model/Runway Release
Fashion Show Venue Agreement
Legal needs for collaborations/licensing:
Assignment of intellectual Property
Mutual Non-Disclosure Agreement
Minimum Guarantee Agreement
Trademark/Service Mark
Legal needs for consultancy / freelance:
Consultancy Terms and Conditions Agreement including:
Term of Agreement
Engagement of Services
Scope of Work
Ownership of property
Payment for Services
Mutual Non-Disclosure Agreement
Making sure you have the rights to and own the trademark you wish to use is just as important as having great legal help from the start and having great design. Collaborations are a useful way to kick off a fairly new brand and provide licensing opportunities that come in many different forms.
Follow Keanan Duffty on Twitter and don't forget to check out his new album TOTAL DRAGON POP!
By Jeanie Walsh, MFA Fashion Journalism