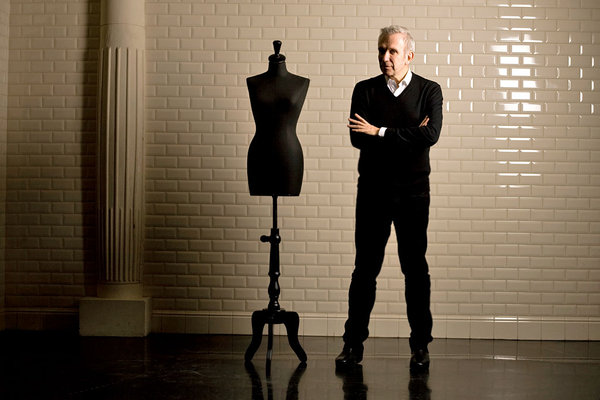 Photo Courtesy of Ed Alcock for the New York Times.
New York Times writer Eric Wilson just published an article on Jean Paul Gaultier, looking back on the designer's career as he celebrates 35 years in the fashion industry – and his 60th birthday. The article follows Gaultier as he prepares for his Spring 2012 ready-to-wear show in Paris and discusses the museum exhibit showcasing his work, The Fashion of Jean Paul Gaultier: From the Sidewalk to the Catwalk. The enfant terrible of fashion, as we was dubbed, is known for his ability to take classical elements of fashion and turn them into something completely subversive. Apart from his wicked sense of humor and wit, he is lauded for his craftsmanship, which he brilliantly displays at the couture shows each season.
When asked if he still felt appreciated, he replied:
"Yes, not as much as before, but yes. I am no more the flavor of the month, or the year, or the decade, but it has been 35 years. I can say in some way I am lucky, when I look at the people who were there with me at the beginning, and I am the one who is still here. I am still appreciated, but not for the same reason as before."
One thing we're sure of – we can't wait to appreciate his iconic work in the flesh – when his exhibit opens at the de Young Museum in San Francisco! From the Sidewalk to the Catwalk will run form March 24th, 2012 to August 19th, 2012. For more information, visit the de Young Museum website.
To read the entire New York Times article (truly a must read), click here.