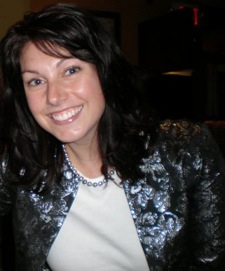 Fashion School Daily caught up with MFA Fashion Journalism student Claudia Paolinelli who is interning in New York City at WWD Men's.
How is the internship going? The internship is superb. I couldn't have asked for anymore of a fabulous experience. It is very hands-on which allows me to be right in the midst of everything. Most internships are perceived to be glorified coffee runners and not really get to take part in the cool stuff that the staff is working on, but this job is far from that. I feel a necessary part of the team.
What is a typical week like? This question is difficult to answer since every day is different. Mostly, we are prepping for photo shoots since every Thursday is the menswear issue and we usually feature some sort of trend story or spread. In this case, we are checking in sample clothes from designers or PR showrooms and organizing everything into appropriate racks and bags. Then the day before the shoot, the senior fashion editor likes to have a run-through to go through the clothes, pull together potential looks, and get everything packed up for the shoot. Then we will take everything to the shoot and help out when needed. This may be dressing the model, ordering meals, recording what designers were featured in what look, and then pack everything up and take it back to the office. After the shoot is over, we then return all the clothes to their prospective places and repeat the entire process for the next shoot.
What is your favorite thing about being in NYC? Being back in NYC makes me realize how much I missed the hustle and bustle of things. NYC is a place where fast-paced is an understatement. The city is constantly buzzing with people, lights, and activity. I love it. It's one of my favorite things. It's a vibe and energy you can't find anywhere else.
Where is your favorite place to go out in NYC? Honestly, I haven't been out much in NYC. I know I have had some good times down in SoHo at R Bar and yummy drinks at Vintage in Hell's Kitchen, but otherwise, I haven't had a lot of time to go out.
How was New York Fashion Week? NYFW was amazing. I was a little worried about it this year being at Lincoln Center. It has been at Bryant Park forever and that location has truly become a part of fashion week. Lincoln Center definitely has a presence and I thought it turned out to be a great location for it. I was very excited and honored to help out with the Academy fashion show and it was awesome! The students are so talented and to be able to showcase all their hard work like that is truly a blessing. Great job!
What is your favorite thing about the School of Fashion? My favorite thing about the School of Fashion is the teachers. Almost every one that I have had has been extremely knowledgeable of their field and due to their experience, a great resource and mentor for me. I always enjoyed the stories they told to relate somehow to the topic at hand as well as bringing in their own work or talking about what they have done to enhance a concept or drive home a discussion. They truly know what they are doing. Most of them are still working in the field while they are teaching which means that what you are learning is current. It isn't some stale information found in a textbook from five years ago. Especially in the fashion industry, everything is changing so rapidly that one needs to be on the ball and in the know. Teachers at this school know exactly what's going on and they are working their hardest to provide you with the best education with the most recent information possible.
What is playing on your iPod? Everything! I have 800 songs of eclectic madness. I have a wide array of artists I adore and have loved music ever since I could talk. Artists like Justin Timberlake, Amy Winehouse, MGMT, DMB, Jason Mraz, Jay-Z, Eminem, Lady Gaga, Beyonce and Aerosmith share a home on my iPod. Like I said, I have plenty more, but my list could take a couple of pages.
Last movie you saw and did you like it? I'm a sucker for romantic comedy (what girl isn't) and the last movie I saw was Life As We Know It. It was your typical rom-com, but yes, I did like it. I thought the story had a good premise and included some extra storylines and inner struggles amongst the characters but who am I kidding? I just went to see Josh Duhamel walk around in tighty-whiteys.