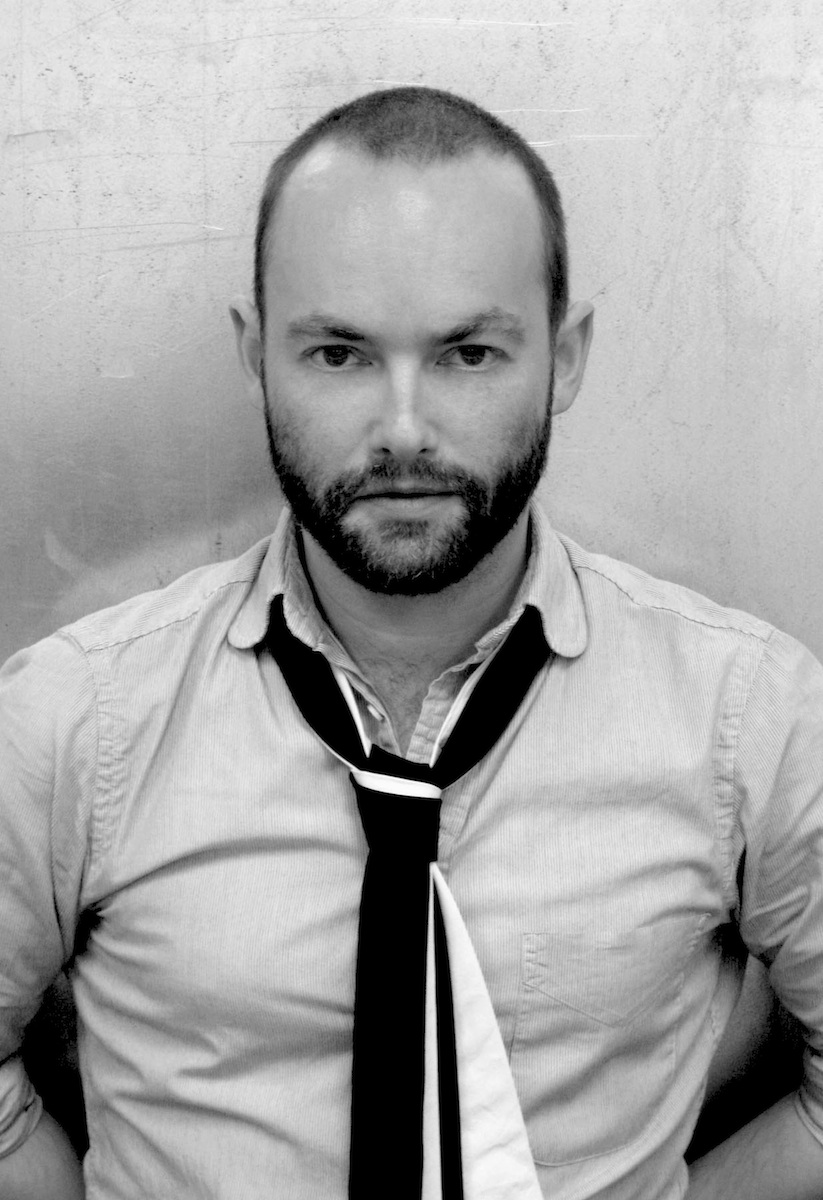 Today we bring to you the second installment of our new column, Instruct/Influence, in which we will be chatting with the amazing instructors at the School of Fashion. Hiding underneath that school teacher exterior, there lies a bounty of hidden gems –  some of the best fashion tales you've never heard. Our directors and instructors have worked with the best in the biz and have some amazing sartorial stories that we could only dream of, so we wanted to share some of those amazing experiences with you. For our second edition, we sat down with Assistant Director of 3-D Design, Rob Curry.
What did you study and where?
I went to Leeds University, not the big famous ones in London. But I always say I started learning when I left. My basic training from there on was a two year apprenticeship with a couturier called Bruce Oldfield, not a lot of people know him over here, but he's been around for over 35 years and is very well-known in London and Europe. He used to do a lot with Princess Diana and sort of the old aristocracy, its not young its more older, conservative but immaculately made pieces.  And from there I went on to Vivienne Westwood. So that is what I really call my proper training – post university.
What drew you to couture as opposed to other types of design?
I'm a maker, I always have been by nature. I don't really draw, I'm not a 2D person, and I always just loved it. At school I always enjoyed the making side of it but hated the portfolio side of it. I always felt frustrated at school because it was all about putting it on paper, the concept and thinking in 2-D. So that's why the apprenticeship was like, wow, I'm learning.
How did you get the job at Vivienne Westwood?
She was always somebody that I completely adored and loved, you know she was always my favorite designer. And working in London she was one of the very few people I really wanted to work for. And I was lucky, Bruce Oldfield was a very big name and very well respected. So that got me in at Vivienne. When I sent my resume in with a letter asking if they needed anybody – God this was back in '96. And I got a phone call from the head of studio asking me to come in for a trial. It all really worked out well and I worked there for 5 years.
Follow the jump for more!
What was it like to work in Vivienne's studio?
It was amazing it really was. I still to this day, out of all my years, say that they were my most informative years. She was the most amazing cutter, that's where I got my love for cutting. People don't realize she really is the most complex cutter of any designer. They just see the façade, the instant image, but they don't realize that the cutting is so unbelievably subversive and amazing. I would say she is Vionnet's subversive child.
But it was seven days a week, crazy work. All year round I was working in the couture department – wedding dresses, ball gowns, exhibition pieces. And then doing the Paris shows twice a year, doing all of the showpieces. The stuff you can't buy in the shop but have to get made to measure. You see it on the catwalk and then have to order it. So that's what I did for Paris. Honestly, I don't think I ever worked less than a 75-hour week in five years there. You know maybe one out of every 5-6 weekends off. But it really was an amazing time and I learned so much.
Was it difficult doing custom work for clients?
When you deal with a client as opposed to doing a ready-to-wear label, you're creating for your muse, a customer – that you have to deal with. So when you do custom wear and the couture side of it, you're adding a whole psychological level to it because you have to deal with brides and mothers, coming to all the fittings and adding to all the craziness. And these people are spending a lot of money, and when given these choices, you sometimes find that they want to make changes because they can. So half of it is trying to stop really bad decisions from being made. I mean a lot of them are really great too but there are some nightmares as well. It's one of the reasons I'm really happy doing what I'm doing now – I just needed a break from "the client".
Do you have a favorite memory of your time there?
Oh my god – lots of funny stories. A favorite memory? I guess more a memory of a smell, I don't know why this comes to mind at the moment. I remember when Vivienne got into this diet, and she's always switching diets, but she went through this phase. It would be like midnight, and she'd wander into the studio with this bowl full of cabbage and then fill it with water and put into the microwave for god-knows how long, and it would stink the studio up – just this terrible cabbage water. [laughs]
Other than that there are so many amazing things. I got to travel to the most amazing places, quite often I would have to do fittings sort of all over the world. I'll always remember one time, Jerry Hall is a very good friend of Vivienne's, so I made quite a few gowns for Jerry when I was there. And there was one birthday present for her, it was the night before her birthday and she was in Venice, and I was supposed to finish it for her and then we were going to DHL it over to Venice. Vivienne just came in and said its just going to be cheaper and easier and it gives you a few more hours to work on it if you just finish it up and you'll fly to Venice to give it to her personally. And so I went and she was still with Mick Jagger at the time and they were staying at the Cipriani hotel, this wonderful hotel in Venice on its own little island. And I spent a very surreal afternoon with Jerry Hall in the penthouse suite with her and Mick, sipping gin and tonics on the balcony. So weird but kind of fabulous.
So after you left Vivienne Westwood, what was your next project?
From Vivienne I went freelance, and that's when I started doing a little bit of teaching at Middlesex University. And I also started working with Julien MacDonald, who was then the creative director of Givenchy as well. So I was working with him on his main line, doing all of his show pieces as well as the odd piece for Givenchy. And also doing private clients. A few years after I did costumes for a movie, with Samuel L. Jackson and Meatloaf, who is fabulous, I love Meatloaf. It was called 51st State, a British movie. Most of it was basically the costume designer just shopping for clothes. But for Meatloaf, and Emily Mortimer who was the leading lady, they had a bridal scene and needed specific things made. So there were Meatloaf and Emily Mortimer's pieces in this church scene with bridesmaids and everything. And that was the only movie I did and that was hell, so that put me off ever doing costume again.
And then Tristan Webber, who is a very good friend of mine, I started working with, doing shows with him. So I was doing a bit of everything, which was really nice. And then a few years after that I started teaching at St. Martin's, and I was there for about three years before I came here. Just doing it part time.
And during that, my best friend Kimino and I started a Japanese label in Tokyo called Unobilie. It's still there now. But we had backing in Tokyo, and it was like we had control over our own label but with backers. So that was a big one, we did two collections a year and it let me go on the odd trip to Tokyo which was really great, so yeah that's what I was doing after Vivienne.
Why did you decide to start teaching?
It started really slowly. I remember when it first started, you know someone just asked me if I wanted to at Middlesex just after I had stopped working at Vivienne's. And I just loved it. It just really sat well with me and I got a lot out of it and truly enjoyed it. You know I think it's the type of thing that either gels with you or it doesn't and it just sat well with me and so I gradually took more and more on over the years and here I am now doing it full time.
How did you come to the Academy of Art University?
That was through Simon – it's amazing we never knew each other before I came here but knew so many of the same people in London – but it was through two friends Tristan Webber and David Kappo. Around 2004 or 2005 Simon was in London, and they mentioned my name. I was in a place where I was kind of bored and had worked for everyone that I'd really wanted to work for. So they passed my number on to Simon and I got a phone call from him. And the rest is history I guess [laughs].
When you start to work on a piece, how does the creative process begin for you?
It completely depends on what it is and who it's for. I very much am, like I said, all about 3-D, the architecture, the structure of it. So normally, in terms of concept, instead of the idea of a narrative or an idea of taking inspiration from architecture or something, for me it generally comes from an idea of cut. So I will design around that and start directly on the mannequin with the fabric. Or sometimes on paper, if it's an idea of geometry. So it's a balance between the table, the paper, and the mannequins. Sometimes I'll drape an entire piece and create it as-is and it will all be done in one. Other times it's backwards and forwards from the table to the mannequin.
Do you have a favorite piece that you created or worked on?
I have a lot of real favorites, but I think one of my most memorable, one that was really great was the wedding dress from the "Tied to the Mast Collection", back in '97 or '98. The entire thing was Swarovski chainmail crystal, and that was when it first came out. And I think Vivienne and Versace were the two designers to first get it. At Versace, they did the simplest of little slip dresses because it's metal, you know you can't put it under a machine, it's all done by hand. So we did the most amazing draped wedding dress with this crystal mesh, and it actually took yards and yards of the crystal chainmail. It came in rectangles of about 10 inches by 15 inches or so – and you have to link them all together first and then cut your pattern out. So we did this entire wedding dress, draped over a corset. And It was beautiful, really, really gorgeous and very sexy, you know sort of all squished in, cleavage up to here. Draped crystal, this white crystal wedding dress. It was actually the most expensive dress I ever made as well – valued at $100,000 pounds. Really beautiful.
Sounds absolutely amazing! Now that you've been in San Francisco a while, what is that you miss most about London?
I miss London for my friends. But you know it's strange, people always ask me if I miss London and I don't miss London so much as I miss Europe. What's so great about Europe is the proximity of everything, how close everything is to each other. I had a friend who lived in Marrakesh, so we used to go down to Marrakesh on a Friday evening and come back Sunday. The fact that in Europe you can go somewhere so easily and quickly and be somewhere that is so unbelievably different. You know Paris is just a few hours on the EuroStar and you can go to Paris just to shop for a day – or Vienna, which was kind of my second home, it's just a two and half hour flight away. That's what I miss is the proximity of everything and how different the cultures are. In America you have to go a really long way to experience something really different – different language, different food, different people. So that is what I really miss is just Europe and the closeness of everything.
What is your favorite thing about SF?
You know what I love actually, it's so different from other places I've lived. London was my base, but then I worked a lot in Paris and then after that Tokyo. And London and Tokyo are two enormous cities. But what I love about San Francisco is that it's a city, but in a way it's like a village. So much smaller and so much more cozy. I live centrally and I love that there is an amazing sense of community here. You see faces and then run into them all the time, which to me is nice. It feels a lot more community based.
What designers, past and present, do you most admire – besides the amazing ones you have worked with?
Well past, I mean my two gods are Madeleine Vionnet and Cristobal Balenciaga. They were the two greats of cutting. Vionnet especially – she almost invented an entirely new language of cut. She rewrote the book on how clothes were cut. To me she is the most influential, most important – even now. And leading on from that, the designers I most respect now are kind of like her children, the ones who are applying her methods and applying her ideas, and taking it beyond there. I really love the Japanese designers, Rei Kawakubo and Yohji Yamamoto, Junya Watanabe. Of course Vivienne, always a favorite. You know those are my top and its almost like a cliché. There are always other interesting things happening with younger designers, but for me those are the greats. And then you have people like Azzedine Alaïa, who again really a great cutter. But yeah, those for me are the top ones, the ones I always go to.
Thanks Rob for taking the time to tell us about all of your amazing experiences!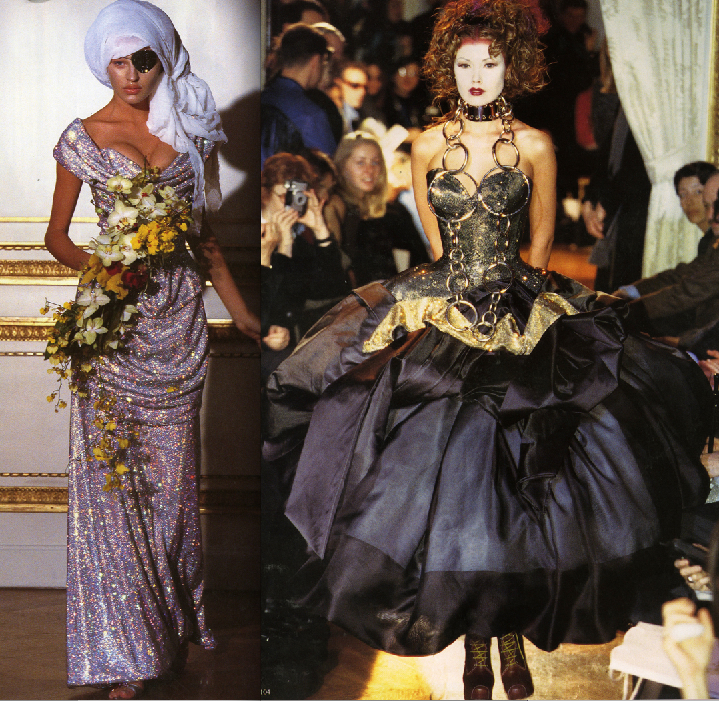 Left: Swarovski crystal wedding gown from the "Tied to the Mast" Collection for Vivienne Westwood, Right: gown from "Dressed to Scale" Collection for Vivienne Westwood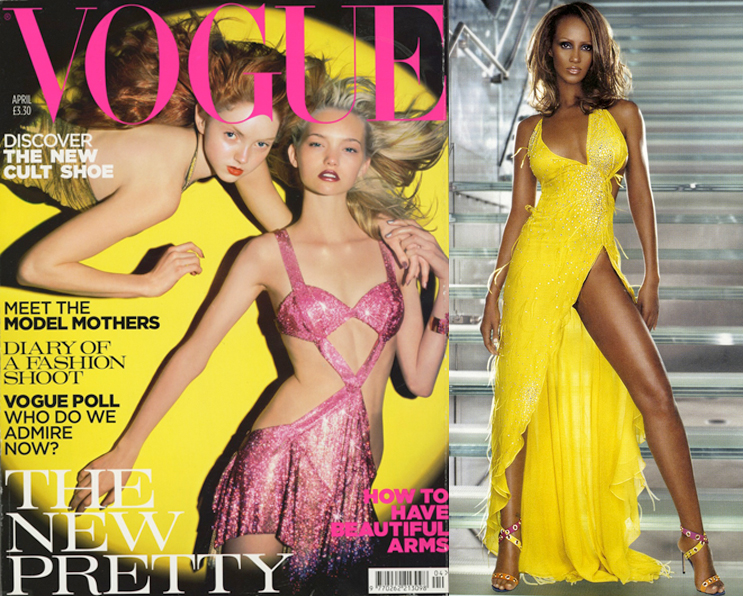 Left: A dress Rob constructed for Julien Macdonald in pink Swarovski crystals, Right: Another of Rob's pieces for Julien, worn by Iman and by Jennifer Lopez in "Shall We Dance"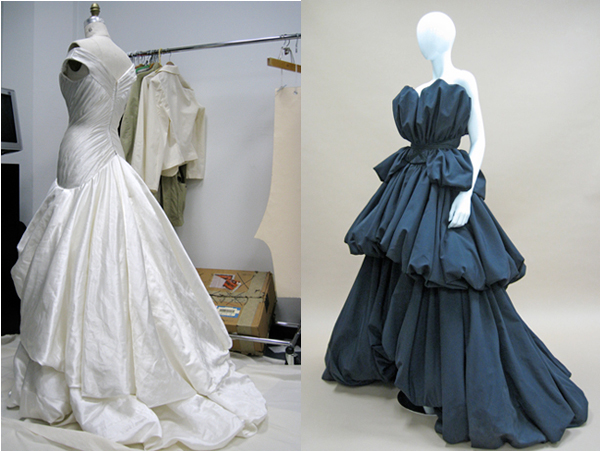 Two of Rob's original designs – Left: A wedding gown he created for a friend in San Francisco, Right: Black gown was one of a trio made for Fashion's Night Out at Neiman Marcus