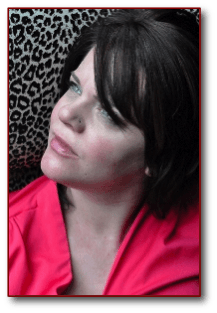 Today's edition of Instruct/Influence features Lorraine Sanders, a part-time instructor who teaches Fashion Journalism: Blogging. Lorraine writes her own blog, SF Indie Fashion, which has become a go-to source for learning about the brightest designers in the Bay Area, new boutiques in the area, and all of the amazing fashion events going on in the city. She has also worked as a copywriter, social media consultant, and journalist. Lorraine's varied experience has given her a vast set of skills and wisdom, which we wanted to pass along to you!
You are the editor and founder of SF Indie Fashion, a website dedicated to local designers and boutiques. When did you first start the site and what inspired you to do so?
I started SF Indie Fashion six years ago after realizing that there wasn't a site devoted to sharing news about the many small, independent apparel and accessories designers living and working in the Bay Area. In my work as a freelance journalist, I was constantly finding new, intriguing people making really cool, creative things that I was pretty sure others would like, too. But at the time, and things have certainly changed a bit on this front, there just wasn't a place you could find out about new collections, trunk shows, local shopping events, fashion shows and launch parties. Local media were only covering a smidgeon of the information that was out there. So I created the site to have a place to share all the news I was collecting.
That's the practical piece that led the site, but there's also a more personal element to it. I am constantly energized and inspired by creative people and designers. I have a lot of respect for what they do and admire the intense devotion and work that goes into creating a successful, independent creative business. The San Francisco Bay Area is full of businesses like this, and they are really what brings the character and flavor to our town. Along those lines, I'm an advocate of being a more conscious consumer by knowing who is making what you're wearing and putting your money towards something that betters society, supports the arts and improves the world around us. I think independent fashion is a great vehicle for achieving those goals.
People are obsessed with local food and its many benefits. I am kind of like that about independent fashion.
Follow the jump to read more!
How did you go about finding indie designers in SF?
I started out by going to as many shopping events, independent boutiques, trunk shows and fashion events as I could. I signed up for practically every newsletter from a local store or designer that I could find. I talked to store owners when I went in their boutiques and asked them what new designers they were interested in.
Over time, I built up a solid network of sources. But even today, several times a week, I find out about a new designer, event or shop that I had no idea existed. There are always innovative, cool new things popping up. And that's part of the fun of being a journalist – trying like mad to keep track of it all and stay on top of the news.
Who are some of your favorite local designers and stores?
I knew you were going to ask me this! I have like 700 answers for you. One distinction I will make is between the designers and stores I admire for design and aesthetic reasons and the places and labels I typically end up buying for myself. Oftentimes, there's a difference. I can really love something, but know it's not going to work for my budget or my body or my lifestyle (which currently involves being a sleep-deprived mom to a one-year-old and running around like a crazy person trying to fit a full-time workload into three days…which is only sort of actually working). I'm pretty picky about what I buy, and I try to only get things I really need. Try being the operative word here.
I think gr.dano, Camilla Olson, Camelia Skikos, Louisa Parris, Turk + Taylor, Betabrand, GeeWaWa, Amour Vert and Adie + George are doing some really interesting things these days.
I love perusing the racks at places like Candystore and Belljar, Two Birds, Wonderland, Mira Mira, Isso, The Mission Statement and Curator. I covet items at Dish, Carrots, Luna and 440 Brannan.
In terms of what I've actually dropped dollars on lately, I picked up a $14 blazer at vintage shop 31 Rax in the Mission, bought a pair of secondhand shoes at The Painted Bird, scooped up the recent Bloomspot deal on Colleen Mauer jewelry and have had great success shopping with the ladies at Retrofit Republic. I was also thrilled when my family gave me a piece from Sarah Swell and a Camilla Olson scarf for my birthday this fall. And I often buy my jeans at Ambiance.
What was your background prior to starting SF Indie Fashion?
After college, I worked briefly in public relations in London, then in ecommerce consulting in the Bay Area and eventually ended up, after a pit stop in the dog day care industry, working at Travelocity as a copywriter.
I went back to school to get a masters in communications and then began pursing a career as a journalist. I was hellbent on staying freelance, and that naturally led me into the world of blogging.
For the last seven years, I've always had about five jobs going at once, usually some combination of teaching, blogging, copywriting, journalism and consulting.
Today there are huge amounts of bloggers out there who have no real journalistic experience – do you think that affects journalism negatively, or are they still two separate things in your mind?
I think it's impossible to compare bloggers and journalists as if they are two distinct camps. Ultimately, a blog is just a communication tool. People use them in an infinite variety of ways.
I do think that the fundamental ideas that direct and inform good journalists' work (proper sourcing, a commitment to fairness and accuracy, independence of thought and concern for the public's right to information, among others) are extremely important ideas that function to make a better society. And I think understanding those ideas and putting them to use when blogging can only make a better blog that is more useful to readers.
You also work with companies to help them increase their social media presence, what do you feel are the most important "rules" when using social media?
Well, ironically, the first thing I often tell new clients is that there are no rules. There's no secret sauce. People will tell you that there is, but for every "must-do" out there, there's always an example of someone who did just the opposite and became successful while thumbing their nose in the face of best practices.
The number one thing I've observed that furthers a small company's success in the social media arena is direct involvement from people high-up in the chain of command. Simply put, consumers want to engage with the person who runs the company, not social media minions. It is, of course, a challenge for small business owners to find time to engage in social media. And therein lies the rub!
Beyond that, consistency, frequency and authenticity are key.
What advice would you give to students looking to start their own blog or website?
Have a distinct point of view. Be ready to put something different out there. No one wants to read another run-of-the-mill blog, right?
For more editions of Instruct/Influence, click here.