Instruct / Influence is back with a faculty member from the newest program at the School of Fashion. The BFA Fashion Styling curriculum has been making major news this summer (apparently WWD thought the whole-only-styling-degree-offered-in-U.S.-fashion-education thing was a pretty big deal) and it's no wonder with instructors like Monica Schweiger. In addition to her 15+ years in the industry as a fashion editor and stylist, Monica co-teaches the Menswear and Photo Shoot Production classes, and has recently opened her own specialty boutique in Healdsburg. Monica chatted with FSD about how she went from dressing Barbies to Lady Gaga, what's most difficult about styling a photo shoot, and how The Mercantile Shop has become Sonoma's go-to store for "Stuff We Like, Goods you Need!"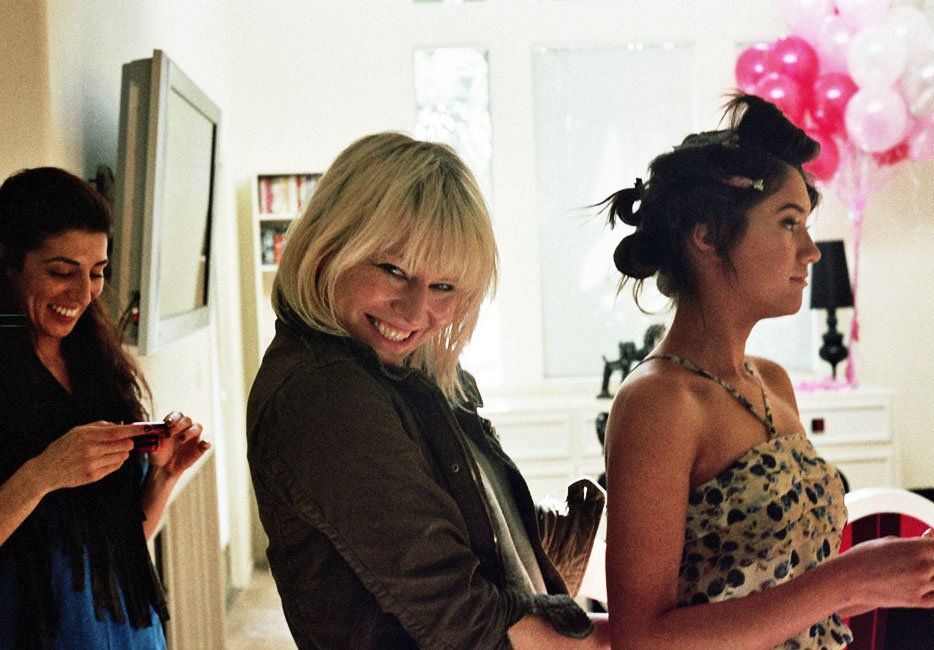 Photo courtesy of Monica Schweiger.
Do you remember the moment you fell in love with fashion?
I don't believe there was ever a moment I fell in love with fashion, it's just always been there. I was probably born loving fashion, more specifically…style. According to my mother, I've had my own very strong opinions on clothing before I could even walk. I cried if my mother put me in anything other than my brother's old blue jeans and t-shirts. It might sound cliché, but I really did spend hours and hours playing dress up with my Barbies, creating epic outfits for them, which evolved later into obsessing over fashion magazines and theatre costumes. That passion has just always been there.
How did you get your start styling?
I started my career interning in the Public Relations department at Prada, which then turned into a job. I didn't even know a job like styling existed. I was all for the costume design track. In my time at Prada, I realized there are these people with the most amazing job: fashion editors. They get to play dress up with the most beautiful clothes on the planet and create beautiful pictures. No position could have seemed more perfect. I worked hard, interviewed like crazy, and landed a job at Details Magazine where I really learned the in's, out's and beauty of styling (specifically, menswear styling ). The small details make all the difference, and it's a constant scavenger hunt to find something unique.
You've written features for New York Magazine, W and Women's Wear Daily. Any favorite memories from those mastheads?
I have great memories from all of them. The best part is always the people you work with. The craziness of the job definitely creates bonds. When I attended and reviewed shows for New York Magazine, I lost my breath and got misty–eyed  at Oscar de la Renta. His clothing is just so magical and beautiful. In contrast, at WWD I styled a little known New York artist performing at Lollapalooza: Lady Gaga.  We ran around backstage and played dress up with all kinds of cool sparkly underwear and disco balls.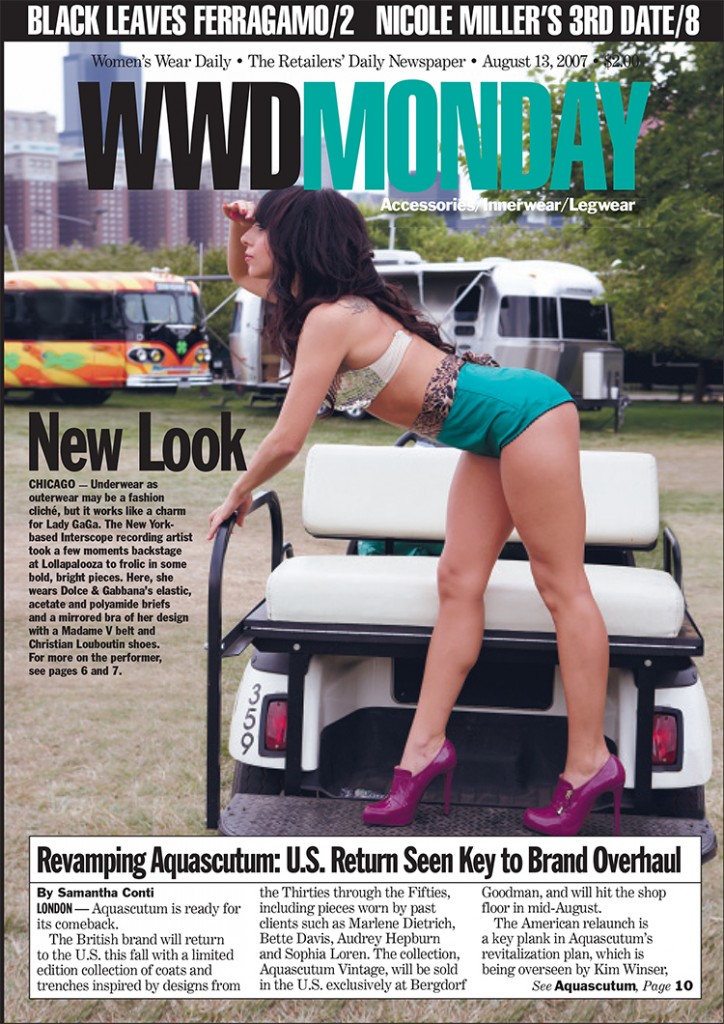 August 2007 WWD cover featuring Lady Gaga, styled by Monica Schweiger. Photo courtesy of Monica Schweiger.
How did you make the switch from editorial to styling? 
I was a fashion editor for 12 years at various publications. I wrote, produced, art directed and styled photo shoots, so the jump was completely natural. It really was just a matter of going from staff editor to freelancer. I think my training and background as an editor has given me a strong advantage, as I look at so much more in a project or shoot than just the clothes. Every detail from concept to location is crucial to the visual outcome. It's a demanding, crazy job that is often all consuming, but 100% full of amazing experiences.
What was the most difficult shoot you ever worked on? Why?
I've worked on so many crazy shoots – evening gowns in the woods out of the back of a car, musicians playing in the middle of nowhere in the desert, 23 hour video shoot days outside in the dead of winter! All of them were actually amazing. The most difficult shoots I've worked on always stem from a crew or talent that don't work well together, or have their own agendas. If you have a great team, even the most difficult of circumstances can become an adventure.
Tell me about your latest venture, curated boutique The Mercantile Shop.
The Mercantile Shop is a small, specialty boutique of highly curated basics and finery focusing on local artisans and California brands. With my 15 + years as an editor and stylist, it's always been my job to stay on top of what's new and unique and what people will want and need. It seemed a logical progression to take all of the things I like, and put them in one space. Our slogan is "Stuff We Like, Goods you Need!" The shop is based on the idea of a modern general store, where you can get everything you need in one place. It is modern Americana with a quirky twist on rustic. We have brands that you can't find anywhere else in Sonoma County. With trends moving toward simplicity, grass roots and getting back to basics, The Mercantile Shop seemed a strong concept to move forward with.
[justified_image_grid row_height=325 height_deviation=50 ids="25206,25207,25204,25203″]One of a kind finds from The Mercantile Shop. Photos courtesy of Monica Schweiger.
As far as living in Healdsburg, I discovered it a few years ago when my oldest friend and current business partner, Kelly Ferris, got married and moved to Healdsburg. I just fell in love with the place. From the hectic pace of New York and Los Angeles, Healdsburg like a little oasis with the best food, wine, scenery and people you could ever dream of. I started visiting often, and realized there was this new, younger wine country consumer, and there really weren't any shops catering to them. After several brain storming sessions, I packed up my stuff, moved up to Healdsburg, and opened The Mercantile Shop at the end of April 2012. I now have the best of all worlds, traveling between Los Angeles, San Francisco and Healdsburg to keep up with styling clients and the shop. It can be a bit exhausting, but I get to do what I love and live in a place that inspires me everyday. What could be better?
[justified_image_grid row_height=350 height_deviation=50 ids="25213,25212″]Sonoma County style. Photos courtesy of Monica Schweiger.
What are you currently obsessed with? 
I am, and have always been, obsessed and inspired by music. Currently I can not get enough of Jake Bugg. He is an incredible talent, a folky yet strong voice, like a British Bob Dylan. On a visual level, I have recently been seeking out antlers and skulls. I'm really liking the dusty California ranch vibe. I find the muted colors and sand washed textures inspiring.
See what's in store at The Mercantile Shop. For more "Instruct / Influence", click here.