The e-commerce world is booming as shopping online has never been easier and the options seem endless. One of the biggest markets being tapped into right now is innerwear, which includes lingerie, underwear and intimates as showing skin is very in but shopping for something so intimate isn't always practical.
Greater selection, immediacy and privacy are some of the benefits of online shopping which has helped expand this market. The internet has allowed for shopping to be done discreetly and virtually anywhere without the all too familiar feeling of judgment. The underwear industry itself was reportedly worth $110 billion in 2014 according to data from Euromonitor. Along with the rise of social media, showing skin and undergarments has increased therefore opening new advertorial real estate for companies to explore.
PRIVACY & CUSTOMIZATION
A large benefit of online undergarment shopping is the luxury of privacy and not having to deal with pushy sales people or the uncomfortable questions. This means no more bust measuring and having to search for the proper fit when the internet provides many options that can be purchased without standing in line. Unlike a regular store, the online inventory is categorized and sorted with recommendations and a memory of previous purchases.
For women who have a hard time finding the right bra, customization is key and can be offered by a number of online retailers who save her the hassle of going from store to store. From the comfort of her own home, a woman can take a test online to figure out what her exact measurements are and have custom items delivered specially for her. This particular test is offered by True & Co. who help find the right fit through the use of specific questions and images for reference.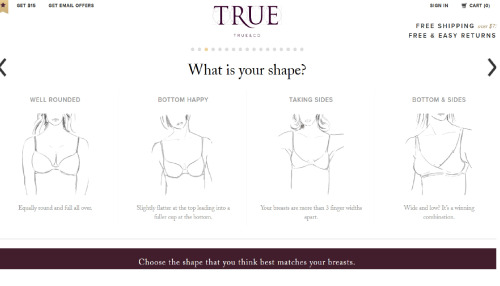 Companies such as Adore Me, True & Co. and Homme Mystere are primarily focused on creating custom products which would've been considered a luxury before the internet.
Adore Me is a website that caters to the shoppers taste, giving options based on the interest and size of the customer. They also provide a customized quiz to find out preferred styles to create a "showroom" for their members. While their items can be purchased through a "pay as you go" service, they also offer a VIP membership that has more access to the sale items and sneak peeks. This strategy is similar to the Zara style of constantly rotating their inventory to keep things fresh.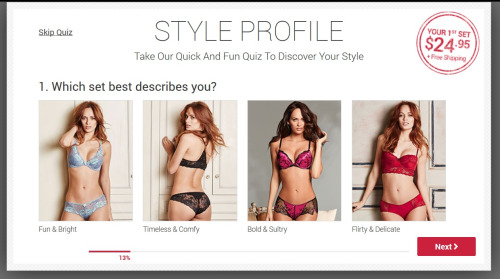 Homme Mystere on the other hand targets itself towards a niche clientele of men who enjoy wearing lingerie. This company creates intimates for men's bodies and include bra's, g-strings and some other specialty items that cannot be found in mainstream stores. Homme Mystere has been in business for six years proving that there is a demand within this market as they tailor themselves to a male physique.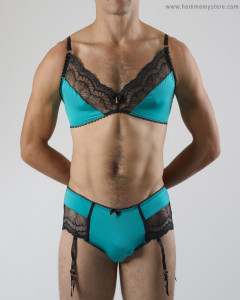 It turns out that publicly shopping for something so private doesn't always work out. Famed lingerie store, Frederick's of Hollywood have recently filed for bankruptcy and have had to close all their brick and mortars. However, Frederick's have shifted their attention to building up their online presence which is where the action is.
UK mass retailer John Lewis has proven that selling online as well as in store can work and they've seen a 207 percent rise in online underwear purchases in the past five years according to Business of Fashion. In a study done by Research and Markets on the US online lingerie market, it's set to grow 16 percent over the next four years.
APPEARANCE
With the country no longer being in a recession consumers can feel guiltless for splurging on specialty underwear.This goes for both men and women.
The personal grooming habits have changed and manscaping has become more acceptable which is why men have started to understand the concept of looking good. While innerwear has been mostly aimed towards women, the men's underwear brands have grown exponentially as well. The modern man is more likely to shop for himself and learn about what style, size and options that are available to him.
The chief executive of  2(x)ist, a men's underwear line, Tom Speight has acknowledged this toThe Business of Fashion by saying:
"Guys want their underwear to perform, first and foremost, and then style is important. Color, prints — something that speaks to their own sense of fashion." 
Today men have choices ranging from the more basic Hanes and Jockey brands to sporty Bjorn Borg, the classic Naked, to the more risque Hom, Andrew Christian and Envy to name a few. Masculinity and style still primary components of something as intimate as underwear.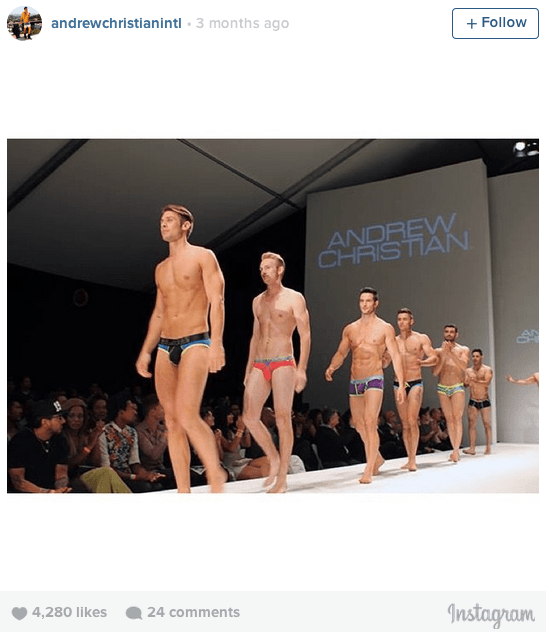 SOCIAL MEDIA  
The internet has created a more sharing society with selfies and videos leading to a greater acceptance and understanding of various bodies. From models to regular folks, showing off their new purchases on Instagram has been one of the factors for an increase in online shopping for that product.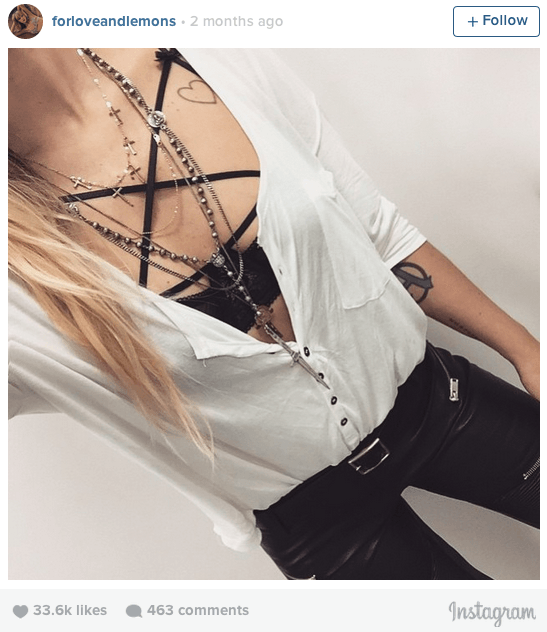 Looking online for opinion and discussing underwear more freely has broken down some of the barriers around the subject of inner wear. People want to purchase what they see in pictures and the internet has allowed for them to do so. Bloggers and stylists are the new tastemakers who can help brand growth in a way that feels authentic as it's not coming from the brand directly.The Underwear Expert, an online blog for men's underwear showcases the latest trends, reviews and the latest information on everything innerwear, even about the models. Michael Kleinmann, the editor of the blog gets around 9,000 views daily making his opinion valuable within the community.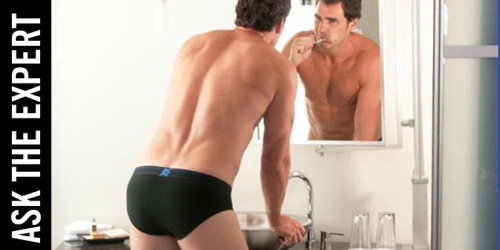 Garcon Model, a men's underwear line was built up through the use of social media and creating campaigns worth sharing. Mehdi Mabarki, CEO of Garcon Model was noted as saying
"We can definitely say that we owe most of our success and media buzz to social media. We have been able to connect with our customers from day one as well as with some high profile celebrities and media outlets."
His company sold over 200,000 units within the first six months of operation and amassed around 100,000 social media fans. This type of momentum isn't easy to garner for a start-up without the use of social media.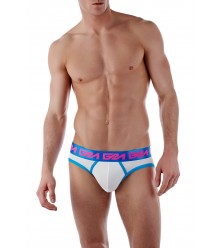 The online approach from women's lines is a bit different from the men's. Sharing beautiful imagery of lacy items worn by slim women help establish brand symbols for many companies including For Love and Lemons, Lonely Lingerie, Gooseberry Intimates and more. Their Instagram accounts are aspirational and inspirational, at times lacking any product placement but just providing aesthetically pleasing imagery. This is a part of their brand messaging to get a feeling across to consumers who might not be able to access them without the internet. Reblogging, regramming and other forms of sharing the imagery of their customer allows for them to stay in contact and give more incentive to purchase in hopes of being regrammed. Free promotion such as this is what has gotten For Love and Lemons to 1.4 million followers, Lonely Lingerie to around 225,000 and Gooseberry Intimates to approximately 405,000 followers on their Instagram accounts. While these are big numbers they don't compare to near 18 million followers of Victoria's Secret but they are getting traction and offering something new.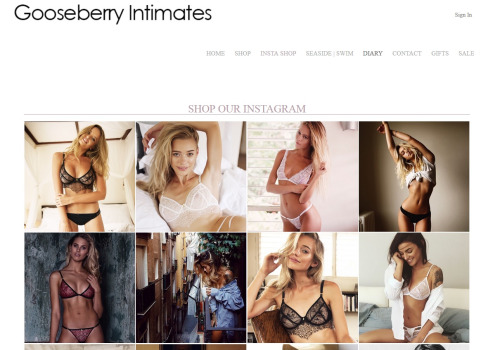 STANDING OUT & IMMEDIACY  
With accessibility also comes growth and competition. Being a step ahead and providing a new item in a market that is no longer niche means diversifying. Online shopping has eliminated the process of going to the mall and waiting in long lines favoring online orders.
Famed Swedish underwear line, Bjorn Borg has recently announced that they will start a subscription based service that distributes new pairs every two months and even comes with a lower price tag. The website for Bjorn Borg allows for the customer to shop based on their taste preference and gives them several options with innerwear. The shopper can choose anything from long Johns and briefs to woven boxers and in graphic prints that are a far cry from grandpa's tighty-whities.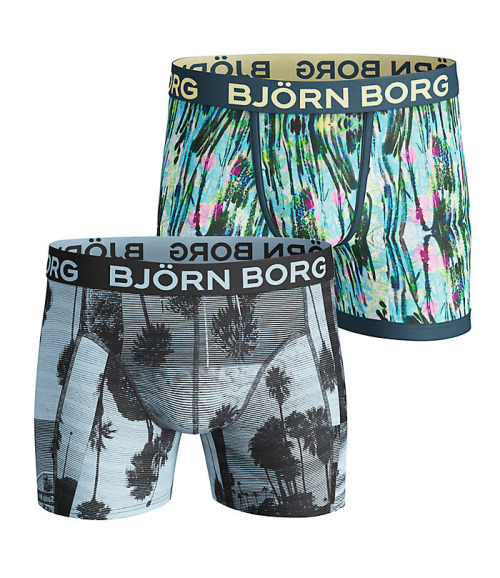 They're not the only company offering a subscription box service, Me Undies started in 2011 had a400 percent growth in revenue in 2014.  Both men and women are now able to eliminate the shopping process entirely by subscribing to any number of websites and be guaranteed personalized underwear.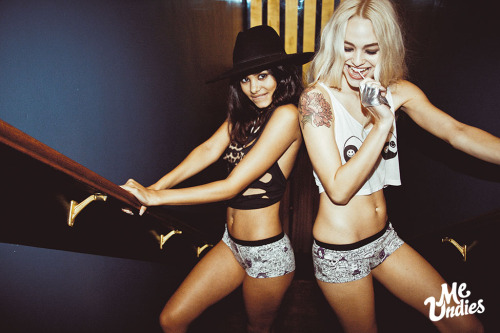 VIRAL
The internet's accessibility and viral nature allows for smaller start-ups to jump into competition with larger companies. Victoria's Secret is the largest lingerie company within the United States and was responsible for half of the sales in this sector in 2013. During this time, the was market estimated at being worth $11.94 billion according to IBIS World and has been growing at 3.3% annually. By the end of 2014 the market was estimated at $13 billion. The men's underwear market is currently estimated at $2.7 billion, a 3% rise from the previous year according to a study by NDP Group.
Viral also seems to be a key aspect of this business. Get something to go big and you're halfway there. Victoria's Secret knows this formula as they've had several viral videos of their models lip synching to famous tunes. Lane Bryant is known for picking up where VS lacks with their#ImNoAngel campaign that's targeted for women who aren't a size 0, 6 foot tall with 10% body fat and perfectly tousled hair.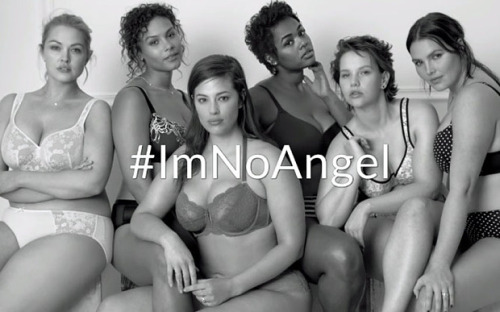 Justin Bieber's campaign for Calvin Klein helped them raise their social status and garnered 3.6 million new followers according to Women's Wear Daily.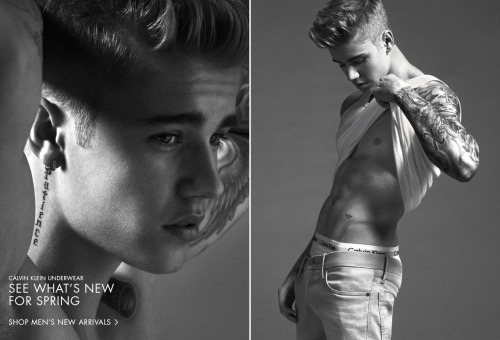 If something goes viral it means more people will see it and click faster to purchase rather than physically go to the store based on seeing a hashtag.

CELEBRITY
The use of celebrity for campaigns is nothing new and celebrities themselves have started their own lines of innerwear with the likes of football stars Christiano Ronaldo and David Beckham. Elle Macpherson has a successful lingerie line as does fellow model Rosie Huntington-Whitely in collaboration with retailer Marks & Spencer. Seeing a celebrity might increase the chances of purchase for various brands in hopes of getting closer to that desired physique. Celebrities have also been tapped to model for underwear garment and some of the recent ones making headlines have been Calvin Harris for Emporio Armani, Justin Bieber for Calvin Klein and Cara Delevigne forLa Perla. Bieber's image helped get publicity in a number of ways as his notoriety was spoofed by Saturday Night Live and other outlets only garnering more attention for the brand.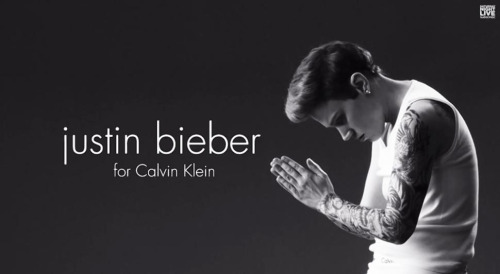 The internet has made the world a smaller place bringing any kind of specialty underwear items to the fingertips and doorsteps of shoppers. Shopping online has opened the doors for more possibilities and the added bonus of privacy, self promotion and immediacy have made the unmentionables widely discussed.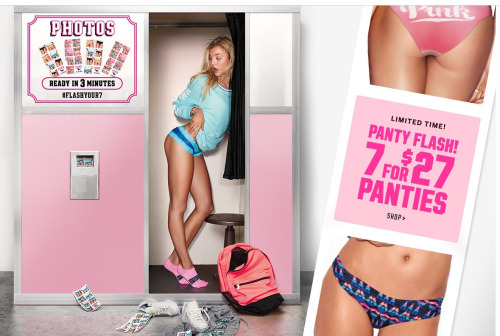 Written by Vivien Moon (Originally posted to Tumblr.com)