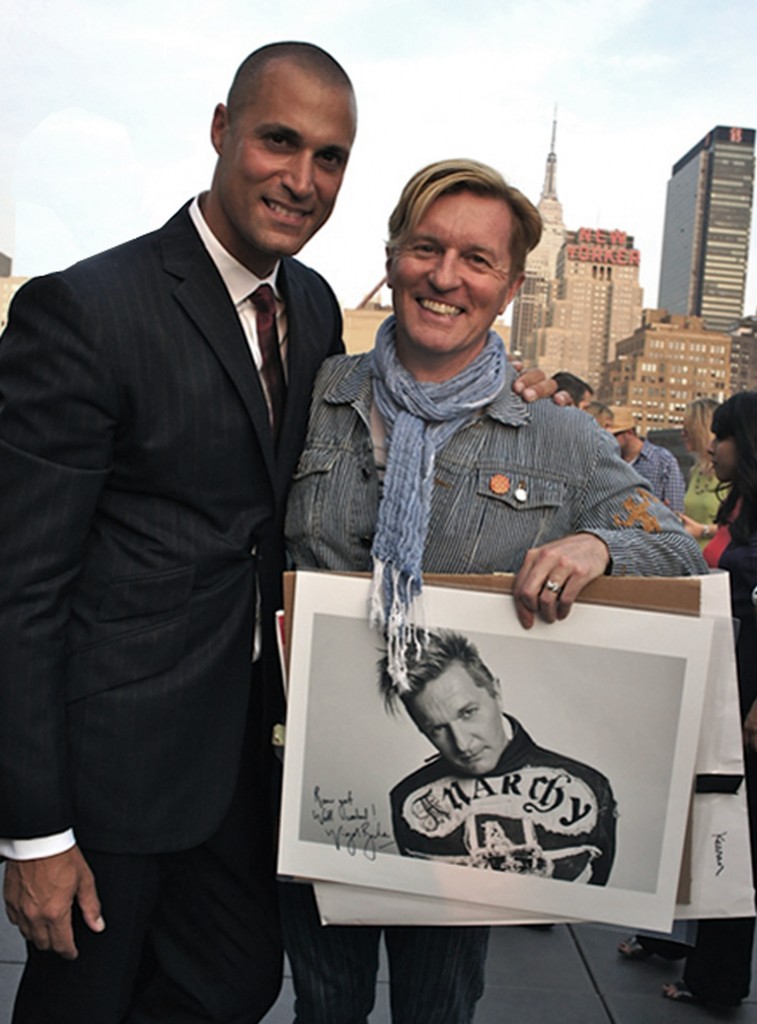 Keanan Duffty talks to Nigel Barker, the acclaimed photographer who is also known for his role as a judge on America's Next Top Model with Tyra Banks and as the Host of The Face with Naomi Campbell. Barker's prolific magazine photography credits include GQ, Interview, Lucky and Seventeen and his client base features Nicole Miller, Ted Baker, Nine West, Lexus, Jordache, Beefeater, Ford and Sony.
Barker is also a celebrity ambassador for the Make-A-Wish Foundation, Do Something, The United Nation Foundation's Girl Up initiative and campaign shooter for Fashion Targets Breast Cancer.
Keanan Duffty: What was the first record you bought and what effect did it have on you?
Nigel Barker: The first vinyl single that I actually bought, rather than being given by my older brothers, was "Don't You Want Me" by the Human League (1981). My younger sister and I used to lip sync it together and perform to bemused houseguests. I loved the glam dandy look of the lead singer and it sang to the conflicted adolescence that most of us go through. FYI it's still on my iPod!
KD: When did you start taking photographs and who or what influenced you to do that?
NB: I first bought a camera at 11 years old. It was a 1957 Brownie Kodak camera, which shot 120 medium format film. I have always loved fashion and film growing up with photos of my Mum everywhere as a model and young starlet. I started early on trying to shoot fashion orientated shots but truly it was being creative in any form that really mattered to me back then and now.
KD: Why did you move to NYC and what is it about the city that attracted you to it?
NB: I moved to NYC in 1996, having spent a few months here and there in the Big Apple ever since 1991 because I was chasing my yet-to-be wife as she globe trotted around the world pursuing her modeling career. Crissy (Barker's wife) is from Alabama, and as you know I am from England, and having met in Milan, lived in Paris we decided to see if we could make it in New York. For me, New York represented everything I had ever wanted in a city: tuly cosmopolitan, or as I like to say a soup not a salad bowl. In other words a place where the ingredients are blended together rather than a salad where they are mixed, yet separate nonetheless. All my life as young Anglo-Sri Lankan boy growing up in an upper-middle class family I was always asked, "Where are you from". So it's no surprise that I headed out into the world early on to find out. Who knew I was a New Yorker all along…
KD: Do you think that rapid information exchange via the Internet means that photography is a more instant art form?
NB: The digital era has definitely changed the photographic landscape, and whether my brethren like it or not you have to go with the flow or get lost. Photography as always been a sort of instant art form, certainly with Polaroid film you received an instant result—but even with regular film photography, your creative moment was being caught in a fraction of a second. The Internet has made photography and video for relevant than ever and of course more accessible. Every Tom, Dick and Harry has a camera either on their phone or as a compact, DSLR etc., etc. But everyone is also given a pencil when they learn to write but that doesn't make us all authors.
KD: Give me a really crazy anecdote/story. Something that not many people will know about you.
NB:  Crazy…. where does one start? Well, did you know I was a back up singer for Barry Manilow when he toured the UK in the 1980s and I sang in front of the late Princess Diana at the Royal Festival Hall? Now I just sing in the shower or lullabies to my tolerant children.
Season 2 of The Face premiered on Lifetime March 5, 2014.
Interview conducted by Keanan Duffty