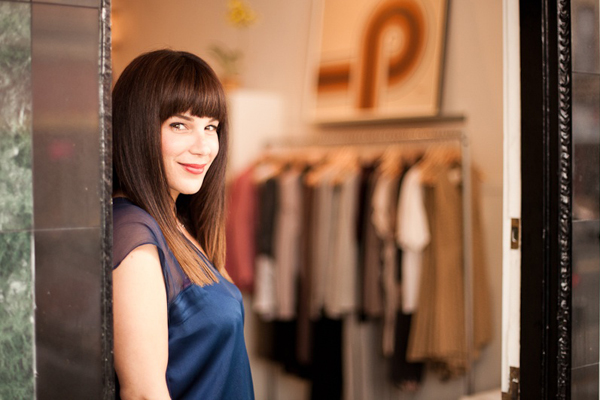 In today's Industry Interview, we caught up with Mira Pickett, owner of one of our fave Mission boutiques, Mira Mira. After a successful career in the tech industry, Mira took a leap of faith and decided to turn her passion into a business – and we are very happy that she did. Mira Mira carries the most amazing, hard-to-find labels including Gat Rimon, Laugh Cry Repeat, and Funktional – and hosts some awesome events, too (a hair-braiding party, yes please!). Read on to find out more about Mira and her adventures in opening her own business!
Why did you decide to open your own boutique?
Opening a shop was something that I had literally planned to do since I was 15 but I guess I never had the guts to do it. I had been working a job that I literally hated for years and then finally the stars aligned and I went for it.
Why did you decide on the Mission?
I've lived in the Mission for about 15 years. I used to intern at Southern Exposure while I was in college and lot of the artists surrounding it seemed to go to the Latin American a couple doors down. I used to sneak in. That was really funny telling the owner that so many years later. And I guess ever since then, I'd always go to Boogaloo's, so this little block is really special to me. I knew that I wanted to be in the Mission and when this space opened up I knew I needed to be here. I literally haunted this street everyday putting my energy out there. I sort of felt like if I didn't get this spot, I couldn't open the shop anywhere else.
What are some of your favorite haunts in the area?
I went to the new Southern Pacific Brewing the other day and I think I'm hooked! But mostly I guess I've spent a bunch of nights sitting at the Locanda bar. I love their Peroni on tap. And Yamo and Pakwan are also definite favorites for cheap but delish eats. Lolo's is also a place that personally I could eat at for the rest of my life. If only my Court jeans would let me…
Follow the jump to read more!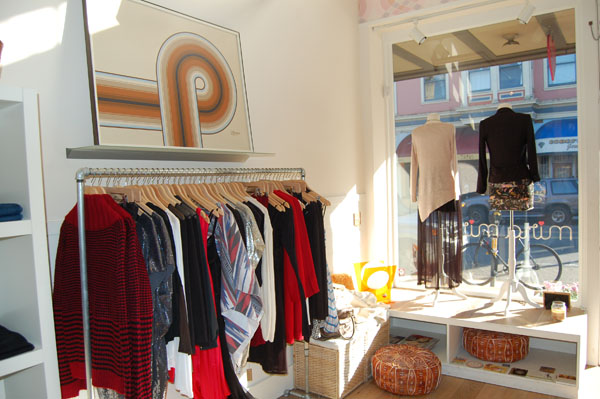 What had you done prior to opening the store?
I'd been working in technology in the financial sector. For many years, I was an application engineer and then sort of worked my way up the management track. It was nice to have a fancy title and a window office but I think I started letting the comfort of a paycheck rule my happiness. And it didn't make me happy. I always felt very miscast in the role that I had been playing for so many years. My friends joked that I was living a double-life.
You're known for carrying labels you can't find anywhere else, including a lot of foreign labels – how do you find new lines for the store?
A lot of research – I read a ton of foreign fashion blogs and mags to find obscure labels. I like to travel and I definitely would always spend a lot of time checking out the local shops and meeting people. So that's sort of where it all started.
A big component of the shop is to collaborate with our customers to carry obscure lines that they may have found while on their own travels. And it has really been happening, people will tell me about lines they've found that they love… someone actually just brought in some gorgeous leather pieces from a designer in Croatia. I really want to grow this part of the business so that our ladies will really influence what we carry in the store.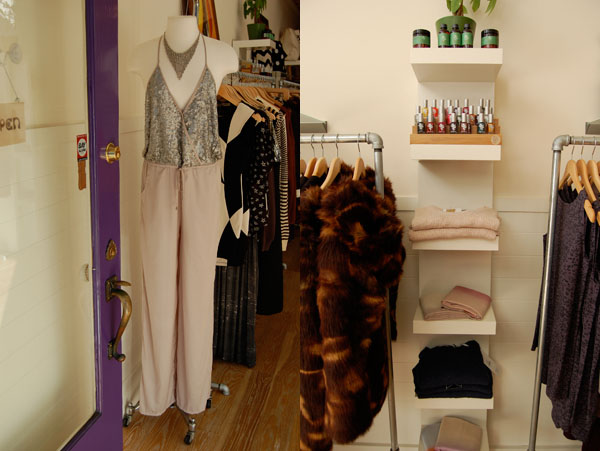 What do you think are some of the most important things someone should know when starting their own business?
The first piece of advice I would give is just don't think about it too much [laughs]. I hated when people would tell me that they thought I was brave. But seriously… I noticed that when I sought advice from other women that opened their own business, each of them had their own mantra for helping them get through the stress and fear. I think that was mine.
The other thing I think really helped me was to write a business plan. Once you're already in business, I think it's probably really hard to carve out a significant chunk of time to just sit down and write a plan. So before you start, that is definitely something I recommend. It really forces you to think about every detail about what you're trying to achieve, how you're going to do it, and where you're going.
There are so many great resources in San Francisco, especially for women owned businesses. I went to Score downtown and it was so helpful. They can give you the specific outline for writing a business plan, and you can take super inexpensive classes on how to plan budgets. They really guide you through the planning process.
You have really embraced social media in your business, posting photos on the blog/website and even featuring local bloggers as models. Do you think that is important for small businesses?
I think because of my own techie background, it was somewhat natural for me to look towards a technologically driven community first. When I first started planning for the store there were a lot of ideas that I was tossing around about creating a community of women around the store. I really wanted to build something that fostered mutually beneficial relationships among women. I have women in my life from so many different facets – art, music, technology, fashion – I wanted to kind of connect them all. And after opening, I realized that this was already alive and well in the blogger community. Here are all of these incredible ladies from so many different backgrounds who all have this love of fashion and connect through their blogs. It is so amazing because it's actually one of the most supportive communities I've ever seen. And so I realized that I didn't need to create this community, I just wanted to become a part of it.
Every couple months, we have some fun ladies nights at the shop centered around some sort of theme like a braiding party, fashion or trunk shows, food tastings, etc. The next one coming up is a DIY manicure event. I ask some of my favorite local bloggers to host them. They are a fun opportunity to bring so many ladies together.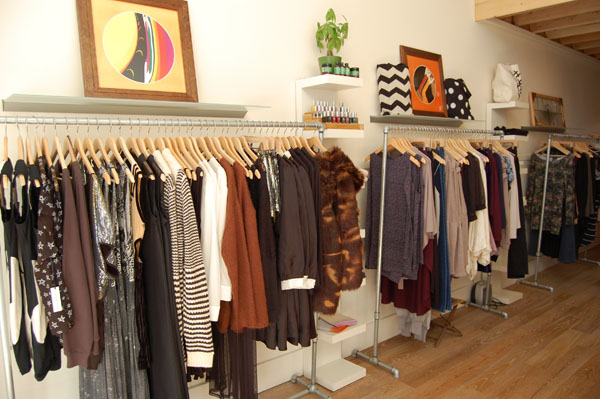 You mentioned that you often find inspiration or new lines online, what are some of your favorite sites?
For style inspiration, there are so many secret haunts but I love the Cherry Blossom Girl – she just has amazing taste and style. And Garance Doré – I love her blog. Of course, the basics like Jak & Jil, The Sartorialist, le Blog de Betty, and Fashion Toast. I love Rumi's style.
Refinery29 for sure, too. That is a site that I have literally looked at every single day, probably since it first launched. I was super excited when the San Francisco edition started, and the first time our store was in it I was so excited, I literally screamed out loud like a little girl [laughs]. I didn't know it was coming up in the story.
Nylon is also great for finding new designers. And all of the Sugar sites are personal favorites of mine. I especially love them for hair and makeup inspirations.
What has been the most challenging part of starting your own business?
For me I had worked for so long in the same field that I pretty much knew what I would be doing every day. But with the store, every single day there is a new challenge that I have to learn how to resolve. It's definitely an upward learning curve.
Also, I guess I'm a pretty introverted person generally, so putting it all out there in a public way has been scary for sure. My taste can definitely be out there, I think. So I guess there is this balance I'm learning with what to chose for the shop.
And what are you working on next for the store?
We're now planning for our Spring lookbook shoot. We just need all the clothes! But, I'm really excited for it! My friend, Josie Ramondetta, who actually produced our first lookbook, is going to be photographing it this time around. Also, I am in the beginning stages of collaborating to open a web shop.
Thank you Mira!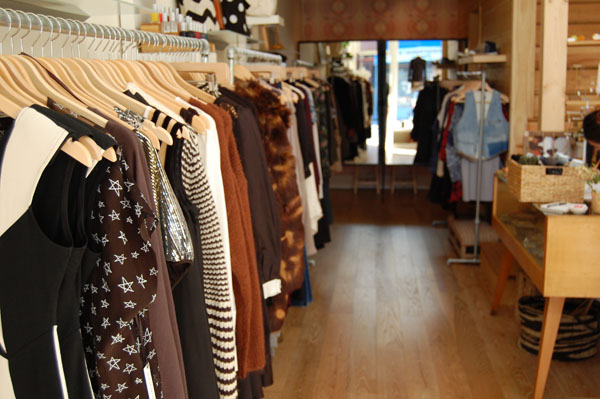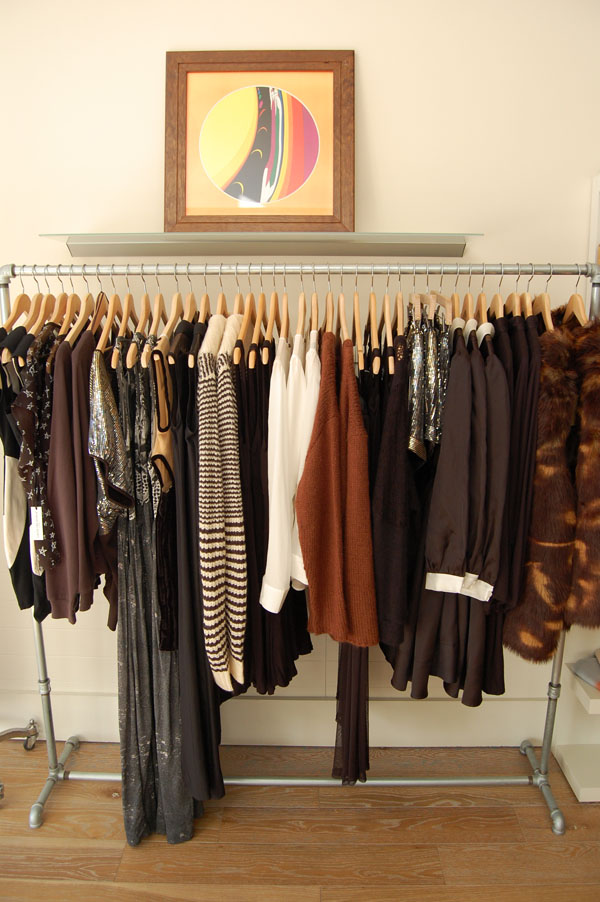 For more Industry Interviews, click here.