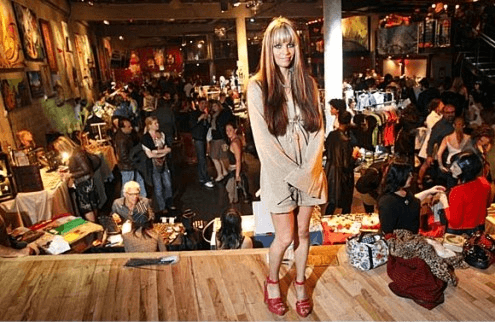 Wonderland SF Owner Irene Hernandez-Feiks at a Chillin' Productions Event. Photo Courtesy of Lance Iversen.
Irene Hernandez-Feiks has worked with over 10,000 artists throughout the Bay Area, from designers and artisans to photographers and filmmakers. What began as small, weekly happy hour events for local designers has turned into a major happening where all forms of art converge three to four times a year. Irene recently opened Wonderland SF, a boutique + gallery located in the Mission. She stocks clothing, shoes, and accessories from independent designers throughout the bay area, including School of Fashion Alums like gr.dano. In the back of the space there is a rotating gallery, with new exhibitions each month. Fashion School Daily took a day trip to the Mission to visit Irene (and her adorable golden retriever Tenoche) at Wonderland SF, and learn about the inspiration behind this creative powerhouse!
Wonderland SF was like a second act to Chillin' Productions – can you tell me a bit more about that?
I started out as a designer and when I was first starting I felt that in San Francisco, if you didn't have the personality or the connections, it was really hard to break into the industry. So my best friend and I, she owns 111 Minna Gallery, started doing a happy hour every Tuesday with five local designers. It was like a mini-sale where people could show their designs. I feel like people always try to do fashion shows in San Francisco, but nothing really comes of it, so this was a way to really get people familiar with these designers and their work. Every week it was different and we would have DJs, so it was a fun thing that people could do after work.
And that was thirteen years ago, when we first started, before people were doing sample sales or anything like that here in San Francisco. So it started to become really popular, and a lot of the magazines started to come which was really great. But after a year I just got burned out because it was every week and I was having to do all of the research and planning. So then we started doing it every two months and did 40 designers. And instead of doing it 5 to 9 PM in the evening we did it 8 PM to 2 AM. It was more of a night event with lot of DJs and local bands playing too. We started having a line around the block to get into these events, and soon enough we outgrew 111 Minna. So then we moved it to Studio Z and it included designers, artists, filmmakers, and DJs. And then we got too big for that space too so we moved it to Mezzanine.
Do you still do large-scale events for Chillin'?
Yes we still do them at Mezzanine – we are having an event on December 3rd with 200 artists, 80 fashion designers, 40 filmmakers, and 4 people painting on stage. The whole idea behind Chillin' is that maybe you love art and that's why you're there, but then you see a designer's clothing that you fall in love with.
It has always been free and we have never taken money from the designers or artists, there is not cost to them. I really want the designers to see how people respond to their line and get them exposure. And sometimes buyers will come and they'll get picked up by a boutique, which is really great. And they learn – one thing that school doesn't teach you is the business side of it. For me, Chillin' Productions has really been about helping the designers to learn about what they really want to do and what works.
Why did you decide to open Wonderland SF?
With Chillin' we do events three or four times per year, but we wanted to have a platform for designers that was year round. So we opened Wonderland, and we sell everything on consignment for the designers. I think it really helps to show them how people respond and teaches them how to be successful – even little things like they realize they need to do size runs and things like that.
And we do have a huge following from Chillin' which has helped. I have my regular customers who come in looking for things that are unique and different. And it helps the designers to decide – do they want their line to be more accessible or more high end? Wonderland has such a wide range of designers and customers, so there is something for all different people.
Follow the jump to read more!
What has been the biggest challenge of having a brick and mortar space?
It is a lot of work – I work everyday. With Chillin' I can bring my computer to a café and do work for a few hours. And I've been doing that so long that it is like second-nature to me, I could do it with my eyes closed. But with Wonderland, I had never owned a store before or worked retail so it has definitely been hard. We have three hundred different designers whose work we sell, so it is just a lot to manage. And I have to do every aspect of the job from working in the store, to planning our events and doing PR. It's definitely harder than I expected.
Wonderland also serves as a gallery – how do you select the artists each month?
Each month I do try to do some sort of theme. For this show, it was several artists doing a series of three paintings – two black and white and one in color, all of the same size. And the next show the theme is San Francisco, so its different representations of the city. It is a more curated experience than at Chillin' and obviously a lot smaller.
You originally started as a designer, do you design anymore?
It's hard because I am so busy with the store now, but I have actually started designing jewelry lately. I have been working with crystals, really big natural stones that are really cool. A lot of people have been doing different things with these kinds of crystals, but I wanted to take it to another level. I really like things that are modern and streamlined, and so my pieces are a bit larger, heavier, and more industrial. And it's great I'm actually working with the metal.
What advice would you give designers and artists who are just starting out?
You should never think that, "Oh, I'm too cool for this" or anything like that, you should always be open to things. Because the more exposure you get and the more people see your work, that is how you will get where you want. And the more exposure you get, you also realize what things work and what doesn't, what types of things you should do more of. If everybody knows who you are, things will get easier and better.
Thank you so much Irene for taking time out of your day for our interview! Be sure to check out Irene's Chillin' Productions Holiday Show this Saturday, December 3rd at Mezzanine!! Details here.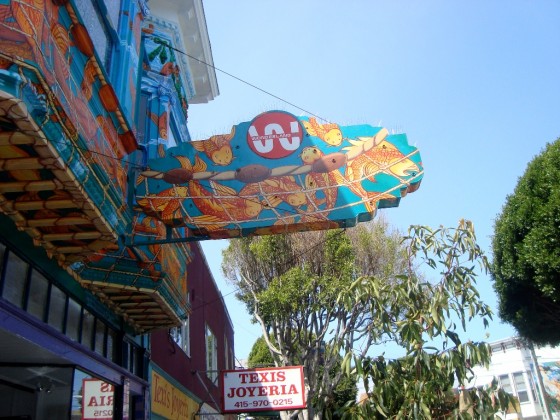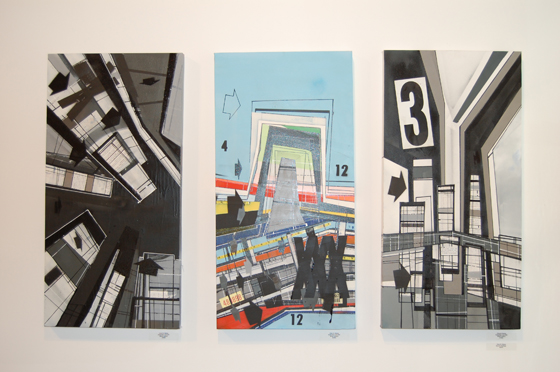 Paintings by Chris Stokes
Paintings by Robert Garcia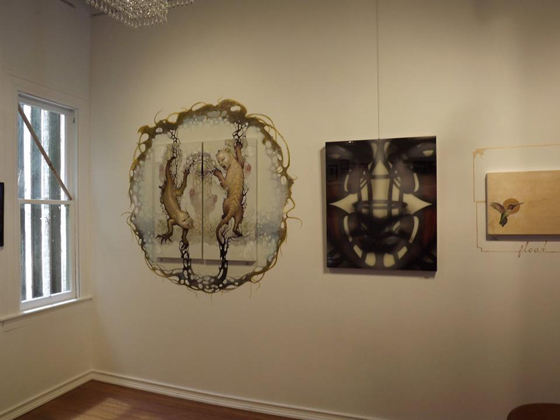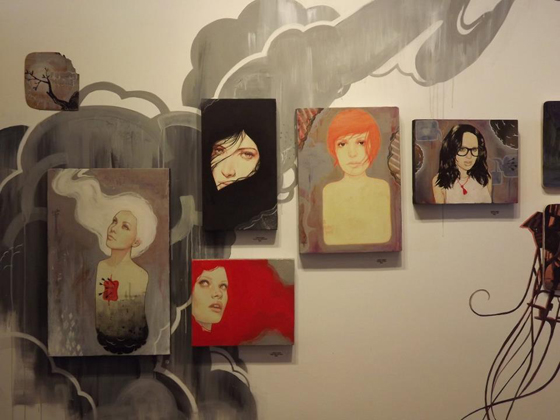 Works from the previous exhibit, during which artists continued their canvases onto the walls at Wonderland