Upon entering Christopher Collins' boutique on 1116 Sutter St., discussion is heard over styling options. "I love, love, love the yellow", the wide-eyed designer expresses regarding belt options for a floral dress in his spring look book. Christopher's color pick is an absolute reflection of his radiating positivity and friendliness. I'm invited to sit on a couch that's warm from the sunlight.
When he takes a seat, we begin our chat with him posing the question, "Which one?" while holding a headshot in each hand. Finding both models quite suitable, I point to the one I could see shining in his sweeping floral dress and lemon colored belt the most.
He seems pleased with my the choice, and I begin asking Christopher about his fall collection, which he showed at El Paseo and Hawaii Fashion Week, as well as his New York showroom.
"It's the biggest collection I've ever done. It's very film noir. I was really interested in edges and shadows and texture. No matter what season I'm in, I'm always really inspired by texture and touch. It's my belief that if a woman puts something on that feels incredible she won't take it off. I think it also relates to the sense of beauty, so if she feels a certain way, she's going to project a certain attitude, and I think that's all part of fashion. I was really inspired by this moodiness and darkness. I think our world is in a transition, kind of a thoughtful place, and I felt like the film noir attitude is that pensive, striking moment of where we are."
Who would you pick for a muse?
I love Maggie Gyllenhaal. In terms of fashion, I'm really interested in Michelle Obama, because she's a very tangible woman with that kind of sensibility. I design for that woman. You see her there looking all glamorous and fab, but she's got that approachable nature that you could go up and talk to, and she would react to you. I think there's an attitude in fashion that I create, but I don't think you need to be a bitch to be fashionable.
I have to ask, have you been watching season 9 of Project Runway?
I have seen a little bit, yeah. I have to say I'm in touch with Tim Gunn, and he's amazing. He's been really helpful past Project Runway, being not only a friend, but a mentor still. He's so involved with my every move that when I'm in New York we get together. I'm really thankful for him.
Follow the jump to read more!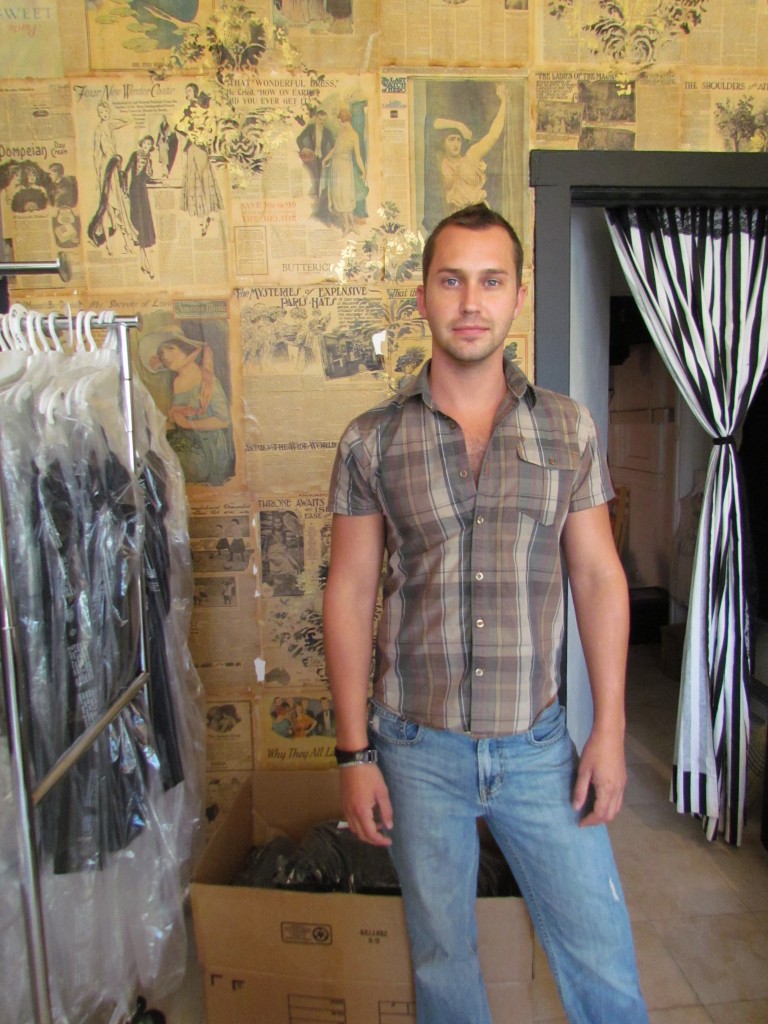 That's great you got that out of doing the show.
I'm actually doing a new T.V. show on ABC, and I think you're probably one of the first people I've told this to. It's called Jane by Design. I'm not on it, but my clothes are. It's like a Devil Wears Prada kind of concept, and so I'm dressing the "devil". Here I say my fashion is not about being bitchy! (laughs) But she's sophisticated and elegant and that's kind of what I nail. I'm really excited about that, and it airs in January.
Exciting! You're proof that someone who doesn't win Project Runway can still be really successful. Do you have any advice to those that will be eliminated this season?
I think that I said this the whole way through the show, that it's not about winning. Life is never about winning. You can win a marathon, you can win whatever, but there are still all those people that also trained for it and went for it, and they're very talented people. So it doesn't mean that the others aren't skilled because they don't have that, like, banner title of Champion. I guess what I would say to anybody being on that show is be mindful of who you are, because America is going to see that and the world, too. I get emails from all over. They watch it in Argentina. They watch it in China. They watch it in Australia. They watch it in Europe. They watch in everywhere! And so you get messages from people all over the world that have something to say about your character. Reality television is about personality and making a connection with someone in real life, so whether that's positive or negative, you are going to hear it. So I would just say be you. Your destiny will manifest according to how you act.
You've said you enjoyed being around the group of designers on the show because it was all fashion speak all the time. Do you have a group like that here on the West Coast?
That's a really good question, and the truth is those people from the show are still kind of my close network of friends, because it's like a fraternity in a way. Being on a reality T.V. show is very stressful- it's so much so fast. You share something in common that a lot of people can't relate to. Whether we're all scattered around the country, we talk to each other quite a bit. I mean, not everybody, but there are definitely some of us that are really good friends. In San Francisco, there's definitely a group of people I communicate with. I don't know if it's as many designers as it is just industry people.
In college you worked at Neiman Marcus while going to fashion school. What is it like now selling your clothing there?
Oh, it's very cool. I was a stylist, and I had the most beautiful products. They are the greatest purveyor of luxury, and I got to handle these things and think, Oh my gosh, I've reached the top. After a few years of that I realized I'm a designer, and you know, I'm on the wrong side of the tracks. I was at that level of luxury and that point that I wanted to go to, but I wasn't doing quite the right thing. So when I took that leap and got all my stuff together, moved to L.A. and worked for designers, I always knew I wanted to be in that store. When I got back from the show, they had called and they wanted my collection. So it was really, really incredible. But that's not to say that's the top of the iceberg. I feel like I'm still at the bottom of the hill, so there's still so much more to go through. I guess no matter where you are your goals are always rising.
View Christopher Collins' most recent collection here.
Written By: Chelsea McCoy