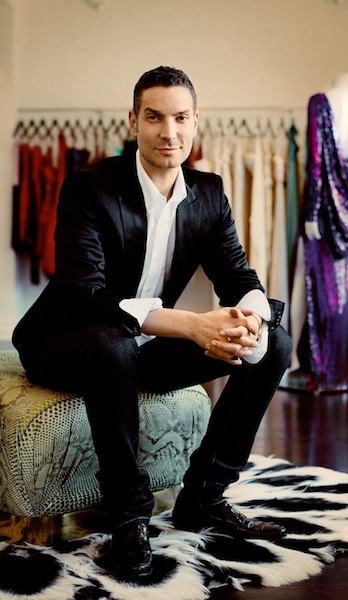 For fifteen years, Cameron Silver has gotten to shop some of the most stylish closets in Hollywood. As co-owner of haute consignment store, Decades, Cameron has devoted his expert eye for style to seeking the incredible vintage finds that attract the A-list elite to his LA shop. The high fashion historian added author to his list of style credentials last Fall, publishing "Decades: A Century of Fashion" (Bloomsbury) which showcases a compilation of the most significant trends of the 20th century. Currently, you can catch Cameron in front of the camera with his latest endeavor, reality television show "Dukes of Melrose." We caught up with "the king of vintage" to talk Bravo, Bettie Page and his favorite fashion decade.
Can you remember the moment you first fell in love with fashion?
It was a trip to Fred Segal in 1977. I was seven or eight years old, and I was wearing what was my version of the Annie Hall look. I had on a little fedora, a loose tie, rolled up sleeves and a vest. Everyone thought I was the cutest thing. That's when I first  fell in love with clothes. My parents had always been into clothes, but I had a distinct point of view that they encouraged. I saw everything. I was seven years old and knew how to dress like Annie Hall because I'd seen the film! My parents kept me very much exposed to the elements, which I think is a good thing.
You've been selling exquisite examples of vintage fashion for fifteen years? Any favorite pieces that you've seen come through?
I would say the Christian Dior gown that Trudie Styler wore to the Oscars the year Sting was nominated. It was this beautiful kingfisher blue, silk satin, completely timeless gown. It was a really special dress because the color was so good. Historically, it really meant something to me.
If tomorrow you woke up and were told you could wear clothing from only one decade, which would you choose?
The '70's I think. It was a really good men's moment in fashion. Yves Saint Laurent was doing men's wear. I tend to like a '70s suiting for men. I like the pants a little high waisted with a slight boot cut. The wide lapels….I think it's kind of chic. I would dress like Halston.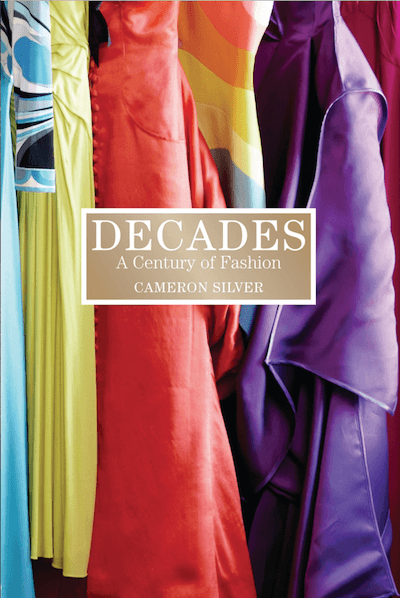 Photo courtesy of Decades, Inc.
In your new book, DECADES: A Century of Fashion each chapter opens with a pair of women who epitomize the trends of every decade featured. Do you have a style icon?
All of the women in the book are incredibly inspiring. For me, I had to remove myself a little bit from picking favorites. I tried to be really strategic in selecting people who weren't always the most obvious icons of their time, but who represented a component of style that is very important to the decade. A lot of people are super surprised that Bettie Page is in there with Grace Kelly, but it's because my God these women are still so inspiring! The pic where Bettie Page is wearing the negligee and heels…she's totally fetish-ing the shoes! Essentially what Louboutin is doing now, 50 years later.
If you could write a chapter for the next Fashion "Decade" what do you imagine it looking like?
I think there is something finally happening in the 21st century that looks extremely modern. The digital aspects of printing are creating pieces that don't look like prints from the past. They don't look like Pucci prints, which all prints did up until five or six years ago. There's definitely been some very aggressive research into fabrics as well. This kind of computer generation is affecting fashion.
You've styled countless celebrities (Nicole Kidman, Jennifer Lopez, Renee Zellweger) for red carpet appearances. Any looks that particularly stood out to you this awards season?
I loved Jessica Chastain at the Oscars in that Armani gown. I thought "She's not trying too hard." It was old Hollywood glamour, but still looked modern. I also loved Carolyn Murphy in the YSL couture jumpsuit that she wore to Mario Testino's party.  It wasn't a red carpet appearance and she was still spectacular!
[justified_image_grid row_height=350 height_deviation=100 ids="22549,22561″]
Photos courtesy of RCFA & Hannah Thomson.
What was it like filming in the store for "Dukes Of Melrose"? How has it felt to see the show now making its debut on Bravo?
It was filmed last year between January and July, so it almost feels like such a lifetime ago. I'm so happy it's finally airing, but watching it is sort of an anachronism. I already lived it! Been there, done that, next. I'm not going to like it because I'm hypercritical. I make fun of myself and all of my flaws in the show. If people watch it and are amused, but also learn a little bit about fashion and industry, the Hollywood system, the dynamics of a small business and retail, that's what I really hope for.
Tonight's episode is filmed during the store's annual $150 shoe sale event, and you'll see I'm really silly during it. I will always get the job done, but I'm a really silly person. My Bachelor's was in theatre. I was an actor, so having the camera around it was almost liberating. We're filming this ridiculous event, where women don't care if they get plantars warts from their pre-loved Manolos…let's just have a good time!
What are you currently obsessed with?
Aside from googling myself all the time?  Reading all the nasty comments about me, that's been really amusing as of late!
Be sure to turn into "Dukes of Melrose" tonight at 7:30 PM PST on Bravo. To shop Decades, click here.