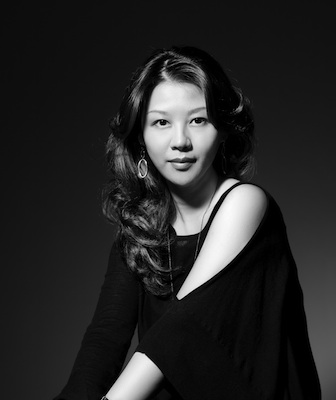 Photo courtesy of Jie Jessie Liu.
For today's Alumni Update, we spoke with 2012 MFA Fashion Design alumna Jie Jessie Liu. Liu debuted her senior collection at Mercedes-Benz Fashion Week last September, and was recently selected  to display her collection at the Arts Thread/Who's Next Prêt à Porter exhibition in Paris. This year, Arts Thread teamed up with esteemed fashion trend consultancy WGSN to pick ten up-and-coming fashion and accessory designers to join thousands of established brands exhibiting their work at the show in the French capital. Liu was selected as one of the lucky 10! Fashion School Daily spoke with Liu about her experience at the exhibition and the collections there that inspired her– read on for the interview!
How did you get involved with the Arts Thread/Who's Next event?
My graduate mentor recommended me to participate in the competition.
What did you do at the exhibition?
I presented my own work, networked with other young Arts Thread Young Designer Award recipients, and browsed the booths of other established designers.
How did people respond to your collection?
People responded positively to my collection.  Some desired to see more than just this collection, so my portfolio also played a key role.
Was it your first time in Paris? What did you do while you were there?
Yes.  It was my first time in Paris.  I did get there one day earlier, and had a small opportunity to walk on Avenue des Champs-Élysées, saw the Arc de Triomphe from a distance, and went underneath the Musee du Louvre briefly.  Unfortunately, I didn't get to go into the Louvre due to time constraints.
Were there any other designers whose work you loved?
While all the designers who received this honorable award were fantastic, there were some truly exceptional and memorable collections.  For example, accessory designer Mulika Nir of Israel presented her collection inspired by her childhood memories of circus.  Her design is impressively 3D and fully of interesting elements from paper engineering.  Another eye-opener for me was the collection of Haute Couture Russian designer, Olga Malyarova.  Her collection inspired by Swan Lake was painstakingly detailed and extravagant!  She sewed hundreds of feathers to her gown and Swarovski crystals to make her corset.  Her collection exudes affluence and complexity. It took her a long time to finish each look. I love it.
What have you gained from the experience?
I gained an invaluable opportunity to network with other designers, manufacturers, and boutique shop owners.  This experience expanded my understanding of how the fashion industry works.  Because I plan to start my own label, I walked away feeling I will need to go to more events such as the Arts Thread/Who's Next in order to continue to establish my supply/value chain.
Check out the below video for footage of this year's exhibition in Paris.

For more Alumni Updates, click here: