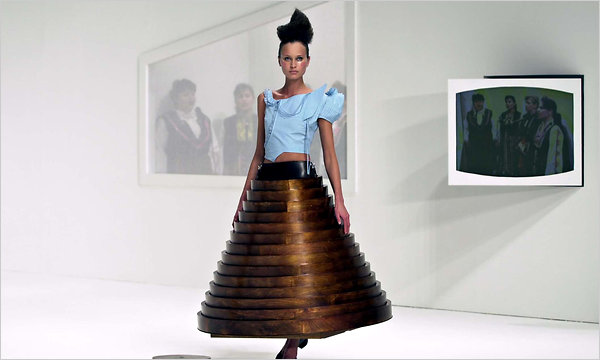 Without a doubt, there isn't a shortage of fashion exhibitions in museums all around the world. Alexander McQueen: Savage Beauty is currently showing at The Metropolitan Museum of Art in New York and the de Young in San Francisco just recently wrapped the Balenciaga and Spain exhbition — which will be followed by a Jean Paul Gaultier exhibit come March 2012.
Today, a retrospective titled "Hussein Chalayan: Fashion Narratives" retrospective opens at the Les Arts Décoratifs, which is part of the Louvre (our alums in Paris should definitely pay a visit!).
"Mr. Chalayan worked on the exhibition with curator Pamela Golbin, and it includes important pieces from Mr. Chalayan's remarkable career, as well as films and sketches," wrote Cathy Horyn in a recent On the Runway blog post.
Suzy Menkes wrote, "Whereas so many shows are presented as glass windows containing clothes, this one is rich in visual invention…" and "The visions are light and airy, although often heavy with symbolic meaning — as in the visual row of dresses changing slowly and subtly from plain black to patterned; or a film of the now-famous show in which a row of veiled women was repeated until their bodies were nude and only the shoulder-length chadors remained."
The retrospective runs until Nov. 21 and also features Chalayan's furniture designs and sculpture in addition to his runway piece ready clothing.
For more information visit www.lesartsdecoratifs.fr.
[Sources: NYTimes.com, Stylelist]