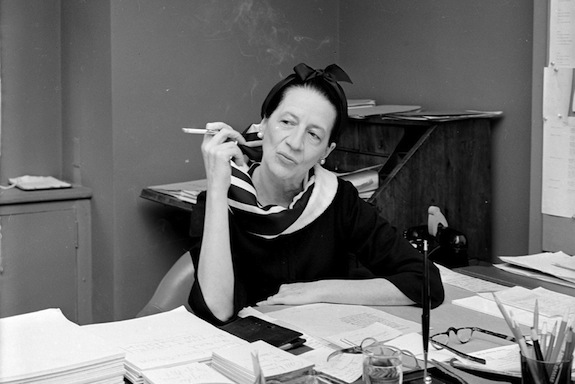 The world is about to have a moment with the fashion icon by the name of Diana Vreeland. Actually, the world is about to get three moments.
For one, her granddaughter-in-law, Lisa Immordino Vreeland will soon be releasing an in-depth documentary about the editor's life titled "Diana Vreeland: The Eye Has to Travel". The film is set to bow at the Venice Film Festival on Sept. 3. The film includes interviews and appearances by a mile-long list of people including Richard Avedon, Anjelica Huston, Diane Sawyer, Andy Warhol, Calvin Klein, Oscar de la Renta, Hubert de Givenchy and Diane von Furstenberg — just to name a few.
To go with that, an accompanying coffee-table book is set to hit the shelves of bookstores on Oct. 1. Third, there will be a traveling exhibition that starts at the Fortuny Museum in Venice come March.
That's a lot of Vreeland — but we're not complaining. The trifecta of events will cover lots of ground in terms of the legendary fashion editor's life which includes her time at Harper's Bazaar (1937-1962), Vogue (1962-1971) and her position as the special consultant to the Metropolitan Museum of Art's Costume Institute.
Are you excited?
[Source: WWD]