Now that they have had time to marinate on the subject, Harry Go has decided to come out of blogging retirement to join FSD blogger Danielle Wallis to give a he said/she said take on the Academy of Art University Fall 2011 collections at Mercedes-Benz Fashion Week at Lincoln Center.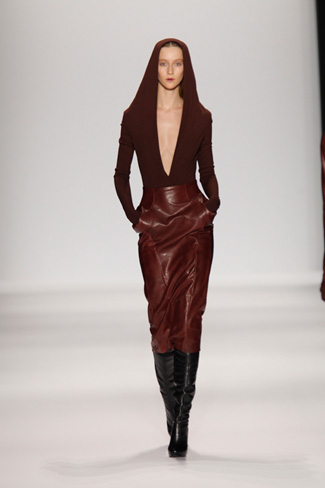 Danielle: Holly Smith started the show with beautifully dramatic makeup, a spacey soundtrack, and a few nip slips. The collection looks like it was designed for a sexy female gang of city-dwelling villains. (Love!) Smiths' skirt suits were impeccably tailored, and I would definitely love rocking one of their high-waisted, wine-colored pencil skirts any day.
Harry: My heart skipped two or three beats when Melodie Monrose strutted down the runway to open the show in Holly's collection. Holly Smith took American sportswear to a new level of glamorous and femininity.
Follow the jump to read more.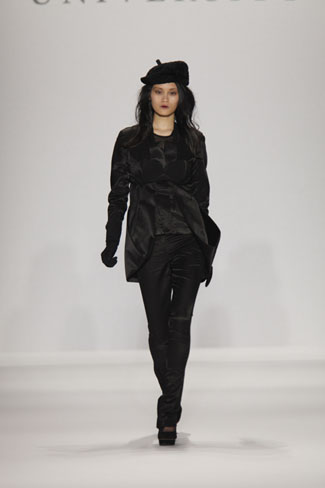 Danielle: Minha Yoon definitely had me at mesh cutout! It was refreshing to see a bit of sex play through a few collections at the AAU show this season, including Yoon's exposed bras. I appreciate the conceptual tuxedo-esque design details, and the eye-catching finale coat.
Harry: I am usually not a big fan of an all-black collection. However, Minha's  collection was one of my personal favorites. There were a lot of interesting cuts, shapes and materials that make you want to take a closer look at all the dresses.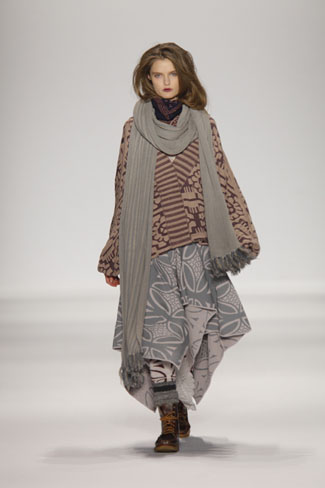 Danielle: Stephanie Gelot's collection came as a lively breath of fresh air after the previous two darker collections. I adore the long, knitted layers in this collection – and almost wish the designer had kept piling it on! The semi-monochromatic looks are calling to me — begging and pleading to be worn at a cabin retreat in the mountains.
Harry: It is safe to say that the School of Fashion's knitwear never fails to impress. Stephanie Gelot presented an impeccable collection of knitwear.  Her collection was another favorite. I would love to wear all of the knits she made — and those shoes too.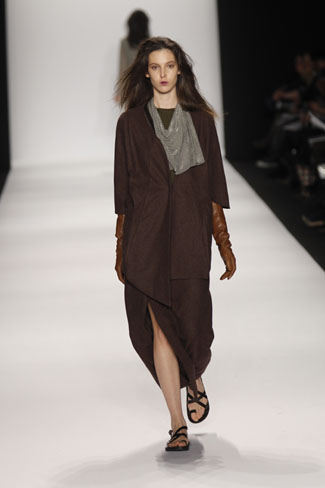 Danielle: The neckline designs and flat, slipper-sandal styled with this collection immediately made me think Asian-inspired and my thoughts were kind of confirmed when the soundtrack switched over to a tinkering, internationally-flavored beat. (Later, Harry informed me that the inspiration was supposed to be more Arabic. Now I see it!) I could have possibly done without the semi-metallic fabrications — maybe. But overall, this collection left me feeling relaxed and tranquil.
Harry: Hurst Chang-Wei Lin sent out Tao Okamoto in his collection. He has an interesting source of inspiration: alchemists. His color palette was very earthy. Hurst's woman is an alchemist who's in a trip to gather things from Earth to make her potions.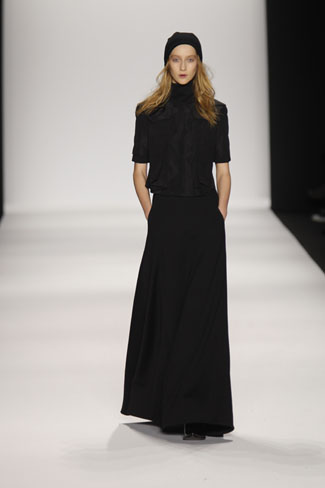 Danielle: My first reaction — "Oooh!! Loving these powerful, bold maxi looks!" (Can the sexy city villains from Holly's collection wear these during the daytime?) The subtle addition of dark jewel tones are just barely noticeable when paired next to black garments, and I'm feeling it. The whole collection is reminiscent of Jil Sander S/S 2011, but Dejchat Sriyoopum has a different take to this silhouette. Sriyoopum's pieces are much more flattering, intricate, and interesting to view.
Harry: I was really happy when Alana Zimmer walked down for Dejchat Sriyooum's collection. An Academy of Art University show is just not an Academy of Art University show without Alana, right? What I love the most about Dejchat's collection is that the clothes make women look very tall. There was also a very interesting mix of color that I assumed was iridescent.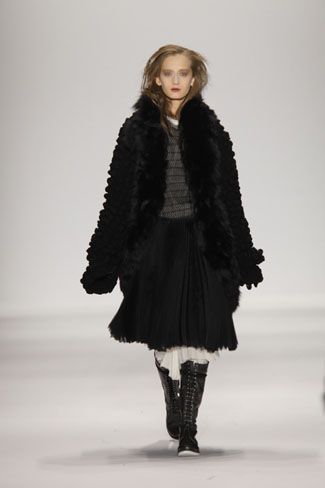 Danielle: With the sound of a magical tune, I was suddenly swept away into layers of Baker's sophisticated pleated skirts and chunky knit sweaters. That finale coat – the enormous, sagging fur one – would be a staple piece of mine for fall, no doubt. Also, I'd love to adorn his sheer crochet layers as transitional pieces into new seasons.
Harry: Jonathan David Baker created a collection that moves beautifully. He made some of the most beautiful coats I've ever seen this season. With all the different layers, the collection still proven to be sheer and move as the models strut.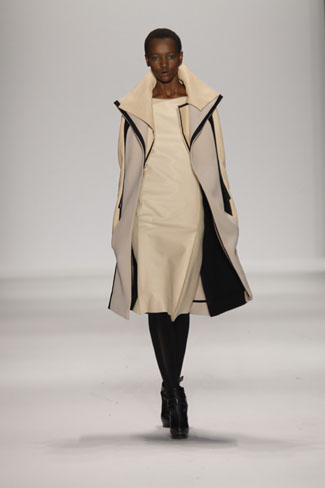 Danielle: Straight-forward and geometric, Aura Taylor's collection had an architectural feel in its cut-outs, flaps, and layers of fabric. The cutoff leather gloves added a cool 'street' feel, and the designer's non-sewing techniques leave me intrigued and impressed! (Do share your ways, Aura!)
Harry: Aura Taylor's collection intrigued me. I read how she used no-sew techniques and it left me wondering about the dress. Her collection definitely deserves a closer look.
All photos by Randy Brooke