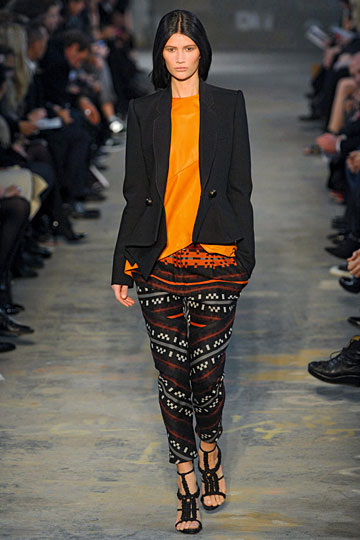 Danielle: Color pops, ethnic textiles – these are a few of my favorite things. I love when Proenza Schouler translates their geometric style into an ethnic look. I'm going crazy over this collection – the mid-century flourishing necklaces, attention-commanding prints, and knitted skirts are pushing it over the top! (In a good way, of course.) Proenza is (and always will be) one of the most exciting and promising shows at Mercedes-Benz Fashion Week at Lincoln Center.
Harry: Proenza Schouler boys are the new cool. They define American preppy dressing for young ladies in their 20s and 30s. They're not as mainstream as Marc by Marc Jacobs­ – which adds up to their coolness. For Fall 2011, Jack and Lazaro add an ethnic element to their collection. One of my favorite pieces from the show was look #15 worn by Suvi Koponen. It's an asymmetric tribal-print cardigan. It was pleasing to see the play of colors and prints on the Proenza Schouler silhouettes. However, someone pointed this out to me before: why did they put sandals on a fall/winter collection? Fall and Winter in Indonesia, maybe.
Follow the jump to read more.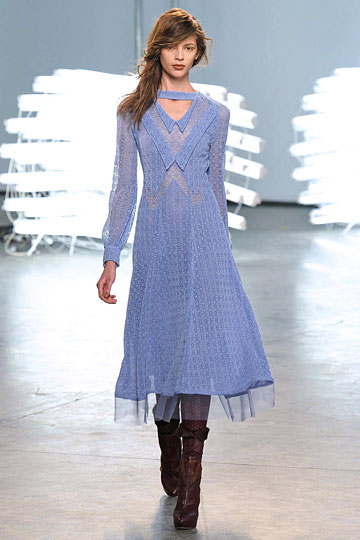 Danielle: As a longtime fan of the sister duo Rodarte, I have to admit that I was very underwhelmed by this collection. I know that I'm difficult because I demand a lot when it comes to fashion. (I constantly want to see the most insane designs each season, so I was let down this time.) This season, Rodarte was a bit on the plain side, with their use of solid fabrics and lack of exciting stockings or body paint. That said, I enjoyed the sparkle and sheer splendor of look #10. Also, Karlie Kloss in look #33 – WORK IT.
Harry: It is hard to top Rodarte. Over the years, the Mulleavy sisters have gained a circle of Rodarte fans that expect nothing but the best each season. I am not part of the cult, but I do enjoy watching Rodarte grows as a brand. This time, the sisters took inspiration from watching the Terrence Malick movie Days of Heaven – that equals lots of wheat fields and American Plains. Everything had Earthy hues that included light brown, green, and powder blue – until Lindsey Wixson came out with a ruby red ensemble. She was then followed by Karlie Kloss , who wore another ruby red outfit – a reference to the Wizard of Oz. I love fairytale references but don't we need more than two looks to fulfill that reference?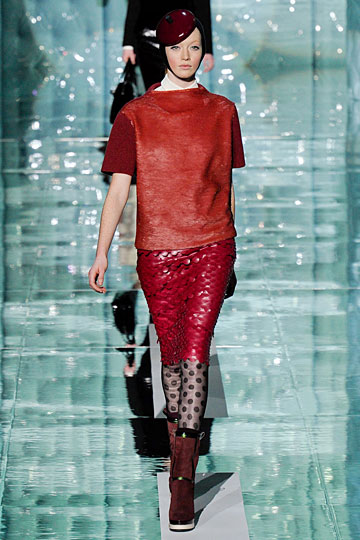 Danielle: Alright, confession time. I usually dislike polka dots. (I think circles are uninteresting.) I must ask, for someone who goes for stripes over dots: "How irresistibly charming is this collection?" Very. I would wear any of those pillbox hats with a nylon stocking pulled over my head any day. I guess Marc initially reeled me in with his choice of a jewel-toned color palette and his signature play with fabric combinations. He lost me for a minute with that pale pink glove. It's slightly bulky, and the model's hand looks more mutated than chic.
Harry: There is something about Marc Jacobs. He is a visionary fashion psychic. He knows what is going to be hot next season. Remember his previous 1970s collection with Jodie Foster's hats from Taxi Driver? After that, there was a '70s vibe everywhere. Technically speaking, other designers do not copy him because they're working at the same period of time. But he just knows what's going to be trendy. Be prepare for next season trends, which include: polka dots, latex and lace, fitted basics and little shiny hats. My first impression was beatniks meet Balenciaga and Comme des Garçons. Marc Jacobs Fall 2011 was a contradiction to his Spring 2011 collection. Perhaps he's challenging himself to do something totally different. After all, no one likes a one trick pony.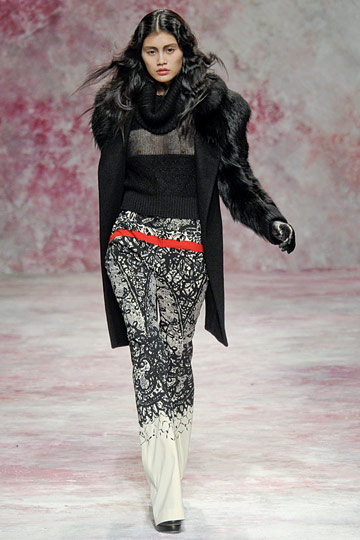 Danielle: If you haven't viewed this collection yet, I would say to do so immediately just for the sake of seeing Karlie Kloss opening the show in yet another red look. (Seems to be a popular color for her this season.) My new fandom for Prabal was locked in with this collection. The overall über romantic vibe is healthily intoxicating, and there seems to be a little something for everyone to fall in love with. There's a little lace, a little ombre, tough leather, and clean whites. Only dislike: the nylons aren't super slimming on a couple of the models. Am I wrong?
Harry: It seems like Prabal Gurung Fall 2011 collection was inspired by Hollywood. There was a lot of potential red carpet dresses for his clientele. The collection was feminine and had huge commercial potential for celebrities. Karlie Kloss strutted down the runway to open the show with a red full-skirted dress. Some of the dresses slipped off the models' shoulders to add a sexual quality to the collection. I love that the collection is not just a parade of ball gowns. There is something for everyone on the red carpet. Celebrities just have to choose if they want to be photographed on the red carpet as the feminine girl, the fashion-forward woman or the sexy lady.