Balmain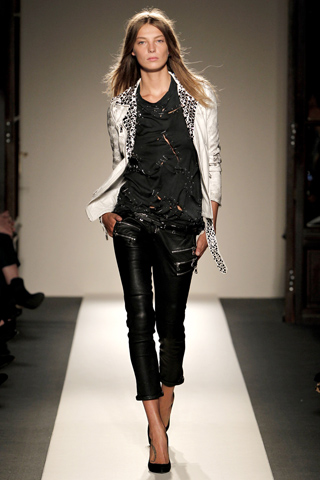 Danielle: Balmain presented a lazy collection this season. When I say lazy, I mean that they created nothing new — and are starting to bore me. Trendy Spring color updates to leather jackets and pants were made, but nothing innovative. Classically, the looks resembled "alternative" streetwalkers, and the famous $1,500 shredded knit tee got safety pins added to it. Their shredded leather shorts were safety pinned as well, and might demand a DIY project in my near future.
Harry: When the first look came out, I thought to myself "haven't we seen this look on Daria before?" It is true that designers have to have their own signature style to keep the customers coming back to them. Christophe Decarnin undoubtedly has an eye for what young women want. Balmain is very Serena van der Woodsen, Rihanna, and all those cool girls. However, I wish there is a more distinct theme for every season—because it is supposed to be a show. Christophe's theme has been rock 'n' roll for years now. It's even hard to tell the season. Here's a food for thought: next time you want to get that Balmain look, grab a basic T shirt from Old Navy, cut it, rip it, and then put the pieces back together with safety pins. Then, put on a pair leather leggings (the shinier, the Balmainer) and a jacket.
Hussein Chalayan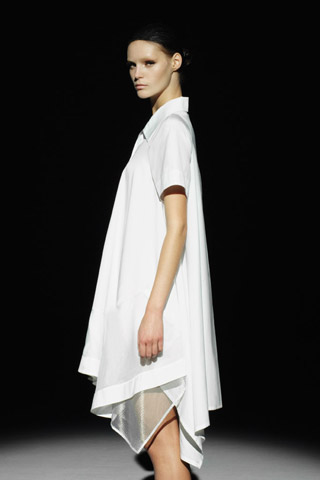 Danielle: Next time I want to step out onto the street and not have to see or deal with the world, I will turn to Chalayan's scarf look. Also, I would be more than happy to have a team of three assistants following me; picking up my dress train to make the fabric seem as if it were floating.
Harry: Hussein Chalayan always challenges our mind to distinguish the line between avant-garde and insanity. This season, he toned it down a little bit. Gone are the days of coffee tables that transform into a wooden skirts or dresses that undress themselves, his Spring 2011 collection, as he mentioned, is "an abstract take on Japan." The first four looks had the model's face covered with a piece of fabric. Is he perhaps trying to address the women role in Japanese society? I admire Chalayan for sending down different materials, colors, textures and prints, but still able to make the collection looked cohesive.
Follow the jump to read more.

Miu Miu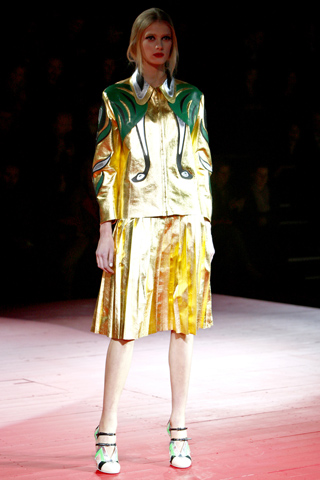 Danielle: I'm very on the fence about this collection. I appreciate that the pieces are wearable and, at the same time, bold and eye-catching. I guess I'm just having issues soaking in the simplicity of the collection. The more I look at it, the more I like it, but overall I can't stand how the same two (boxy) silhouettes run throughout the whole collection.
Harry: I had high hopes for the Miu Miu show. Miuccia Prada did a phenomenal job on the Fall 2010 collection. Miu Miu is no longer a cheaper version of Prada. Miu Miu is different than Prada. Miu Miu's show never failed to impressed me. While some of the solid-colored dresses looked pretty plain Jane, there were definitely some major editorial pieces. Only Miuccia Prada can put upside-down twin peacock heads on metallic gold fabric, pair it with neon green shoes and make it look impeccable. Miu Miu is definitely one of the fashion houses that set trends every season.
Chanel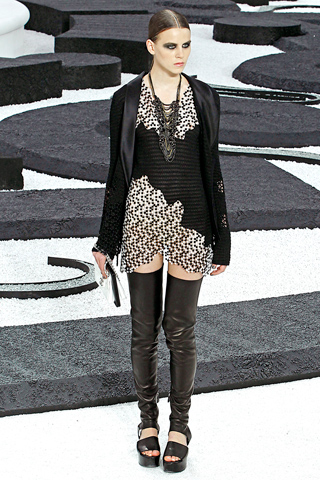 Danielle: I cannot forgive Karl for that first wedged strappy sandal that was sent down the runway. It reminds me of the black, stretchy, wide-strapped wedge that my Mom purchased at Kmart in the '90s. I stand firmly with my opinion that it is not okay to bring this shoe back. (But, I do have different feelings about the cut off chainmail glove and tweed hot pants!)
Harry: Stella Tennant looked sleek in the first look from Chanel Spring 2011 — but she looks sleek in everything. I am all for cohesiveness. Chanel Spring 2011 is arguably the most non-cohesive collection I've seen this season. It looked almost like five different collections merged into one. First the updated print Chanel suits — which was the best part about the show. Then there was the feminine, ladylike Chanel with all the pastels and textures. Then there was the fetish Chanel with all the leather. Then there was the out-of-nowhere huge flowery Chanel. Lastly, there was the gothic, cult-ish Chanel. I guess the theme would be "Chanel for everyone?" It was unfortunate that there was not a hint of transition between the different styles. Oh, and one more thing — Karl Lagerfeld needs to stop doing two things: being a photographer and designing menswear — but his couture collections are always nice.
Wunderkind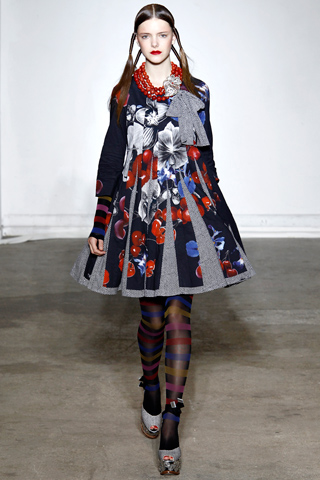 Danielle: I've grown fond of Wunderkind's dark, romantic-yet-playful florals for spring. (Why not let the spirit of Winter spill into Spring?) At the beginning of the show, the looks felt like the Mad Hatter running around in florals. The middle was picnic-friendly and the ending was a set up for a romantic dinner out. Lastly, can we please address that lace up boot? I would like a pair or two, please.
Harry: I did not follow this label until Danielle told me about it. The sheer striped body stockings caught my eyes. People say horizontal stripes make you fat. I disagree. Food does. The little soft crinolines were also a joy to see. The whole collection looked fresh with the cherries and flowers. The styling felt a little bit English eccentric. One might argue that the looks are not really ready to be worn in real life, but they don't have to. I like shows that set mood or trends and not only send out commercial pieces. The only questionable part of the show was the hairdo on the female models.