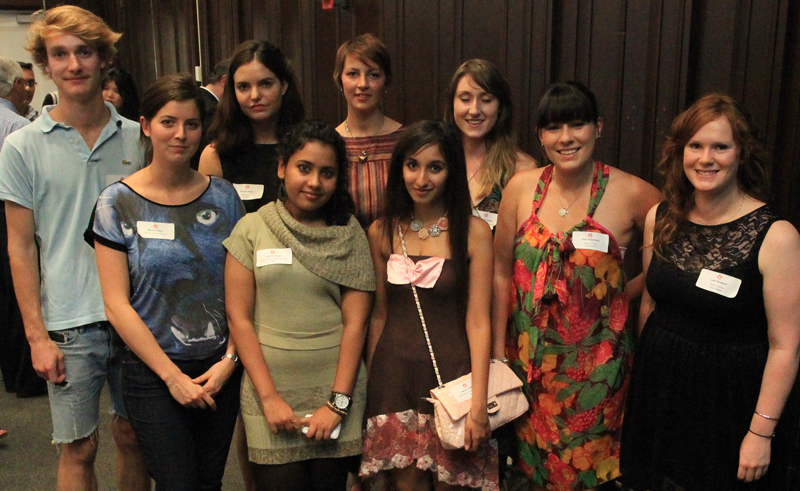 Yesterday, Executive Director of the School of Fashion, Gladys Perint Palmer, hosted a tea for foreign exchange students studying fashion at the Academy of Art University this year. The School of Fashion has exchange programs with the L'Ecole de la Chambre Syndicale de la Couture Parisienne and Studio Berçot in France, the National Institute of Fashion Technology (NIFT) in India, as well as Massey and the Auckland Unversity of Technology (AUT) in New Zealand.
The exchange students and faculty were joined by the Denis Bisson, Cultural Attaché and Ivan Bertoux, Deputy Cultural Attaché from the French Consulate, the Honorary Consul General of Monaco and board-member of the San Francisco-Paris Sister City Initiatve, Thomas E. Horn, and the Honorary Consul General of New Zealand Richard Sears, as well as members of the San Francisco-Bangalore Sister City Initiative Rahul Pathak and Sada Chidambaram. After a brief welcome from Gladys Perint Palmer and an introduction of our honored guests, students mingled with one another as well as the faculty and guests, discussing their experiences thus far and what it's like adjusting to a new city.
We welcome all of the students to the School of Fashion and hope they have an amazing study abroad experience!
Be sure to check Fashion School Daily every Wednesday for our new feature Ex-Changing the World! We'll be catching up with students studying at the School of Fashion from abroad, and with our own students studying in France, India, New Zealand, and beyond!
Follow the jump for more pictures!