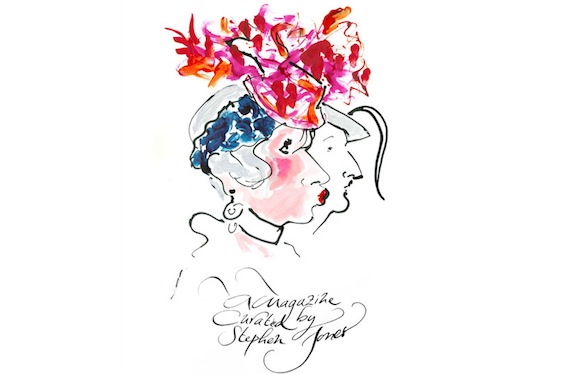 illustration of Stephen Jones and Anna Piaggi by Gladys Perint Palmer
All eyes have looked to Paris the last few days as the Fall 2013 collections have been making their runway debuts. Here at the School of Fashion, we are additionally celebrating the City of Light as our Executive Director, Gladys Perint Palmer, will have one of her illustrations featured in A Magazine, curated by British milliner Stephen Jones, launching tonight at Bookmarc Paris.
The celebrated fashion book invites a different designer, group, or house to guest curate each issue, filling each edition with custom content that expresses the designer's aesthetic.  For Issue Number 12, Jones opted for illustrations to depict his personal style. "I like a magazine that looks like a magazine," Jones said, "It's not a book. I didn't want it to be page after page of slightly meaningless photographs. That's why I thought illustration. I love illustration, I draw every day. And that's the way designers communicate, through drawing." In addition to Gladys' drawing (above) works featured include those by Peter Turner, Galliano's illustrator at Dior as well as Howard Tangye, head of women's wear at Central Saint Martins.
The issue pays tribute to late Italian fashion editor, Anna Piaggi, who Gladys credits as a major influencer of both her and Jones' careers in fashion. "It was a bitter sweet delight to draw Anna once more," Gladys commented "May she rest in peace and make those angels more fashionable. Or maybe a few devils?"
For more information about A Magazine, click here.