The last post on our Give Two Take One event said the event started at 10 a.m. on April 17 – but that was a mistake. It starts at 11 a.m. on April 17th.
Sorry for the mistake folks! Please refer to the flyer below for the detailed information: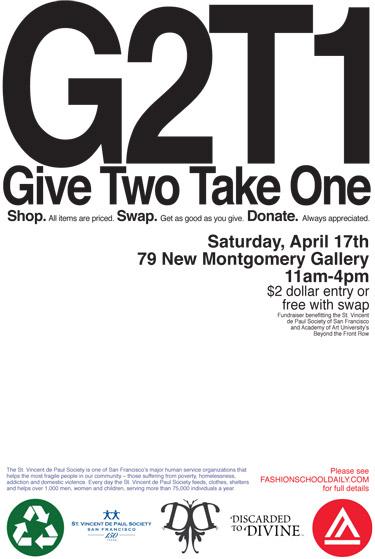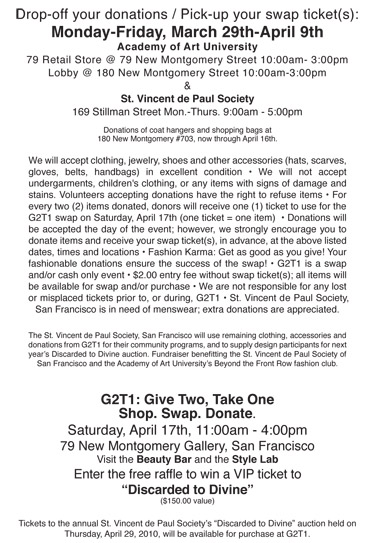 Start cleaning out your closets and setting aside clothes and accessories for the April 17th clothing swap and clothing drive hosted by Beyond the Front Row and the St. Vincent de Paul Society of San Francisco. This event, Give 2, Take 1 ("G2T1"), will function as a fundraiser for the club, and a charitable clothing-drive for St. Vincent's community programs.
Here's the deal: for every 2 items donated, donors get to take (or 'swap') 1 item in return – hence the name "Give 2, Take 1". All items remaining at the end of the April 17th swap will be donated to St. Vincent's. This fun sustainable–charitable event also happens to coincide with Earth Day! Collection of donations begins the last week of March, on campus and elsewhere. Details to follow.
Please note: Clothing and accessories donations will happily be accepted, regardless of participation in the clothing swap. St. Vincent's is in urgent need of men's clothing – additional donations from the closets of boyfriends, husbands, brothers, and sons would be greatly appreciated!