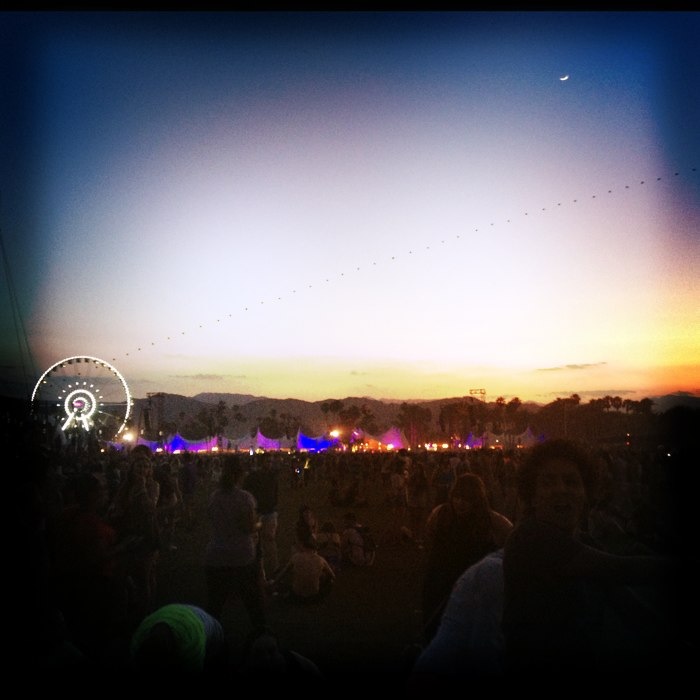 Ah yes, it's that favored time of year that ushers in spring and, with it, music festival season. The true kick off begins with Austin's annual SXSW Music Festival, however there's nothing quite like the start of Indio, California's Coachella. The two weekend-long fest officially marks the dawning of those languid, easy summer nights where music wafts and poolside lounging trumps office work.
This year for weekend one, Coachella welcomed roughly 80,000 attendees to their sprawling, polo field venue, with festival die-hards proudly shouting out their years of attendance: "Happy Coachella, year 6ers!"  As luck would have it I was one, out of the seemingly few, first year attendees. Truth be told, I didn't mind too much. Especially after feasting my eyes on the visually breathtaking fields that held eight different stages, the famous light-up ferris wheel, rainbow back-lit palms, and a giant snail sculpture that festival goers could graffiti all over. The entire venue was an elaborate adult carnival, but maybe with a tad more debauchery.
With Coachella, of course, being a music festival, let's talk about those bands! Although there was some trepidation when it came to this year's line up, I must admit that the majority of performances were nothing short of spectacular. Running to and from the main stage to Mondovi stage, I was able to catch most bands from Jurassic 5 and Bassnectar, to Hot Chip and New Order. I would say my top five favorites as far as musical excellence and stage presence were as follows: Band of Horses, Pretty Lights, The Postal Service, The xx, and event headliner, the Red Hot Chili Peppers. All performers went above and beyond when it came to wooing the crowd, and ultimately reminded me of the power of live, musical talent.[justified_image_grid row_height=400 height_deviation=50 ids="23445,23444″]As far as festival garb goes, Coachella is infamous for its sea of fashion-hungry LA hip chicks, as well as the bloggers who chase them. After spending three action packed days at the polo grounds, I was positive that not one corner of Urban Outfitters had been left unexplored. All jokes aside, girls and guys alike rocked a myriad of spring trends, including neon-mixed separates, tribal jewelry, Navajo meets western prints, and "fashionable" fanny packs with leather studs. Yet, to my surprise, when it came to style I found that utility beat out high maintenance. I had predicted that gladiator sandals would be a plenty but, instead, most if not every girl was sporting cowboy ankle boots or "the engineer" boots by Frye: a wise choice, considering the sheer amount of people that otherwise would've been prone to multiple toe injuries. Also, big bags and even backpacks were shunned for the easy-to-maneuver, small, cross-body strapped saddlebags.
As for trends, I recognized shifts and crochet knit dresses from Free People; maxi dresses and wide-brimmed floppy hats from H&M; and fringe, fringe, and more fringe. Oh and don't get me started on those rosebud flower headbands from ecommerce shop, Nasty Gal….I witnessed more than enough to fill a garden.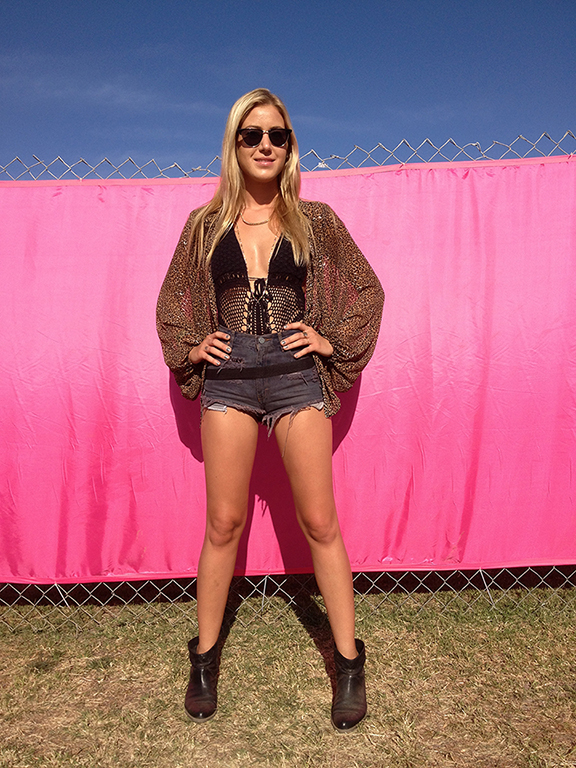 All in all, Coachella was a holiday for the senses and was nothing short of an awe-inspiring experience. It was nice to see people gather together beneath the warm desert sunset, let loose with friends, and indulge in great food, fashion and, of course, music. For April 2014, if you're seeking a haven for the eclectic and the eccentric, park it in Indio. Happy Coachella, everyone!
written and photos provided by Alex Suarez