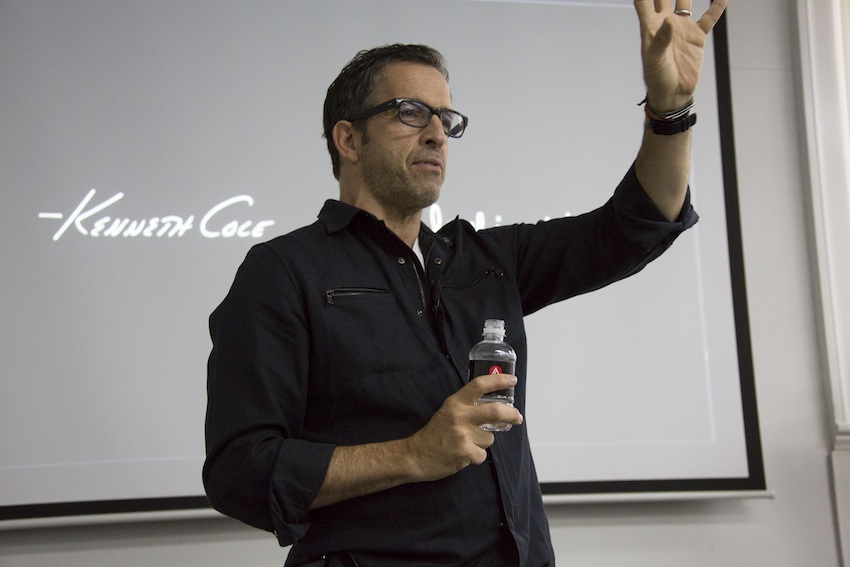 Designer Kenneth Cole at the School of Fashion. Photo courtesy of Aldo Carrera.
The line was long on October 10th, as student fashion packs gathered in the hallway of 625 Polk. As the doors to room 212 opened, Academy of Art University students were greeted by the sounds of Kenneth Cole's latest runway collection projected on the screen in front them, and sleek totes bearing the designer's / brand's name neatly placed atop each seat.The real gift though, was the man himself.
Humble, gracious and handsome in a simple jumper and jeans as he answered students' questions emceed by fashion blogger, Amy Levin of College Fashionista, Kenneth Cole engaged with each student with genuine enthusiasm and earnest responses to each aspiring designer inquiry. When asked about the ideology behind his controversial ad campaigns and his reasoning for giving back, Cole responded, "It was always understood that your goal is to do well in school, get good grades, get a good job, make a lot of money and one day you'll give back. I've since learned that you can invert that model and if you can make getting involved in the community a part of that journey. The destination is far more rewarding and more gratifying."
[justified_image_grid row_height=300 height_deviation=50 ids="26646,26647,26648,26649,26650,26651″]

Photos courtesy of Aldo Carrera.
He also spoke about his rag tag start in the business, detailed in his new book "This Is A Kenneth Cole Production", the writing of which he described as a "painful process" , along with his favorite place in San Francisco – a local church."It's so unique," he said. "I don't know any place like it; how it connects with under served populations and empowers people. A very, very cool place."
Click here for more information and where to buy "This Is A Kenneth Cole Production".
written by Malcolm Thomas