Say goodbye to 2016 with cardio training, adult Exploratorium fun, perfectly timeless wood sculptures, and the day to day lighting of the Union Square Menorah. And say hello to 2017 as you disco dance and roller skate the night away and take the San Francisco version of the Polar plunge on New Year's Day!
Monday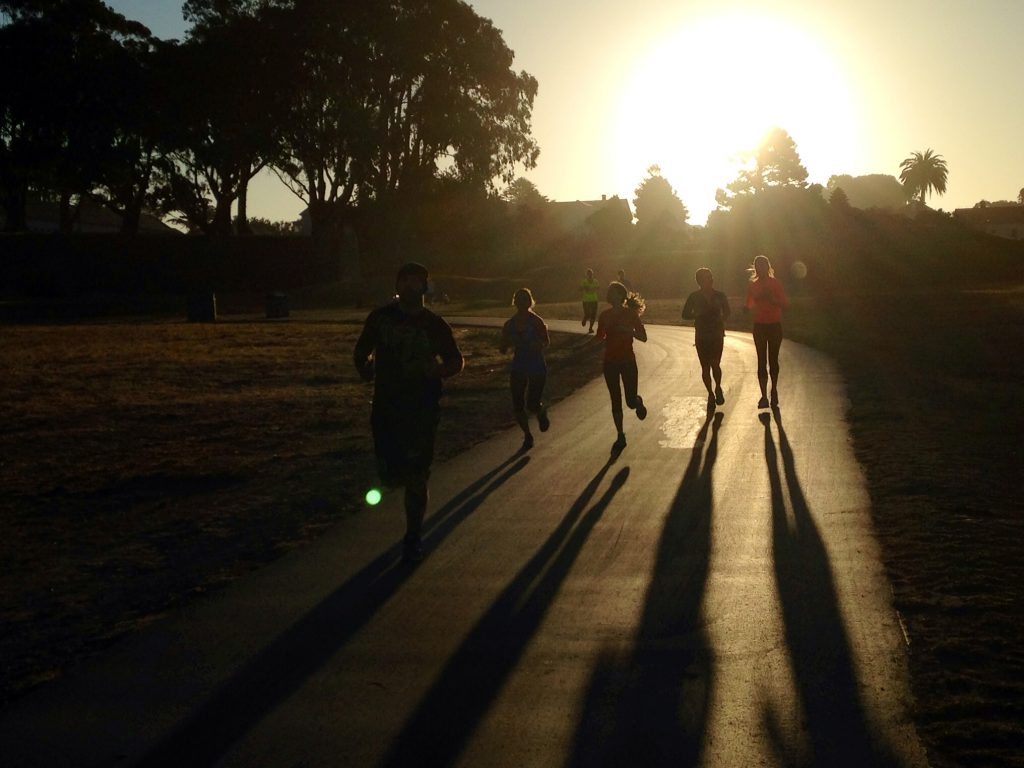 Free Monday Workout
Time: 6:30am
Cost: Free
Needing some exercise inspiration after the Holiday dinner(s) and dessert(s)? Commit to a bright and early start with this group of friends and cheerleaders at Fort Mason. Enjoy stunning views as the sun rises on your cardio and strength exercise training. All athletic abilities are encouraged to join as there will be no weights or accessories involved, only a close community of fitness inspired friends!
Tuesday

Bill Graham Menorah Project
Time: 7:00pm
Cost: Free
From Christmas trees to Menorah's, Union Square is lighting them all. Take part in the Bill Graham Menorah Lighting ceremony every night from December 24th – January 1st. See special performances by Greg Anton, Byron Rynes, Lazer Lloyd and more. Additionally, festivities for all ages will be available on select nights. Click here see the full schedule of events for the Menorah Project.
Wednesday

Sam Perry | Seeing by Never Meeting
Time: 11:00am – 5:00pm
Cost: Free
Born in Hawai'i and currently living in Oakland, Sam Perry found his love for wooden sculptures at an early age while working in his father's canoe shop. He nourished that love in college and is now showcasing his love and talent for wood sculptures at the Rena Bransten Gallery in San Francisco. Each sculpture is carved from a tree that has already fallen, living the fullness of it's life, and is now a precise and beautiful work of art examining the passage of time exploration of space.
Thursday
Exploratorium After Dark: Hypnotically Flowing Patterns
Time: 6:00pm – 10:00pm
Cost: $15
Enjoy the Exploratorium After Dark with adult only (18+) entertainment. Design your own automata with cardboard, craft foam and other common materials. Use science and a bit of creativity to make it move, jump, and turn! Or walk, crawl, and slide your way through the pitch black Tactile Dome working your way out of the mazes. Or if you're more into just walking leisurely, do so with an adult beverage in hand by ordering at the bar (21+).
Friday

Descent From Beauty
Time: 6:00pm – 7:00pm
Cost: Free
Ask important questions about social justice, movement and embodiment just in time for the New Year with Kinetic Light's performance of Descent From Beauty. Dance artists Laurel Lawson and Alice Sheppard perform on an architectural stage with projections of Rodin sculptures and lighting by Michael Maag. This one-night-only performance will leave you questioning not only social justice issues, but also the boundary, if any, between art, architecture and light.
Saturday
New Year's Eve Roller Disco
Time: 7:00pm- 1:00am
Cost: $20 admission, $5 skate rental
Roll into 2017 in the most literal way possible at the Church of 8 Wheels San Francisco. The mood will be set with disco and funk music, disco balls and laser lights, and the ambience of an abandoned church. There will be snacks to keep you energized and champagne to toast with at midnight. Come dressed to impress in black and white. Yes, black and white gym suits count. (A tux not required, but kudos if you do bring in the New Year in your tux and roller skates!)
Sunday

Polar Bear Ice Skate 2017
Time: 2:00- 3:30pm
Cost: $6-$12
The San Franciscan take on the Canadian New Year tradition is back for 2017! Brave the cold and the crowds in your bathing suit and skimpies. The first 100 guests dressed for the occasion will receive a polar bear hat. Also, the "Best Ensemble" will receive prizes. And if you aren't into skating in your skimpies, enjoy the experience as people of all ages take to the ice rink to slip and slide into 2017.
Text by Emily Higginbotham.