From Gucci to Gorbachev, veteran journalist Cynthia Durcanin brings her eclectic reporting experience to the Academy's Fashion Journalism program.
Durcanin, who began teaching this fall as an on-site, part-time instructor, has reported for Esquire, The Wall Street Journal Europe and Travel & Leisure magazine. After many years in news reporting, she then moved into the world of Parisian fashion as the founding editor of Elle.com.
One of Durcanin's goals teaching at the Academy is to provide as much real world experience as possible, preparing students for demanding editorial situations. In class exercises such as writing on a deadline and collaborative role playing allow students to overcome fears, think on their feet, and be persuasive. "Knowing the fundamentals of good reporting and writing will empower you to write about anything," she says.
Durcanin journeyed into the world of Parisian fashion, working at ELLE magazine, where she launched the publication's first international, English language website, Elle.com. This was when the Internet was still in its early days! However, Durcanin's career hasn't always been in fashion. She reported on Nelson Mandela's release from prison and covered the collapse of the Soviet Union in the 1990s. Newspaper reporting is where she learned her foundational skills. Her editors "were demanding and always pushed for more", she says. "Just when I thought my story answered every conceivable question they asked even tougher questions!"
Durcanin's class, FSH 617 can be seen as a launch pad into fashion journalism, whether students desire to be a fashion journalist, blogger, editor, or public relations professional. Current student, Tyler Drinnen says, "Cynthia is a perfect fit because her professional experience and inspirational background helps guide students towards their dream careers."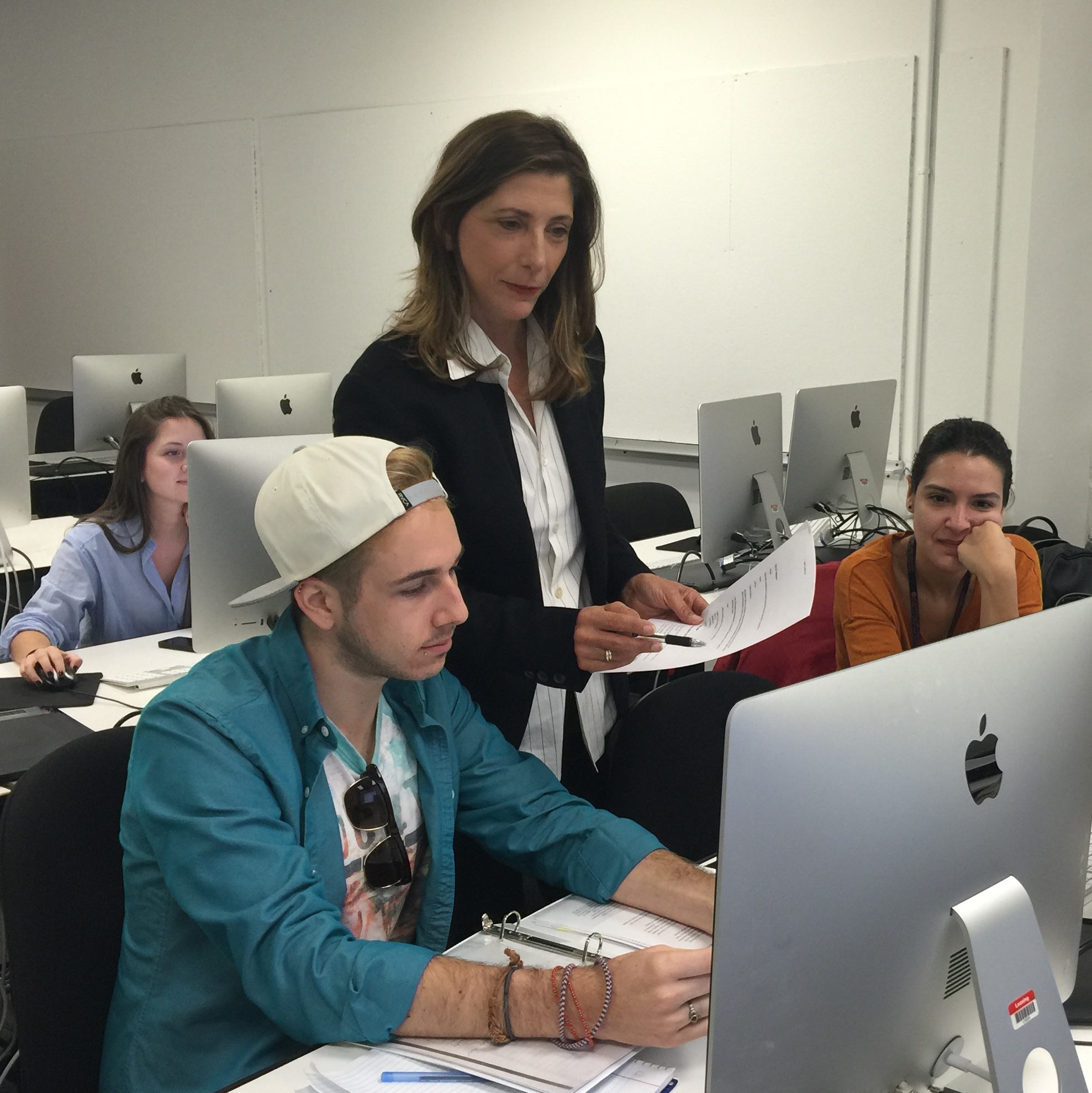 Q&A with Cynthia Durcanin:
Q: What's important about fashion journalism today? 
A: Today's fashion journalists are still obsessed with design, but are also addressing questions of race, politics, technology, ethics and gender. The course provides the necessary skills to work in the industry, but also looks at fashion from a cultural perspective beyond the runway and why that matters.
Q: How did you discover that you wanted to be a journalist?
A: As a child I loved reading the newspaper and knew at age nine that I wanted to be a journalist. I began writing for my high school newspaper, then college paper, basically for anyone who would let me. I wrote my first "real" article during an internship at a tire trade magazine. I knew absolutely nothing about tires when I accepted the internship and ended up writing a cover story on all season radial tires!
Q: Working as a content director for LVMH allowed you to attend some major fashion shows in Paris and New York. What was that like?
A: When I worked at eLuxury, an upscale e-tail site owned by LVMH, I accompanied buyers on trips to New York and Paris. We would see John Galliano's over the top collections for Dior on the runway, then go to the boutique the next day. The buyers would then dissect the collection for market selecting looks for real women. They were like number crunching psychologists; it was absolutely fascinating and so educational.
Q: You were the founding editor of Elle.com in Paris…what a dream position! What were the fashion dotcom sites like back then? 
A: The magazine was king and many people at the helm did not think a website could be taken seriously. And yet a small division at the company had the vision and knew we had to be there. I worked with Elle editors in 32 countries sharing content and had a lot of editorial freedom because there was no existing road map. For the first time readers could go to a universal Elle website and read in English about trends in Sweden, Argentina or China. Today the pendulum has swung and print magazines depend more than ever on their websites.
Q: What was it like to work as a fashion journalist in Paris? Did you speak French? 
A: I spoke bad high school French when I arrived in Paris and I spent my first month taking an intensive language class at Alliance Francaise. At home I listened to a lot of dubbed episodes of Peter Falk as Columbo. At work I sat in on meetings where I only understood half of what was happening, by the end of day I was exhausted. So I can really empathize with our ESL students. You just have to get over your fear of seeming stupid and ask the "stupid questions."
Q: Do you have a mantra you live by?
A: True happiness lies just outside your comfort zone.
Cynthia Durcanin teaches FSH 617: MS: FUNDAMENTALS OF FASHION JOURNALISM
Click here for more information about the class
By Faye Harris, MFA Fashion Journalism
To read more of Faye Harris' work, visit her Tumblr page here.