Mark your calendars for the Saturday, May 6th, 2017 Graduation Fashion Show & Portfolio Review that brings together the Academy of Art University community and worldwide industry professionals to celebrate the work of talented hardworking students. This is their chance to make "the last first impression", a comprehensive opportunity to highlight acquired skills and present their creative vision. It also gives the audience a memorable milestone to reflect upon as motivated students become successful alumni. "I knew them way back when…"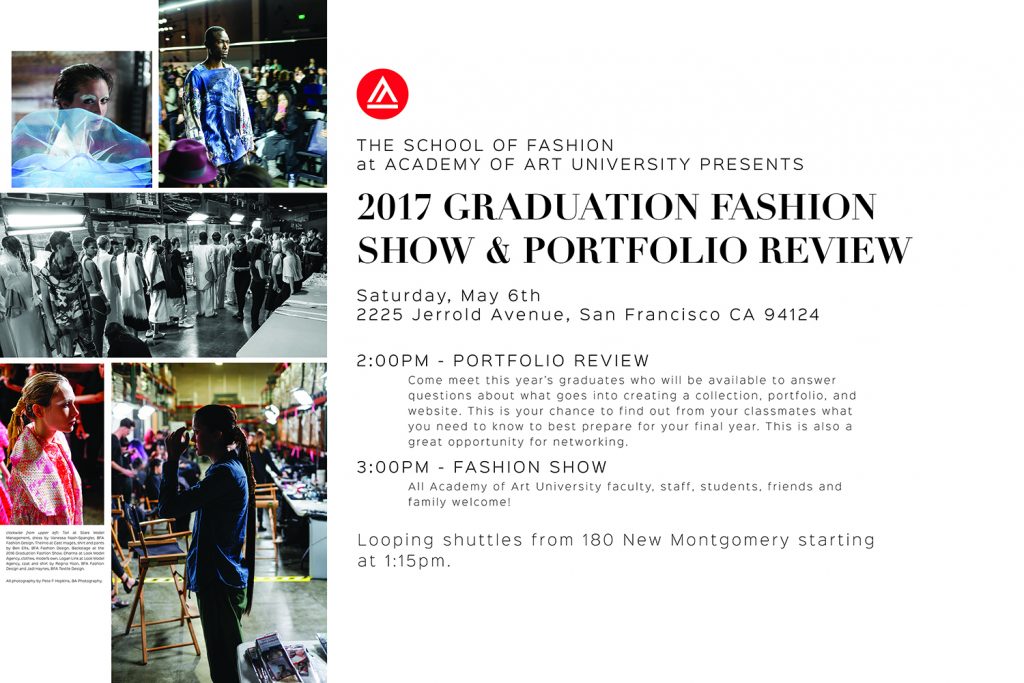 "The runway shows one side of what the designers do. The portfolio tells the complete story of the process of design along with the tangible skill set that most design companies are looking for. The portfolio speaks to the personality and aesthetic of the designer," said Simon Ungless, Executive Director, School of Fashion
Plan your schedules accordingly. Academy shuttles will loop between 180 New Montgomery and the venue starting at 1:15 pm. The Portfolio Review is set to begin at 2:00 pm at 2225 Jerrold Avenue. Come meet and greet this year's graduates as they offer insights into their design process that resulted in their final collection, portfolio and website. Take this opportunity to ask questions and network with your peers. This will help you better figure out how to prepare for your final academic stretch and create the best portfolio possible.
"A portfolio is what will get you a job or an internship, it is what you will need to show at any interview you have. Each projects shows your own design aesthetic while showing how you design for different seasons, wearing occasion and customers," shared Gary Miller, Director, School of Fashion
Last year's designers share their experiences: "Meet the Designers: 2016 Fashion Show I School of Fashion"
Source: Academy of Art University YouTube Channel 
Don't forget to pick up your latest copy of the 180 Magazine available at host desks in every campus building. The ninth edition premiers on May 6th and aptly focuses on welcoming change and harnesses new and sometimes unexpected opportunities.
The Graduation Fashion Show will start at 3:00 pm. All Academy of Art University faculty, staff, students, friends and family are welcome to join and enjoy this fashion extravaganza that has become a beloved Bay Area cultural tradition. This year you can also livestream the invitation-only runway event at 7:00 pm, so invite all the friends in your extended social networks to support Academy's best and brightest.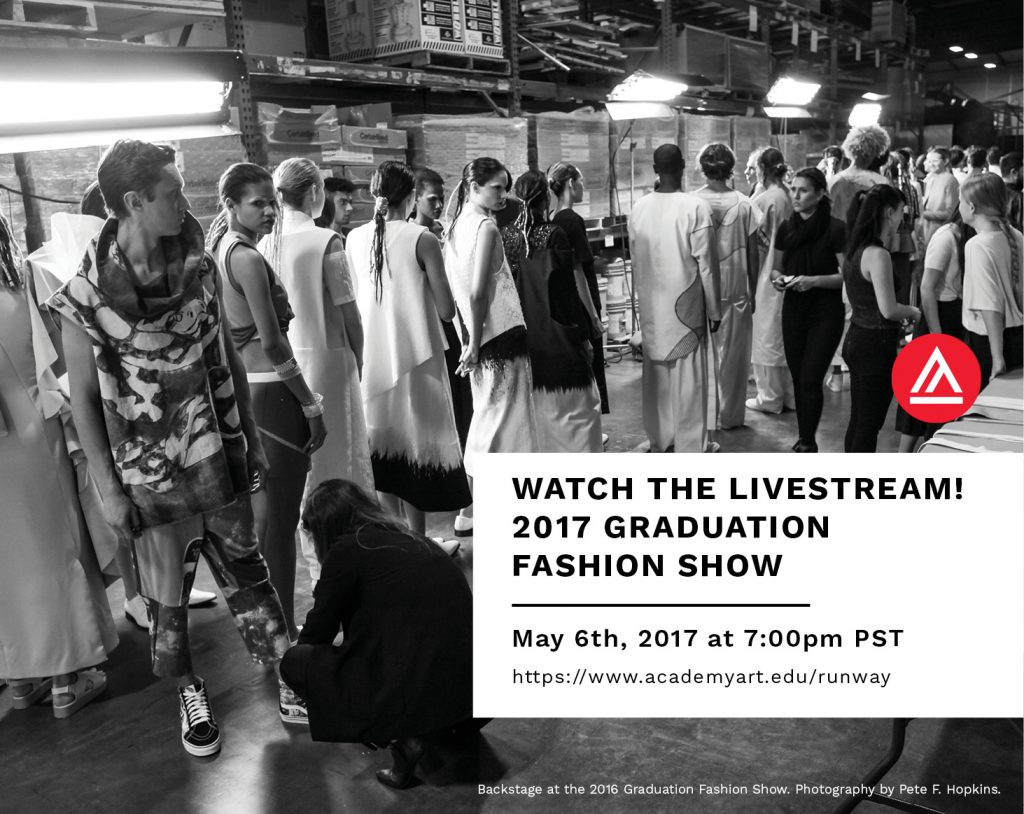 Watch the livestream right here: www.academyart.edu/runway